Our Kreative Kiwi Facebook Group gets so many photos every day of the beautiful projects created using our designs.  and while our fantastic Admin Team (and myself) have busy lives, we do try to award  on-the-spot Instant Winner Awards - Our Instant Winners receive 10 Loyalty Points. $10.00
As time permits, I'd like to share these Winners!! with you.
---
Vicki was awarded her Instant Win for her stunning collection of Crazy Patch Gifts - Crazy Patch Bookmark
Crazy Patch table runner for my sister in laws 75th birthday made with handkerchiefs she had given me several years ago that belonged to her Mother. Also bookmarks for her, her daughters, sisters and nieces from the handkerchiefs. Used 29 different handkerchiefs pieces in the table runner.
What beautiful gifts Vicki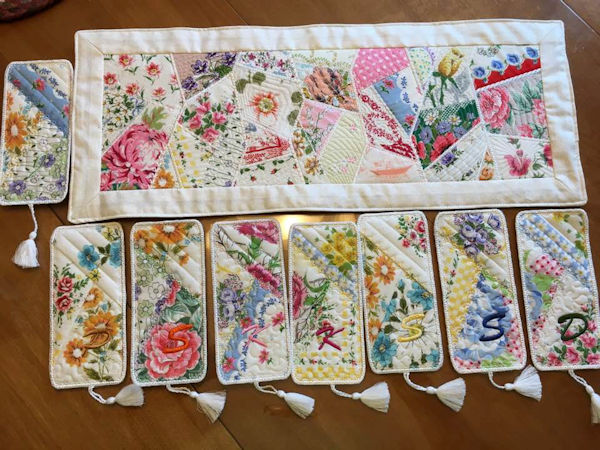 ---
Beata upcycled a pair of jeans and our Free Poppy to make this awesome Jeans Bag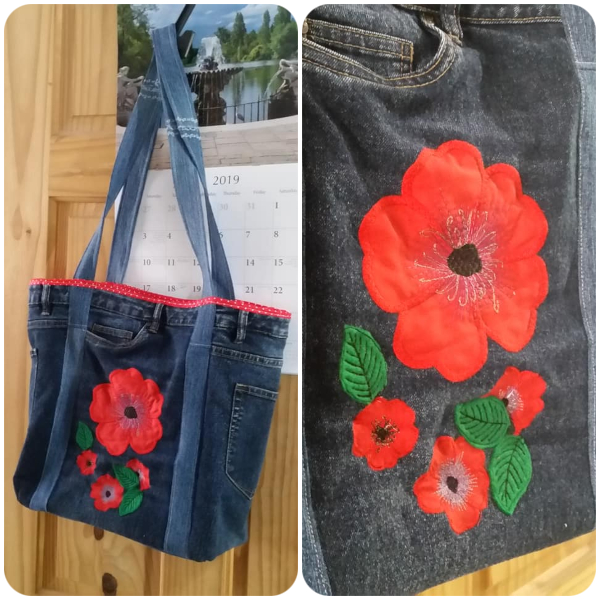 ---
Debbie created this beautiful Gift Set with Announcement Ted and In the hoop Baby Bibs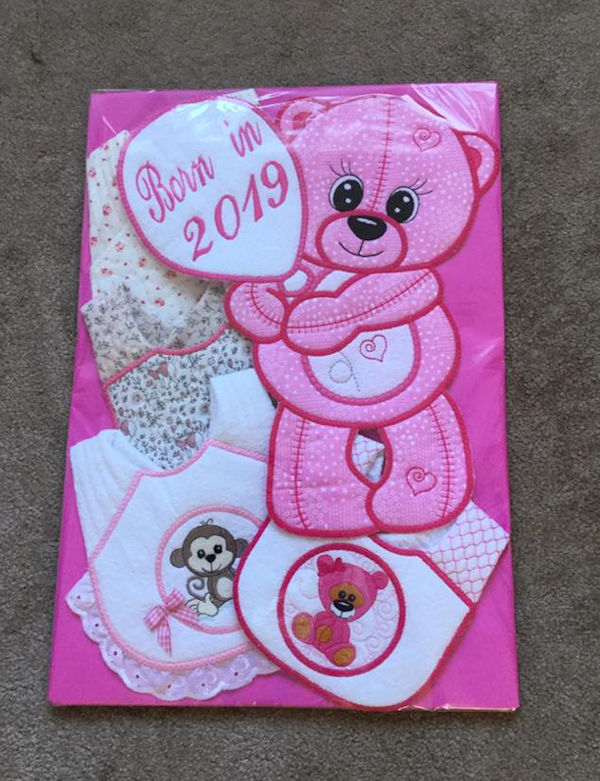 ---
Cindy was awarded an Instant Win for her stunning Mandala 2 Placemat -aren't the colors beautiful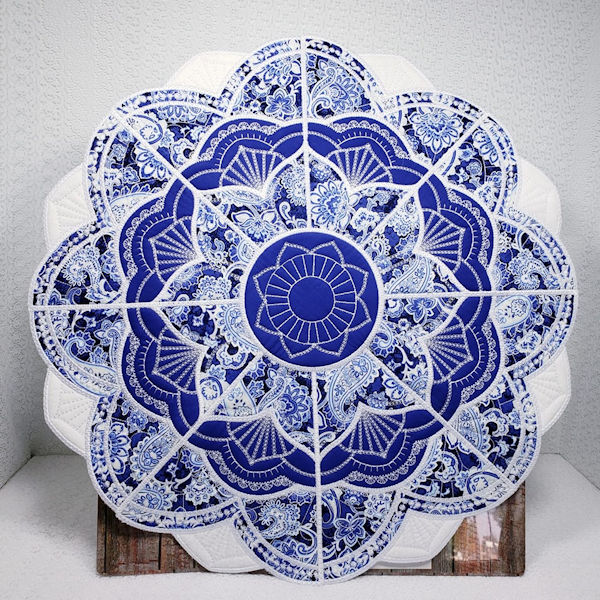 ---
Lyn received an Instant Win for her fantastic Birthday Banner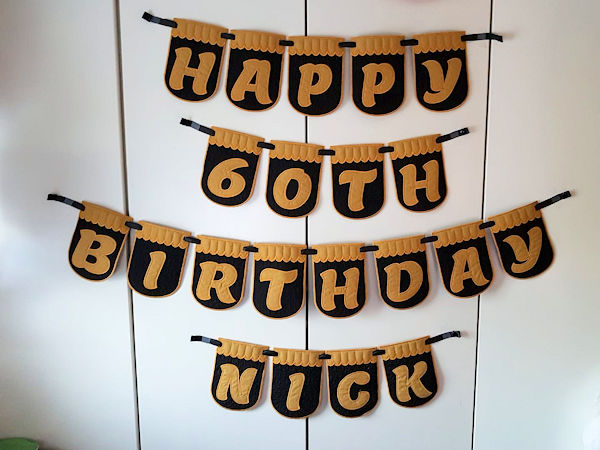 ---
We love the creative way Manjiri used our Mandala2 Placemat in her gorgeous bag - so creative!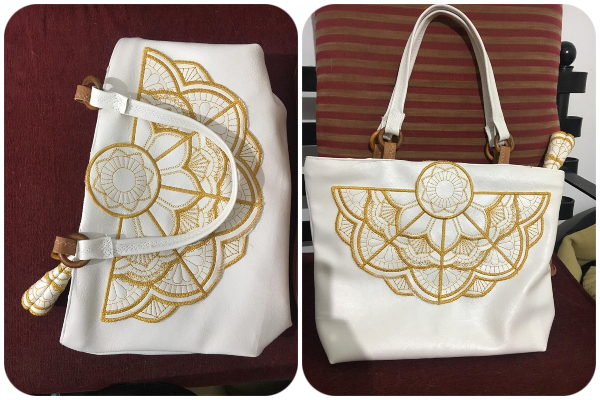 ---
Irene created these gorgeous Hexagon Placemats to go with her Mandala 2 Placemats - isn't her Table Setting stunning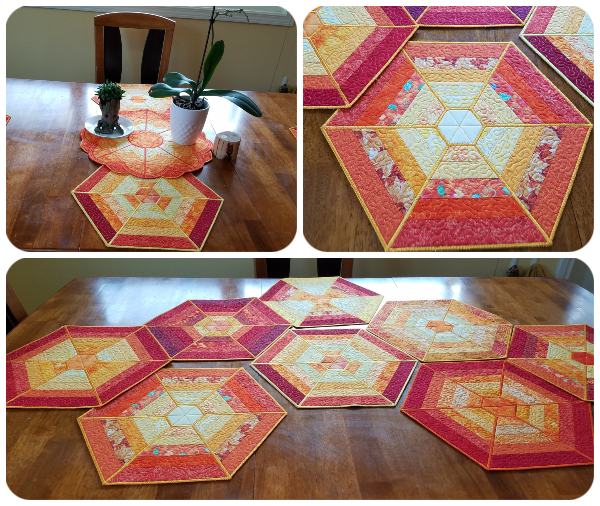 ---
Liz created this beautiful set using  design  In the hoop Crazy Patch Glasses Case,  In the hoop Make Up Bag,  In the hoop Notebook and the cushion design from our Vendala Collection
The Colors are so soothing!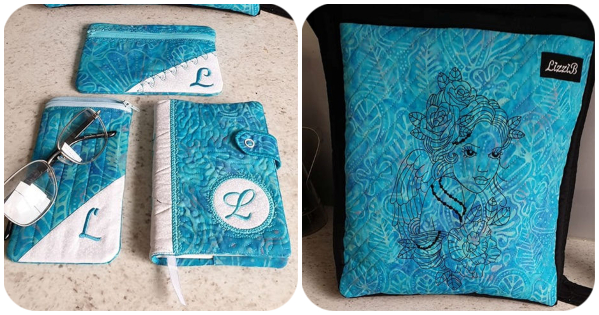 ---
Katherine creates these amazing Quilts for sick children - such a kind and lovely gesture.
Katherine also has a clever tip for her Dress Up Daisy Quilt - there is a pocket in the bottom to store the clothes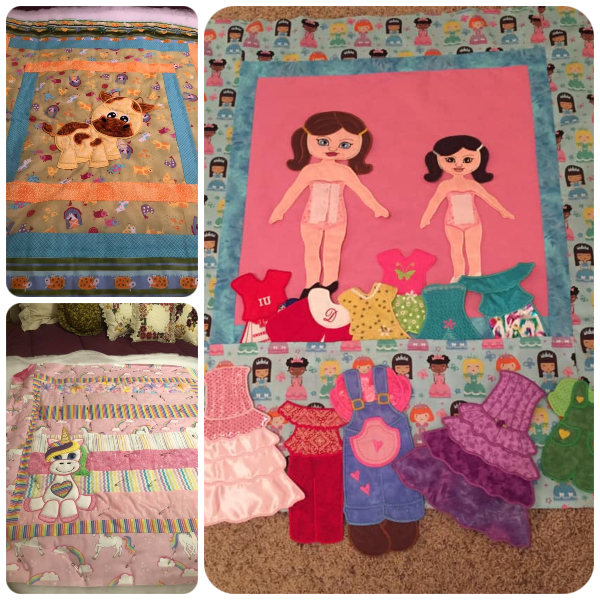 ---
Rachel was awarded her Instant Win for her beautiful Jungle Animals Quilt
---
Paula was awarded her Instant Win for her beautiful In the hoop Tissue Holder - awesome fussy cutting of her fabric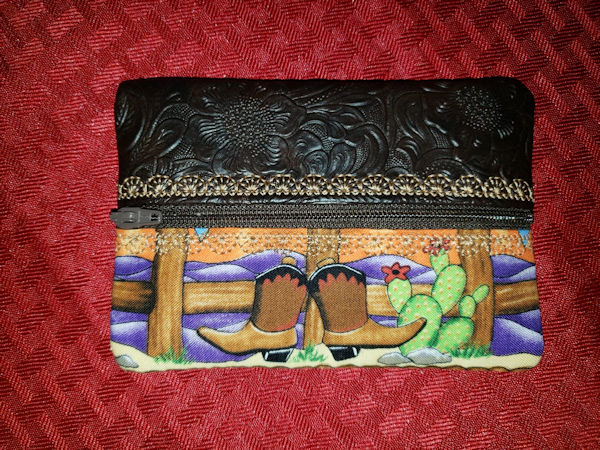 ---
Brenda made this awesome Wreath using our Free Leaf and Free Oak Coasters - so kreative Brenda
---
Following on from Anne's Curtain Swag  last week,  Eva used our  3D Flower in her Conservatory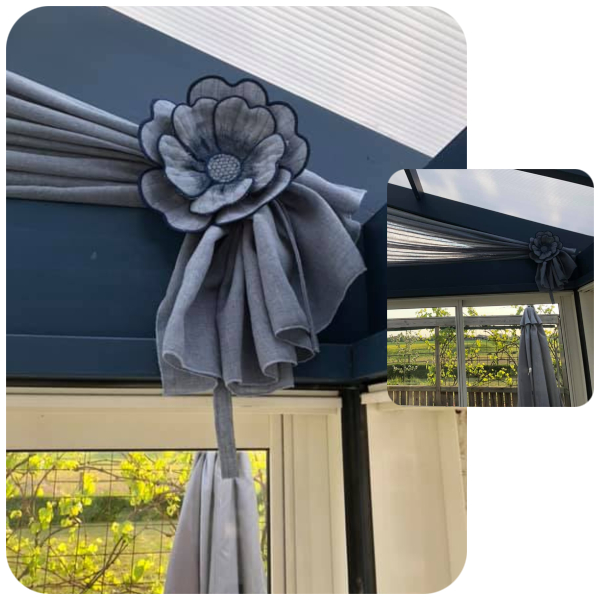 ---
How is this kreativity, Michelle upcycled this awesome In the hoop Notebook  - Michelle writes: 
One man's trash is another's treasure right? Lol I do farm chores for a friend. I took her empty dog food bag, and recycled it for her into a book cover.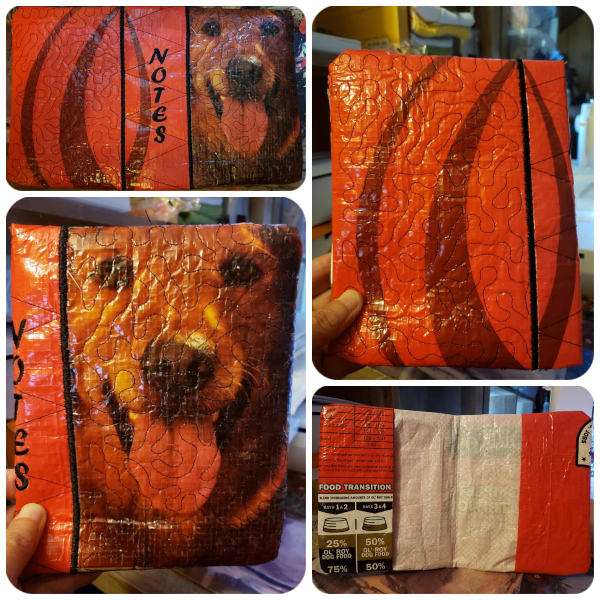 ---
How cute are these?  We love how Isabelle used our Large Panda and Large Hedgehog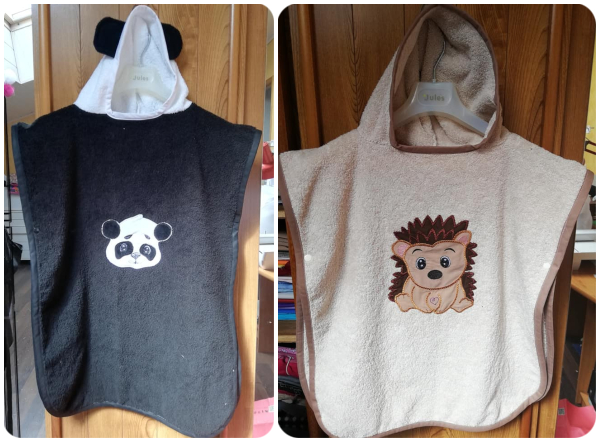 ---
Helen was awarded her Instant Win for this gorgeous Crazy Patch Bag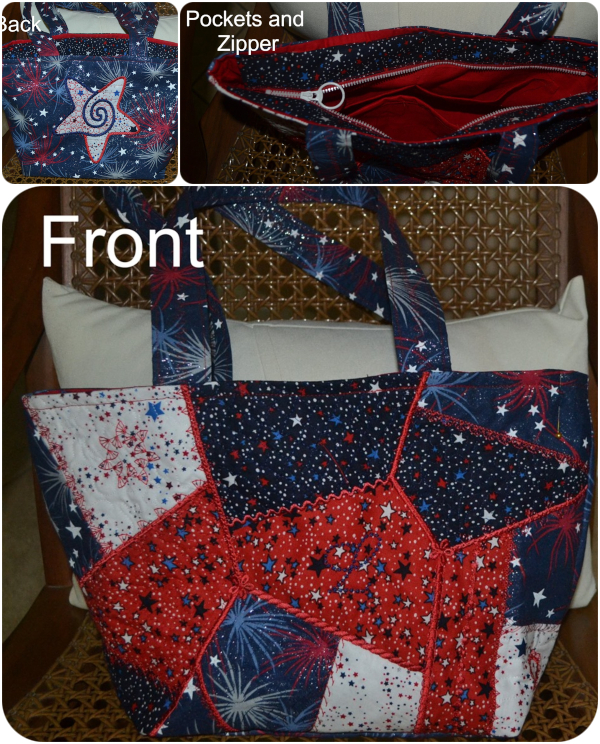 ---
This was Karen's first time doing Applique - amazing work Karen - Jungle Animal Collection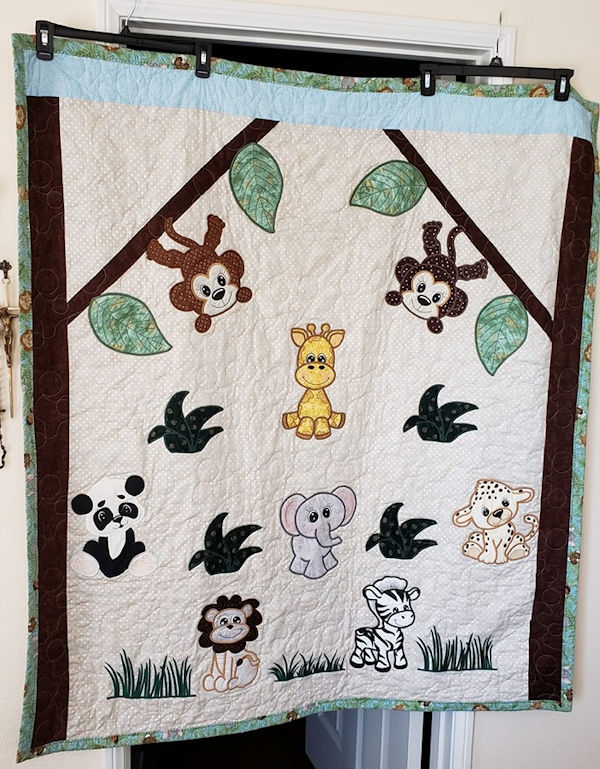 ---
How cute is Anne's Curtain Swag - just stunning!   Anne used our 3D Flower together with her own inner flower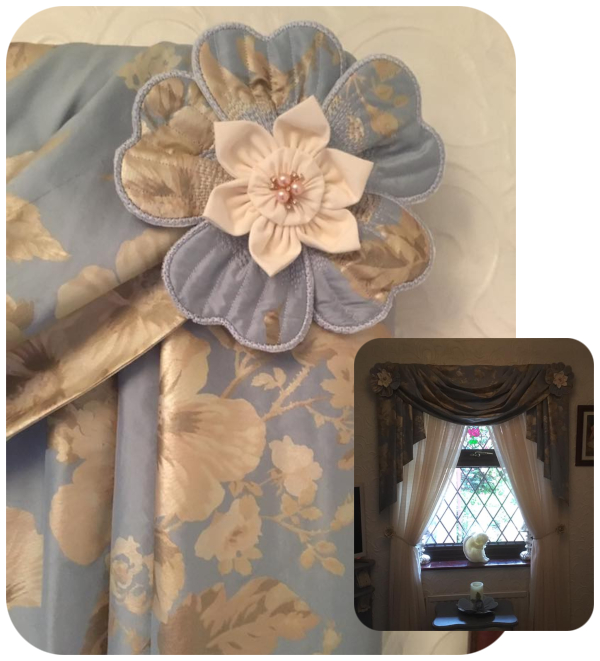 ---
We LOVE how Margaret created this unique Table Topper2 with this great saying and awesome fussy cutting of her fabric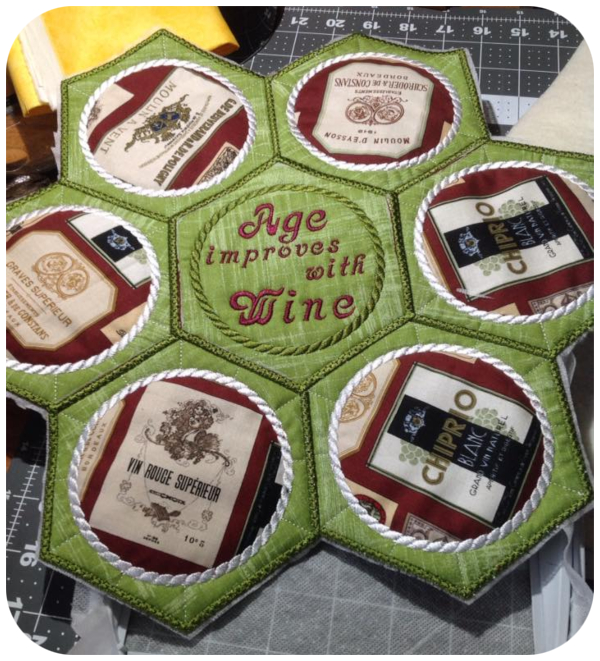 ---
Sukirani amazed us all with this absolutely unique way to use our Double DresdenPlacemat - so kreative!!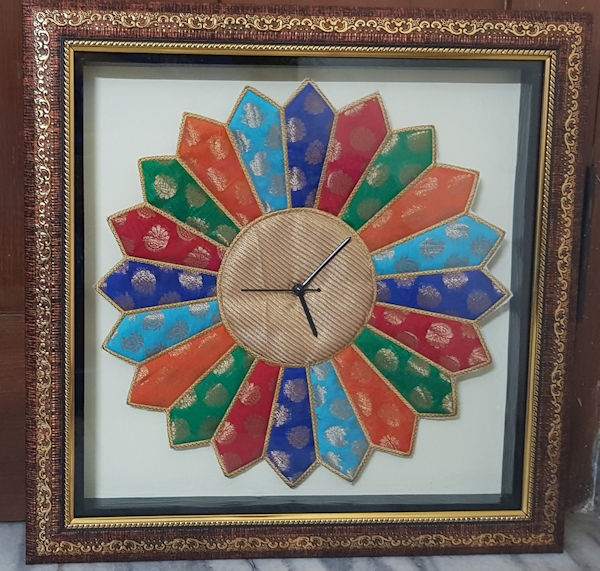 ---
Terry's Instant Win is for her gorgeous Sun-Moon Placemat Set - Beautiful!!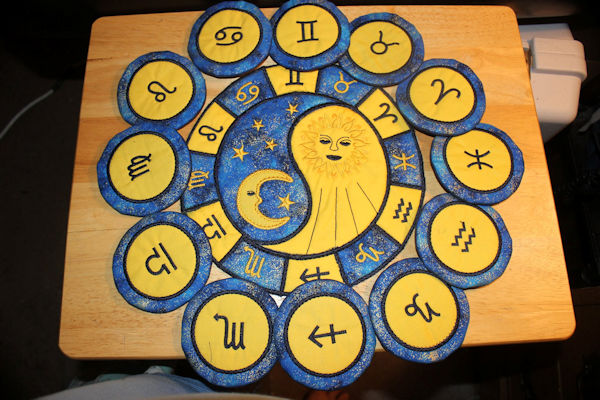 ---
Helen was awarded her Instant Win for this beautiful Quilt made with our Shirley Sews Designs
Beautiful in its simplicity Helen!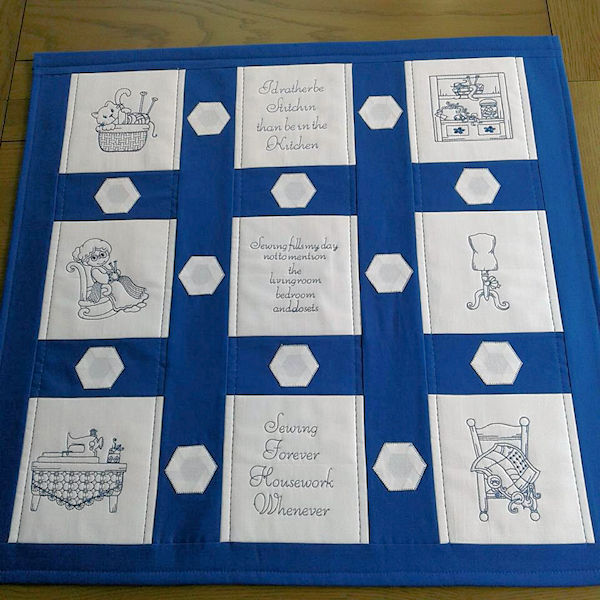 ---
This beautiful summery Tableset was created by Debbie using our Crazy Patch Table Runner and Placemat
Just gorgeous!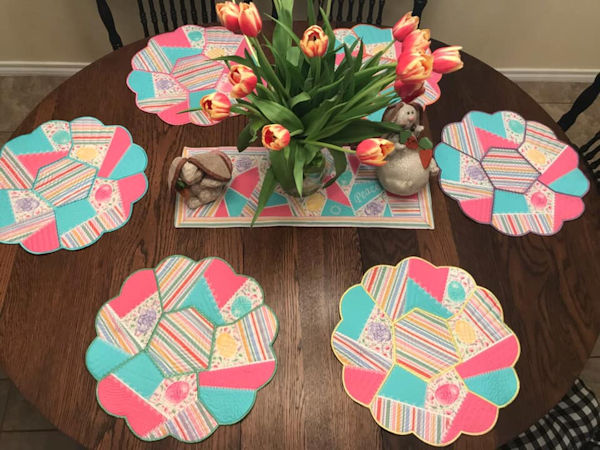 ---
Isn't this a beautiful Quilt - Thanks Annemarie for using our Large Ballerina in this stunning Quilt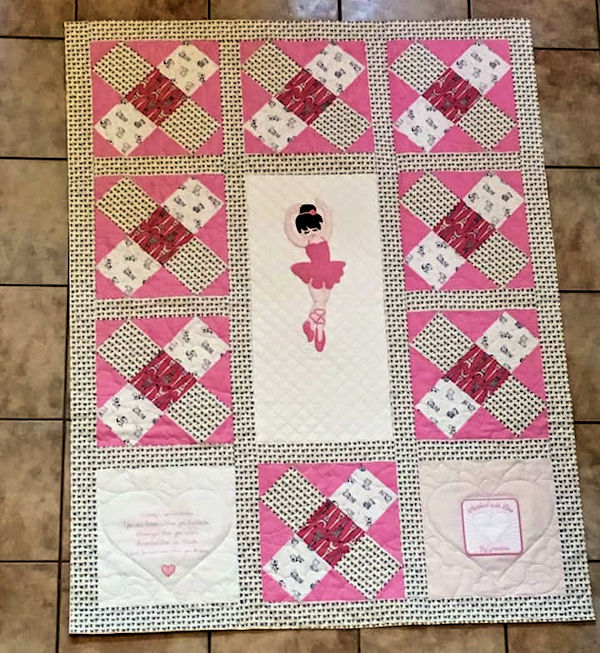 ---
Annitta combined our Flower Topper and 3D Flower to make this beautiful centrepiece - such gorgeous Colors!!
---
Bonnie created this awesome Jungle Animal Quilt 
---
How cute is Rosalind's beautiful Easter Table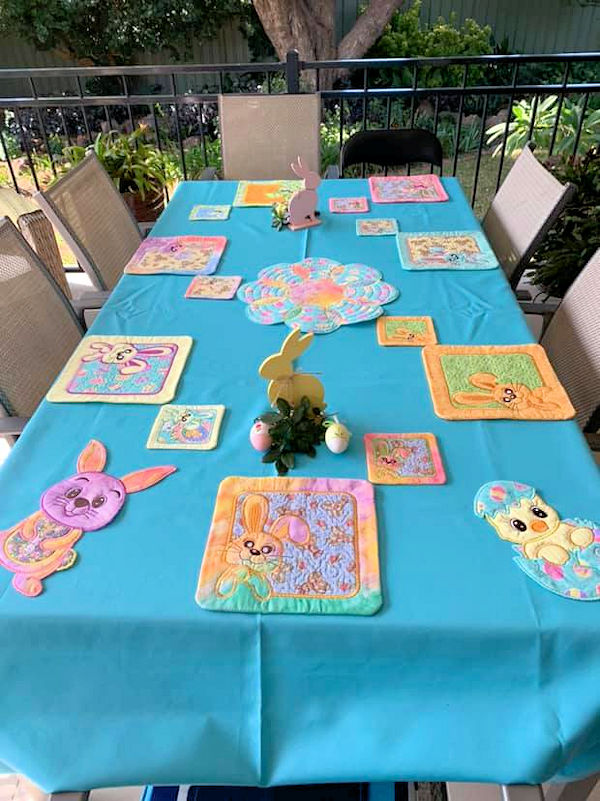 ---
Jacqui created this amazing ANZAC Wall Hanging using our Free ANZAC Designs - truly beautiful Jacqui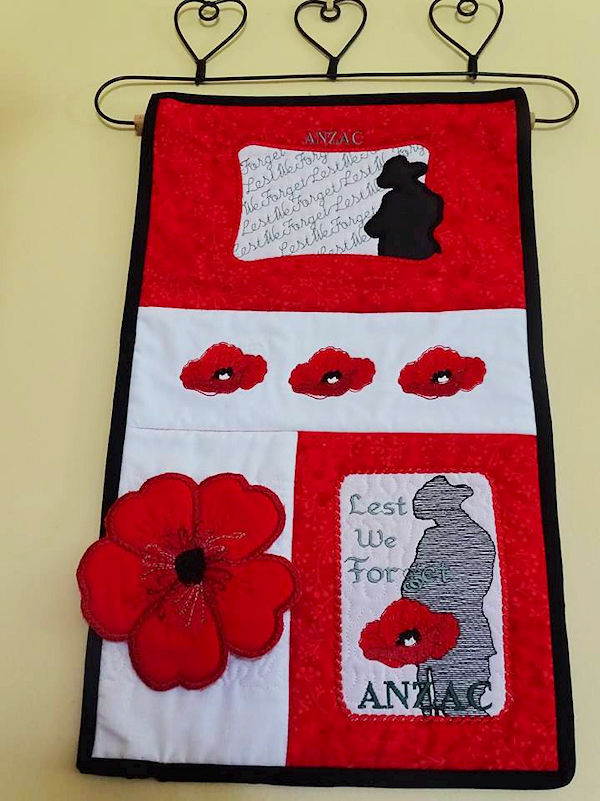 ---
Josiane created this beautiful wall hanging using our Large Butterfly and designs from Pond Life - your work is amazing Josiane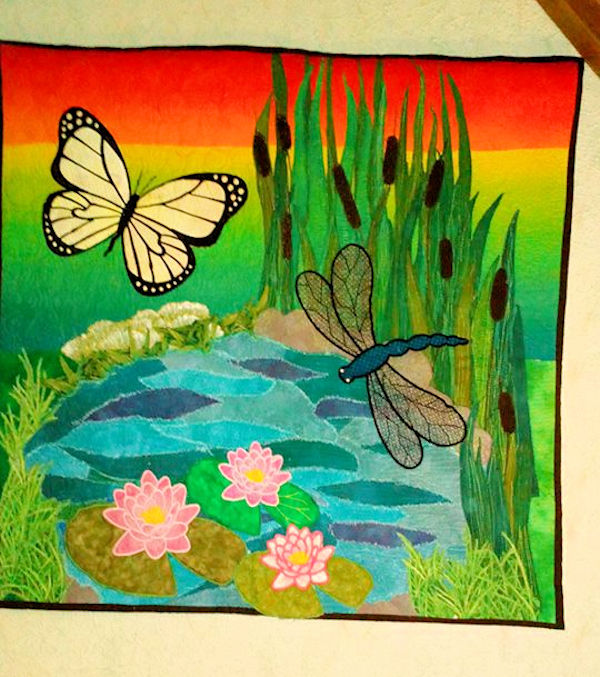 ---
Diane was awarded her Instant Win for her beautiful Table Topper  made using our Floral Topper and 3D Flower Designs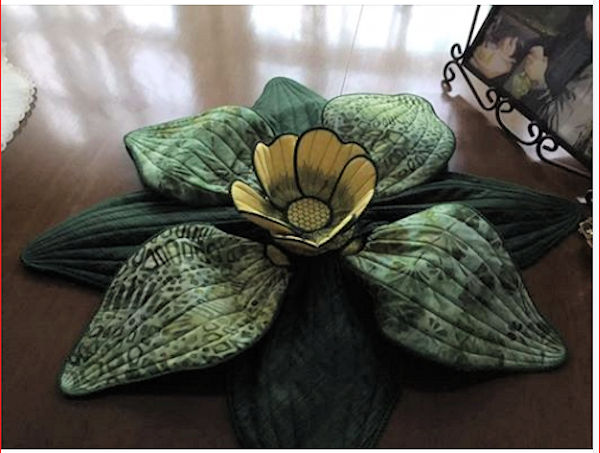 ---
Debbie's Instant Win was for her beautiful stitch out of our Happy Birds Design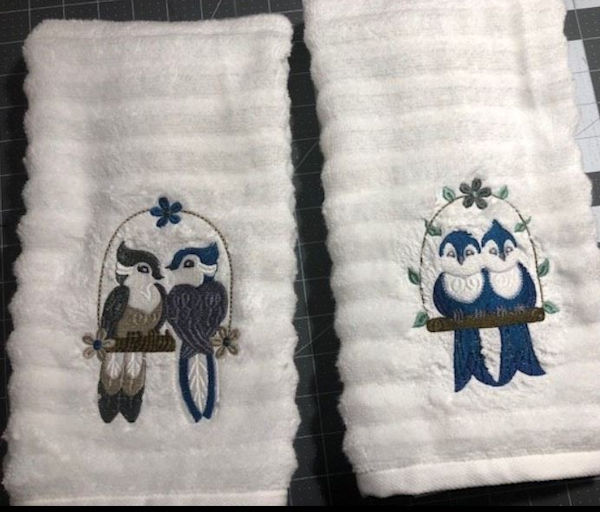 ---
We love how Gabe has used our Large Animal Appliques to make these very cute Bibs - awesome idea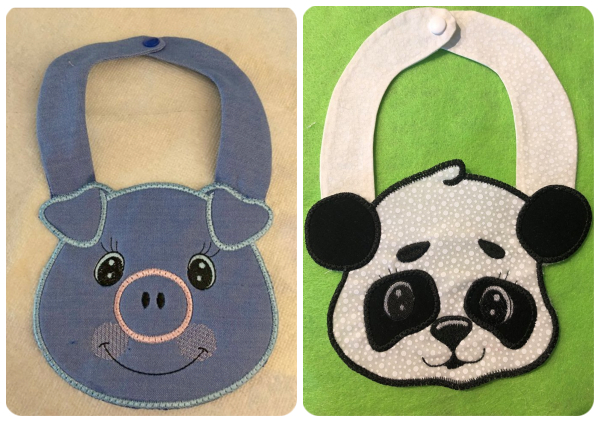 ---
Sarah created this beautiful quilt then added our Announcement Teddy and our Free Flower - so gorgeous!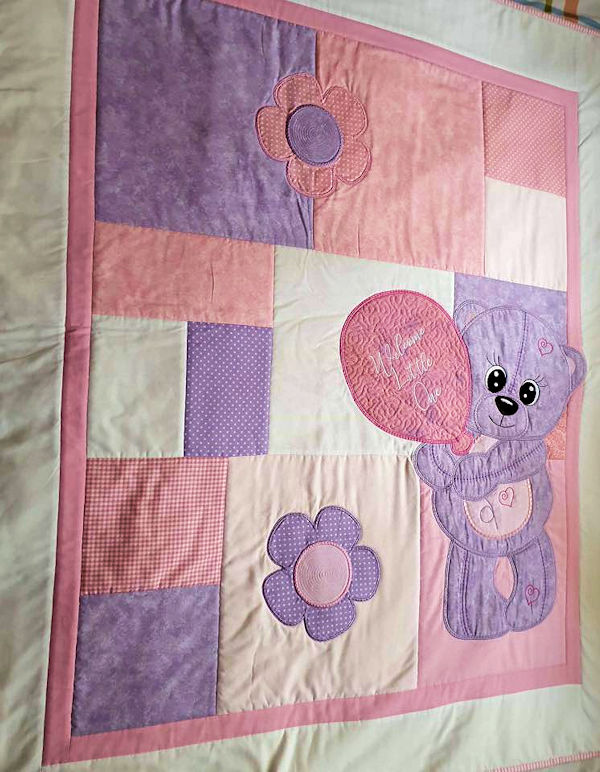 ---
Jeanie used our Celtic designs for the centre of this amazing quilt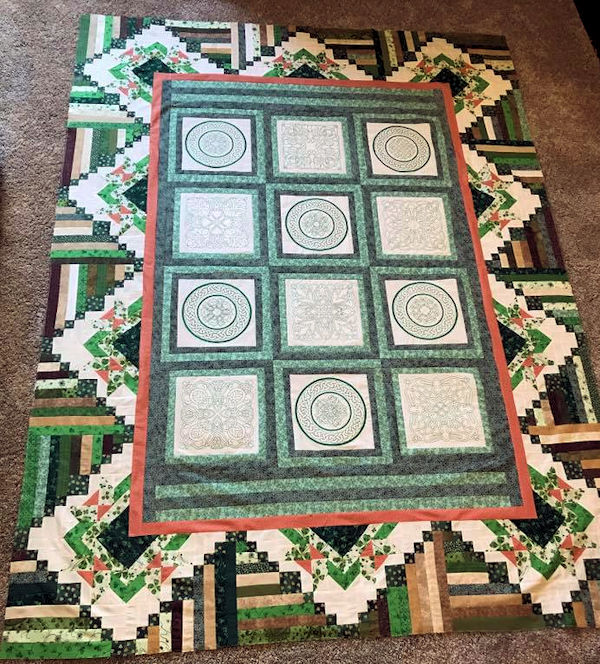 ---
Retha was awarded her Instant Win for her very very cute Easter Basket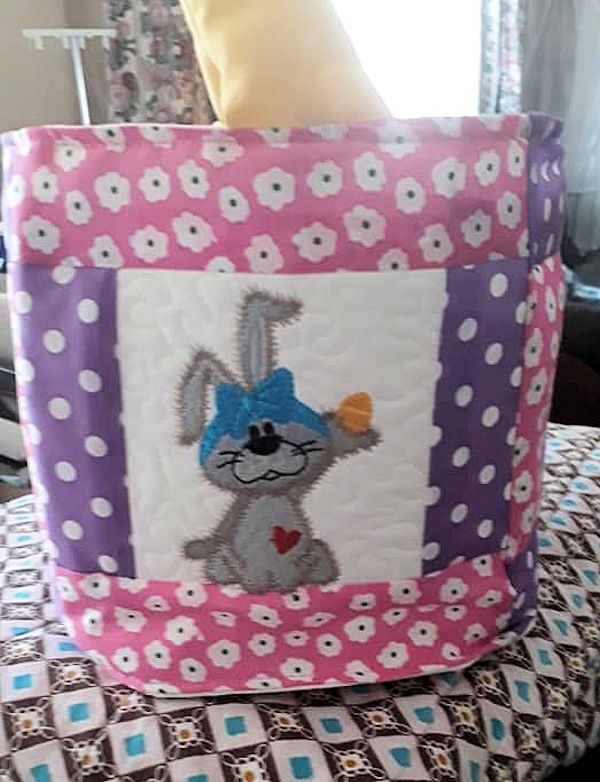 ---
Helen  was awarded her Instant Win for these gorgeous 3D Flowers stitched  with organza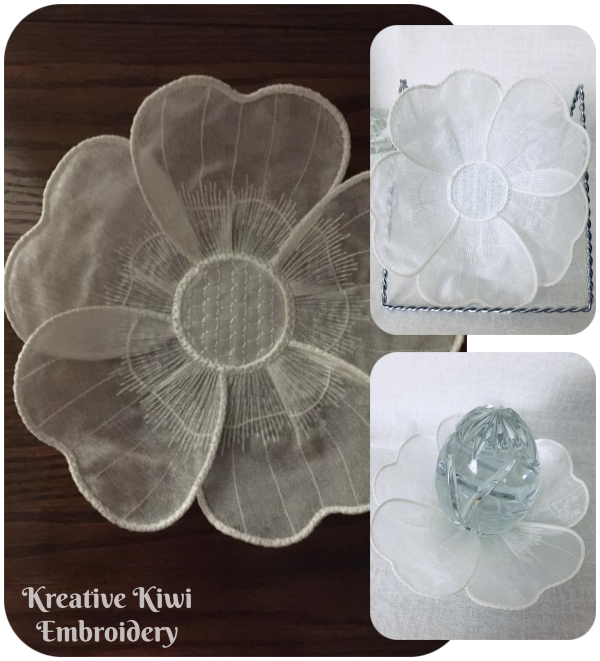 ---
Brigittes Instant Win was for her kreative use of our Crazy Patch Table Runner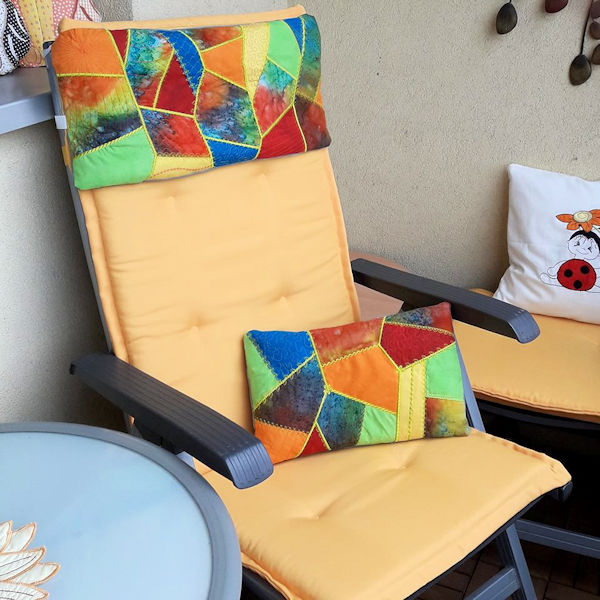 ---
Doesn't  the picture say it all!!  Ilana stitched our Peek A Boo Book for her Grand-daugher - isn't this so precious!!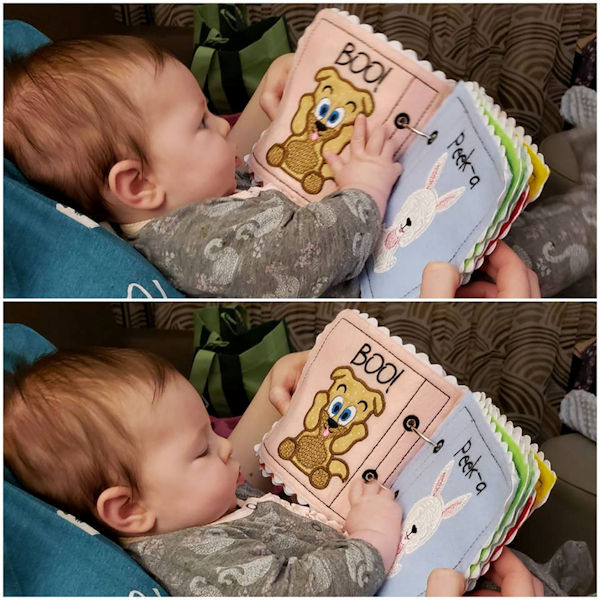 ---
How clever is Jill?   Jill used our Bunny Head together with her own Bunny Pattern to make this gorgeous Bunny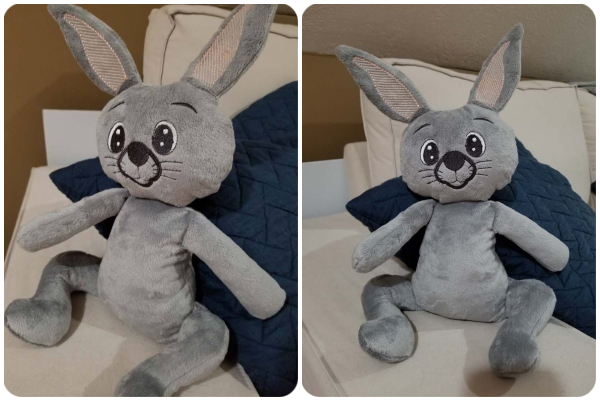 ---
Mary combined our Free Bunny Mug Rug and Rectangle Scallop Coaster for this cute Easter Coaster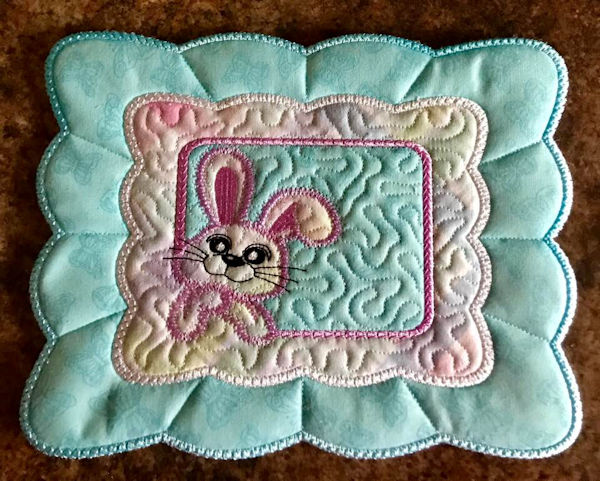 ---
Ann stitched this beautiful Zoo Alphabet Quilt - Such an awesome Color Combination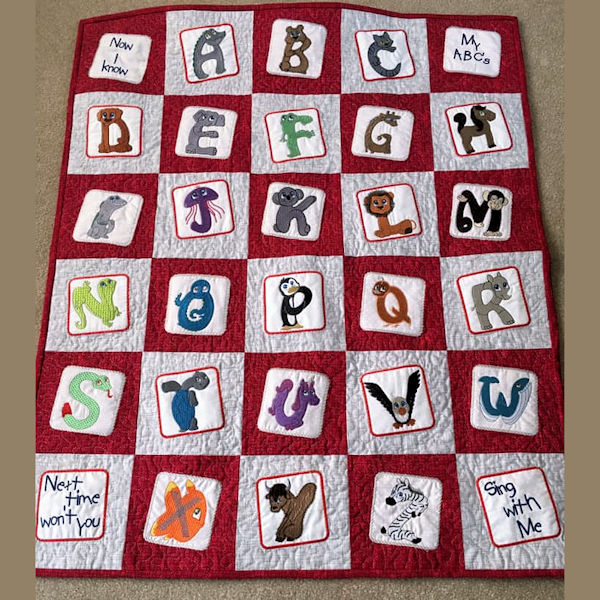 ---
Ell created her cute Easter Table Runner using our Free Easter Bunny Mug Rugtogether with the corner flowers from  Qulted Sweet Dreams  - very kreative!!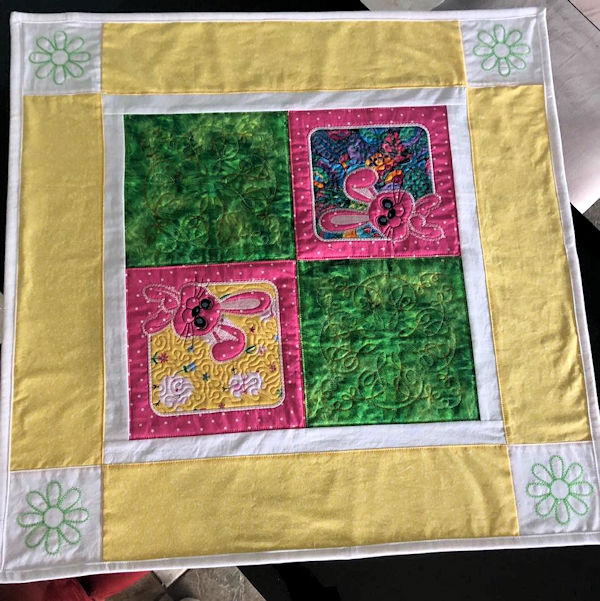 ---
Christina made her Fairy Quilt for her youngest Grand-daughter - perfect fairy fabric for the borders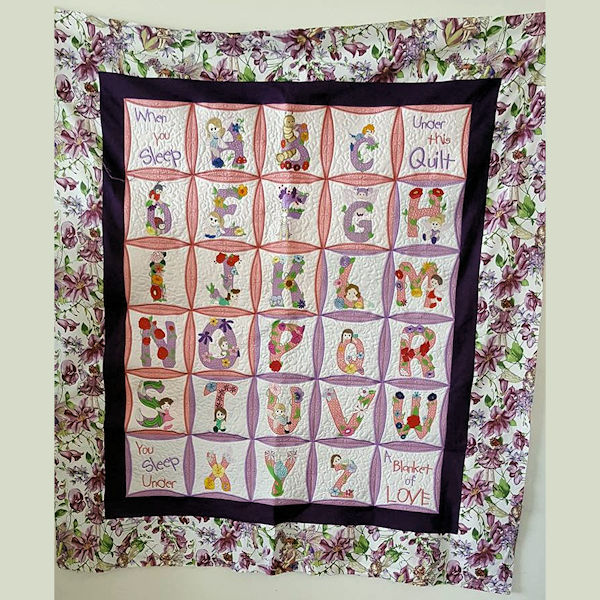 ---
How kreative is this?  Stella used our  Free Happy Place Mug Rug as a pocket on her gorgeous bag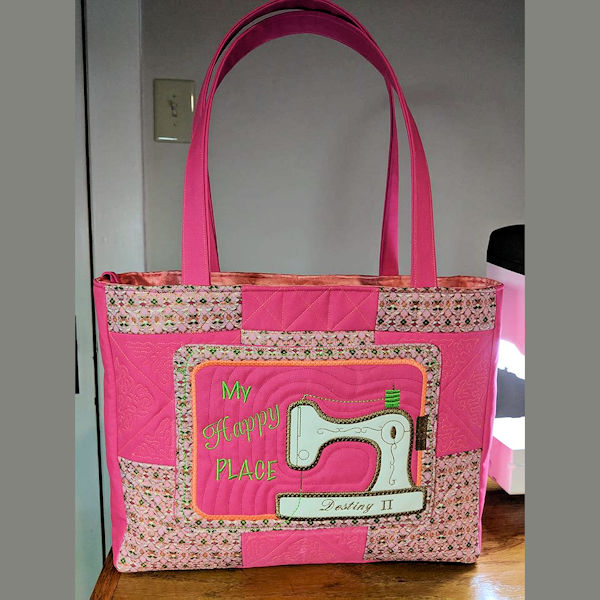 ---
Sue and her Daughter Andrea made all these bookmarks for World Book Day - What an effort!!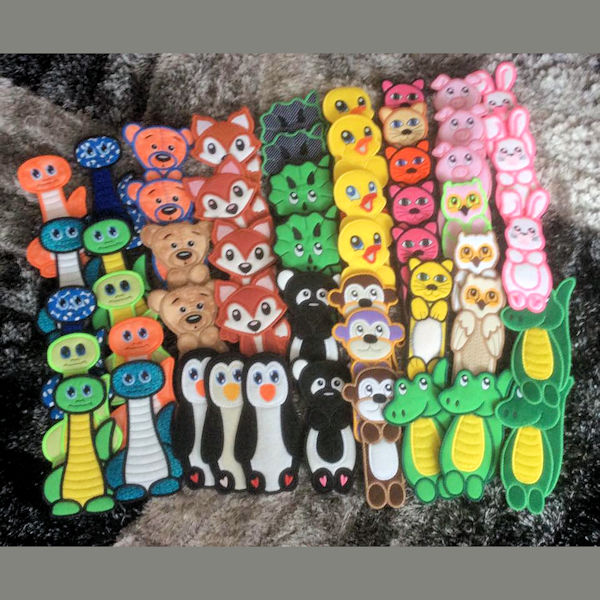 ---
Kimberly used our Large Dragon Applique on this jacket - absolutely stunning!!  Kimberly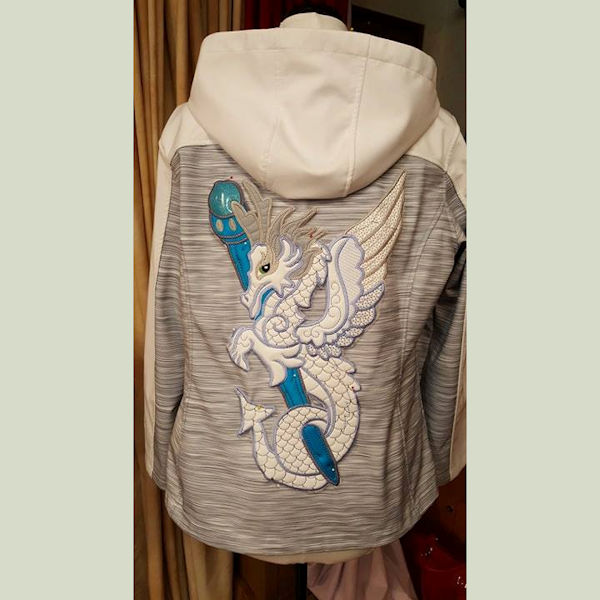 ---
Aine used our Announcement Teddy and took it next level!  Isn't this  'Bear in a Box Frame' absolutely amazing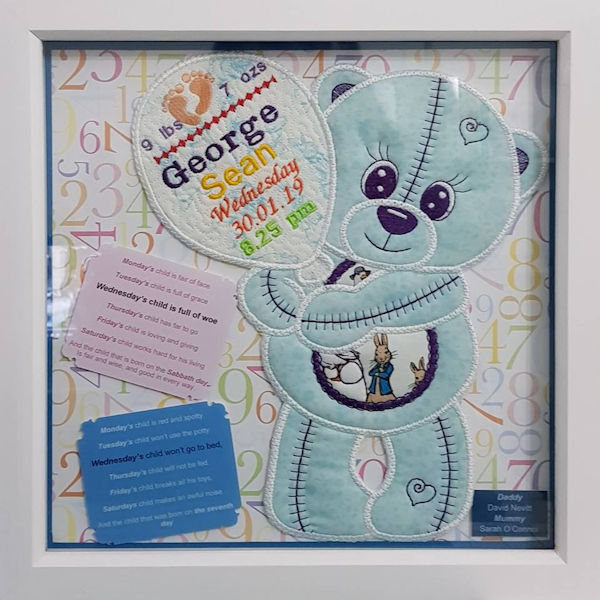 ---
Carolyn created these beautiful quilts with a variety of our Large Animal Appliques  - Carolyn donates her beautiful quilts to her local hospital NICU - Such an amazing gesture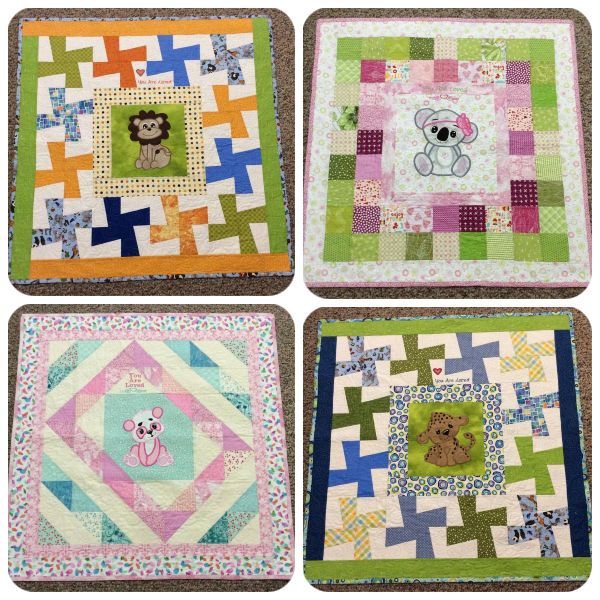 ---
Bettina was awarded her Instant Win for her stunning Table runner made using our Crazy Patch Table Runner Design - Bettina's colors are stunning
---
We all loved Dawn's Table Runner (Click here for Darina's Free Instructions)   The  centre design is from our Mandala Quilt Blocks
---
Who could resist snuggling with these cuddly Owls?  We loved Donna's use of fabrics and texture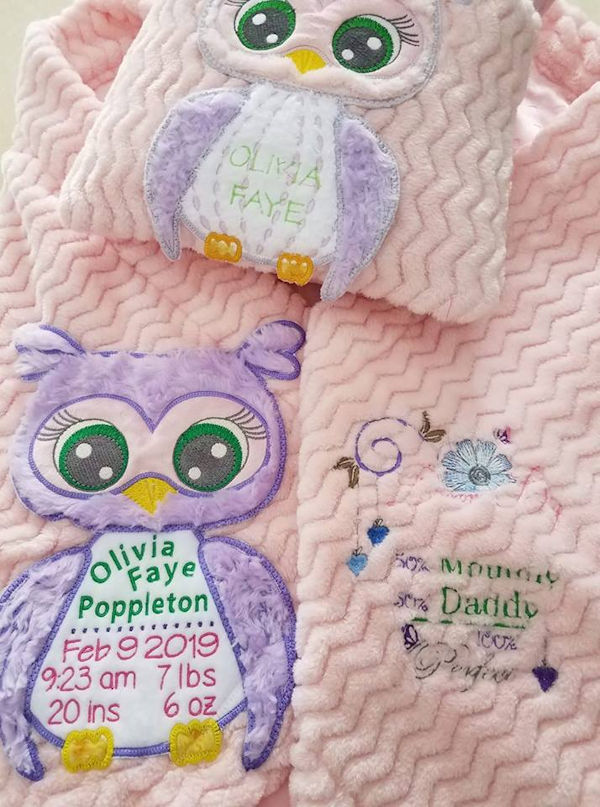 ---
Jenny created this fantastic Quilt for her Friends Grandson - Jenny used our Music Alphabet to spell out his name - Liuka AND she added the Musical Instruments that he plays - How awesome is that!!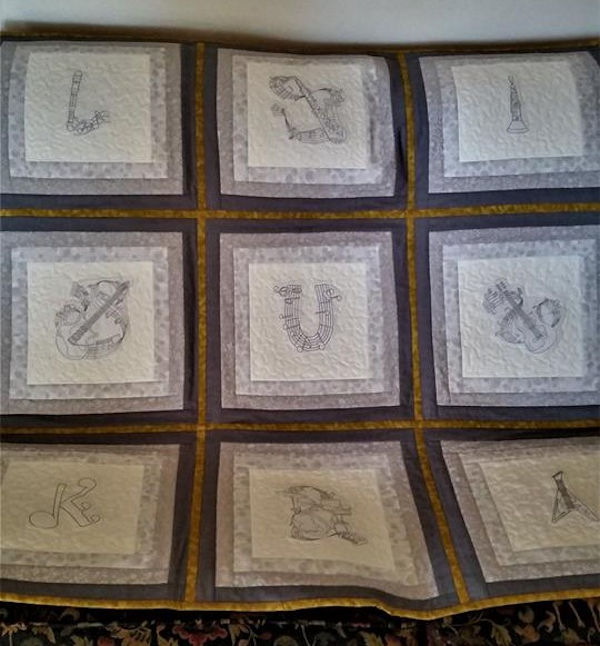 ---
We love Joanna's creativity - Joanna used our Crazy Patch  Bag design to make this very cool Tea Cosy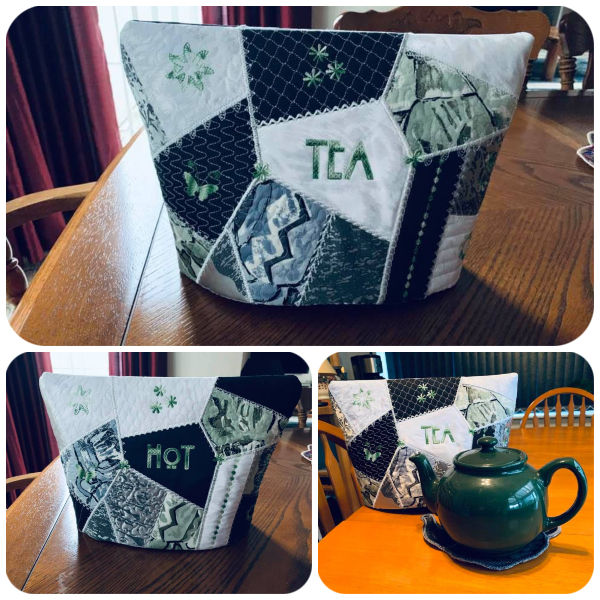 ---
Karen combined our Fairy Treehouse Design PLUS the flower from our Sweet Dreams Designs - What a mammoth effort Karen - your Quilt is beautiful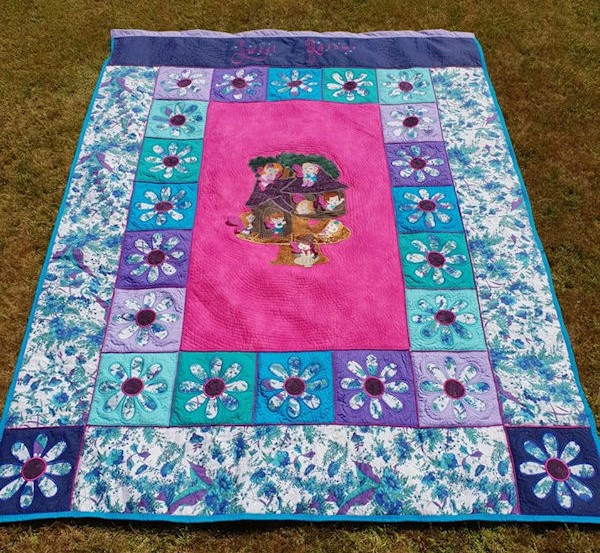 ---
Here is another stunning Quilt made by Luella - what an absolute beauty - Thanks so much for sharing Luella - I love seeing so many of our Large Animal Appliques being used in one quilt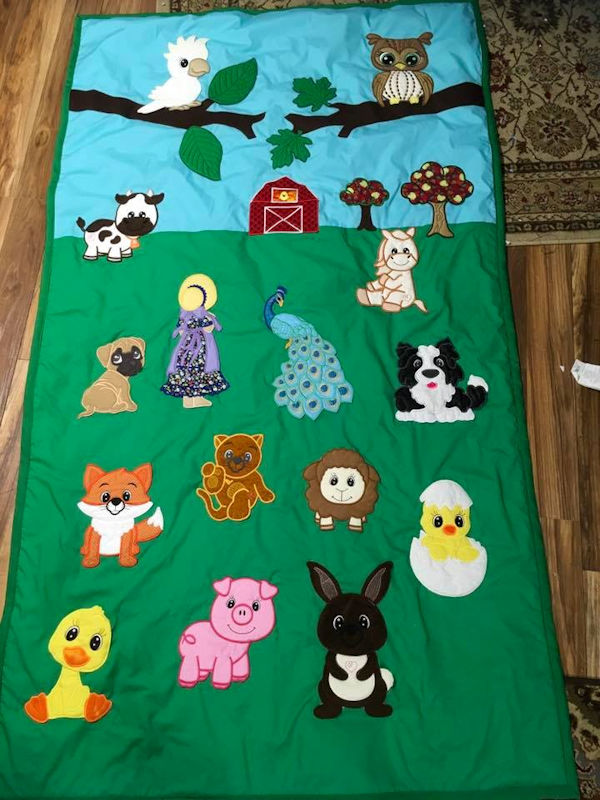 ---
Doesn't this bring back memories!  We love the felt boards Jackie has made for her Daisy Doll
Thanks for the inspiration Jackie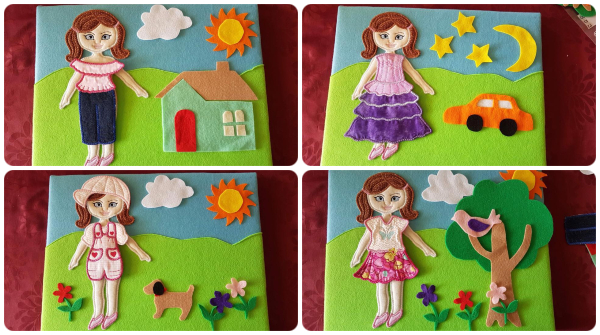 ---
Candie created this truly amazing Quilt for her Husband using our Grafitti Alpha and both our Large Eagle and USA Eagle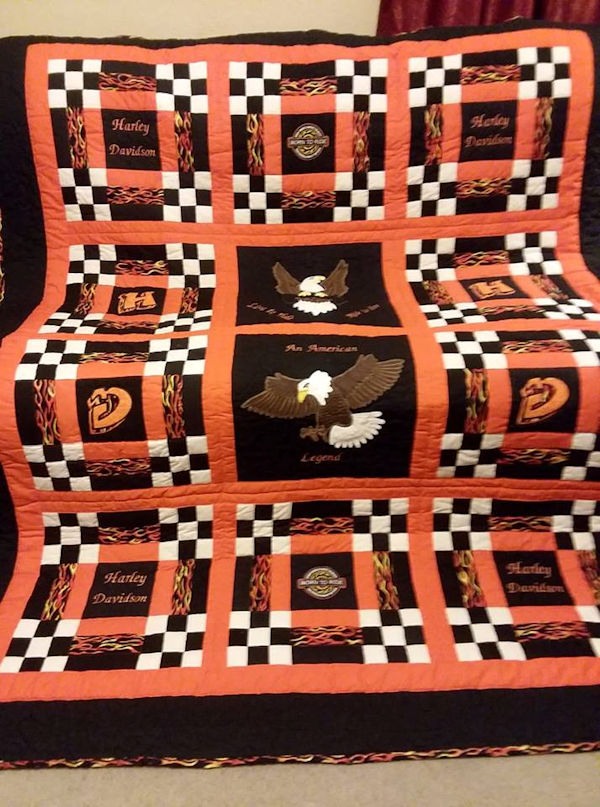 ---
Dawn made this Seashell Hold-All using our Large Sea Shell, and the Hold-All Video Instructions - beautiful work Dawn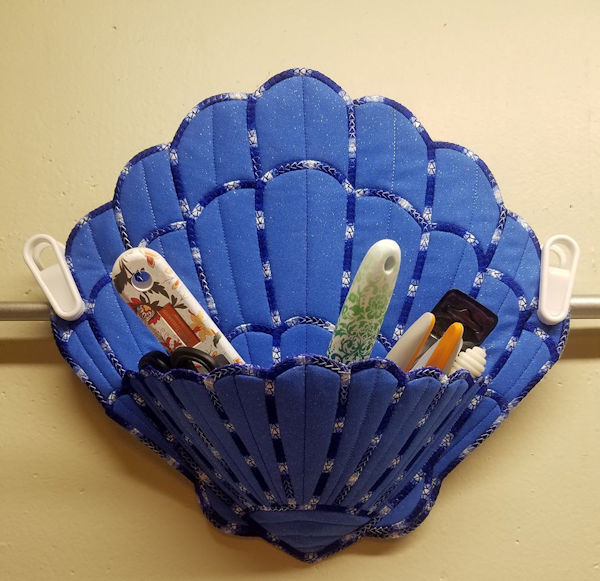 ---
Betty used our Large Fan Applique with her beautiful Oriental Fabric to create these gorgeous Cushions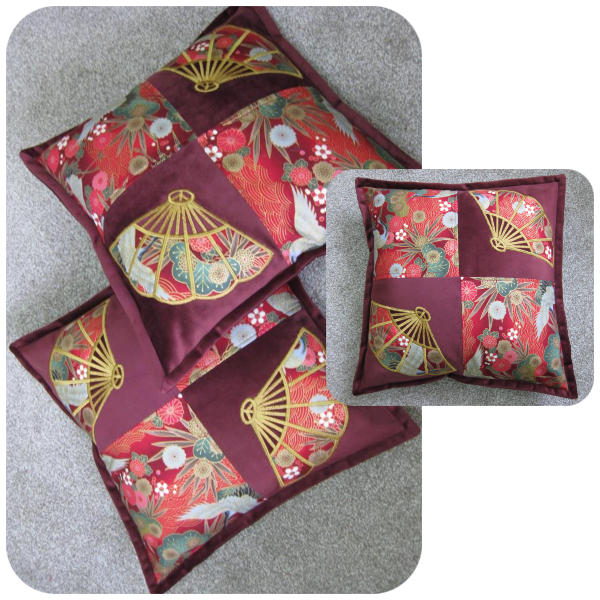 ---
Michaela was awarded her Instant Win for the beautiful way she used our Free Koru Heart for this gift bag for a work colleage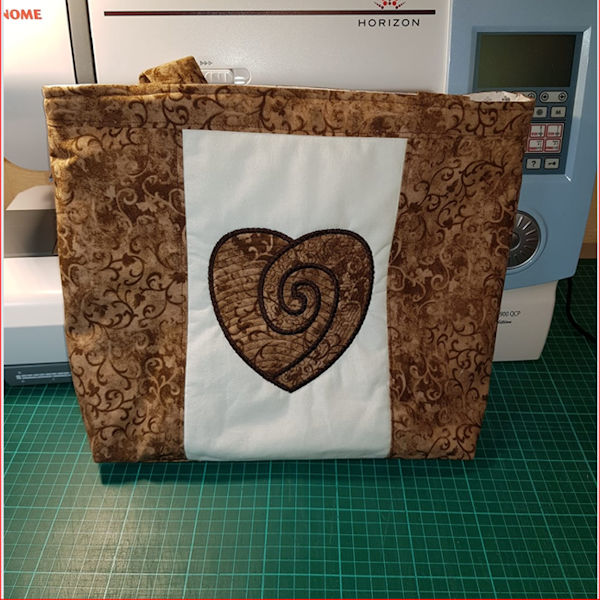 ---
Janet used the single heart from our Hearts In Abundance set to create this gorgeous Heart Gift Bag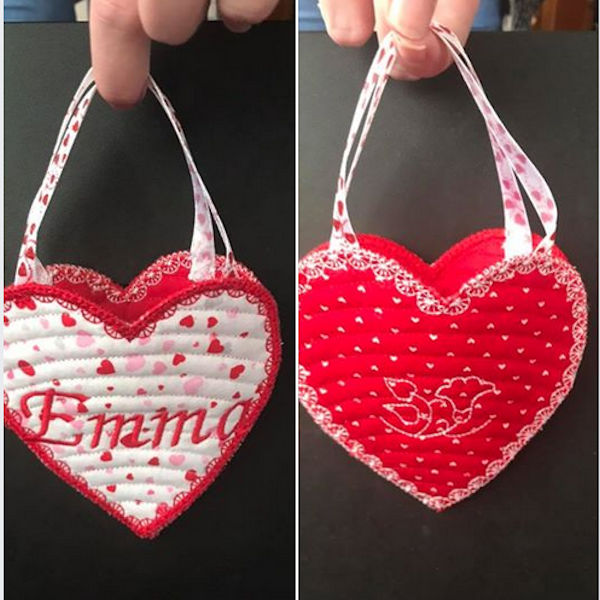 ---
Bridget created this gorgeous Playmat for her friends Grandchild using our Jungle Animals Set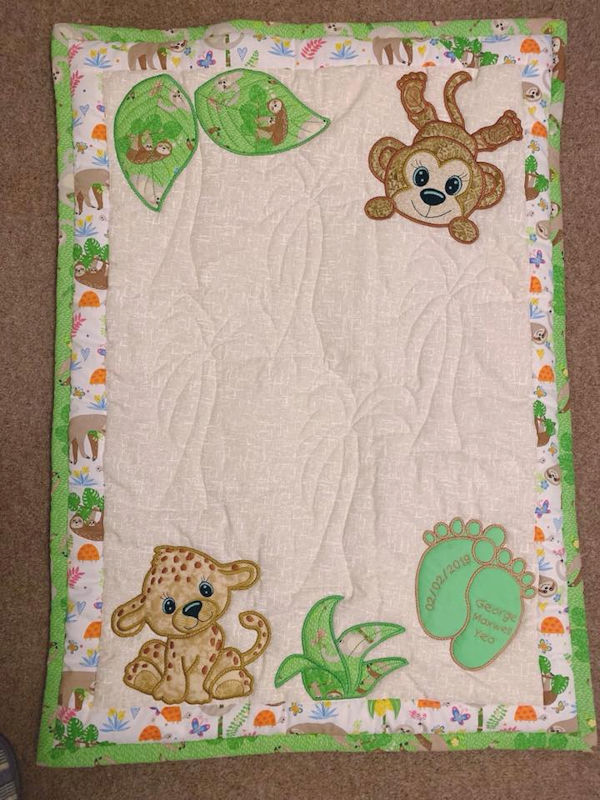 ---
What a beautiful Tablerunner Janice made using Darina's Free Table runner project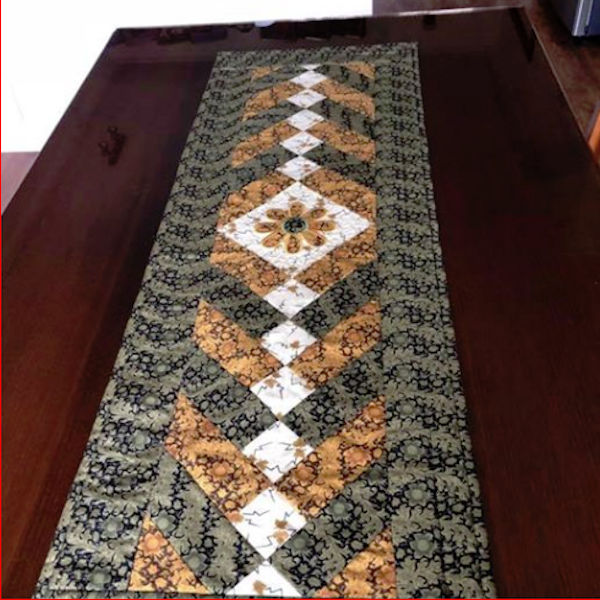 ---
ELAINE   - Has created these wonderful Growth Charts using our Large Applique animals. Aren't they both fabulous?!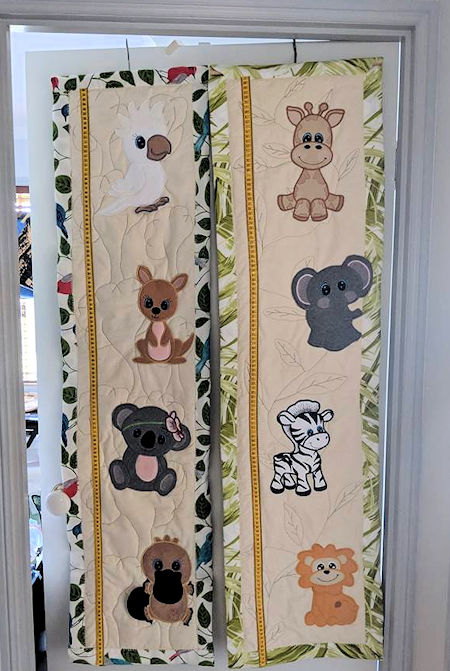 FLO - Has made this gorgeous Grand baby quilt using the Announcement Ted as the centrepiece.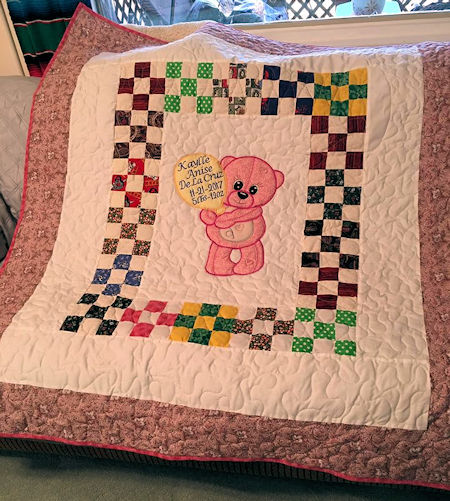 ANNE - My motorbike quilt gifted to my 1 year old nephew....designed to last him years as he grows up.... the motorbikes stitched out so well. I love KK designs ❤️❤️❤️ thank you for making my quilt so special. Thank you for sharing it with us Anne. It's such a beautiful quilt.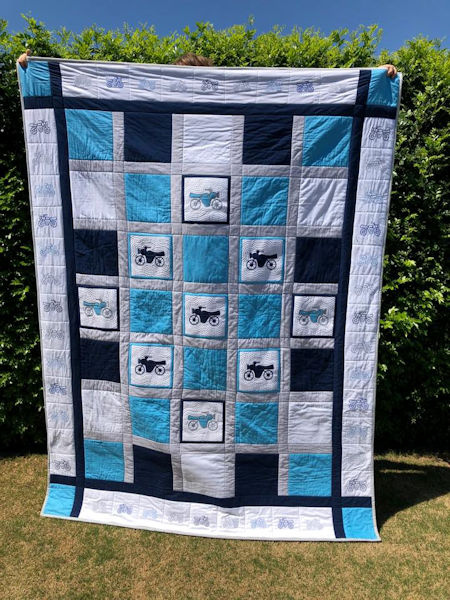 JAN - We love how Jan has used the Tree house for boys to make this stunning quilt.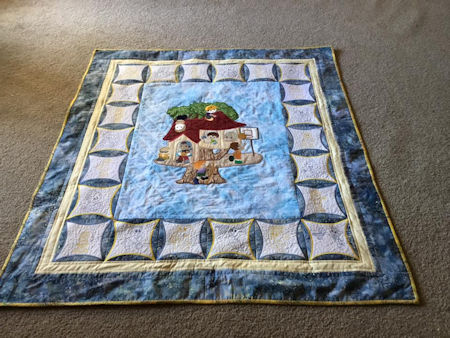 MARGIE  - was busy making these beautiful  Scallop placemats.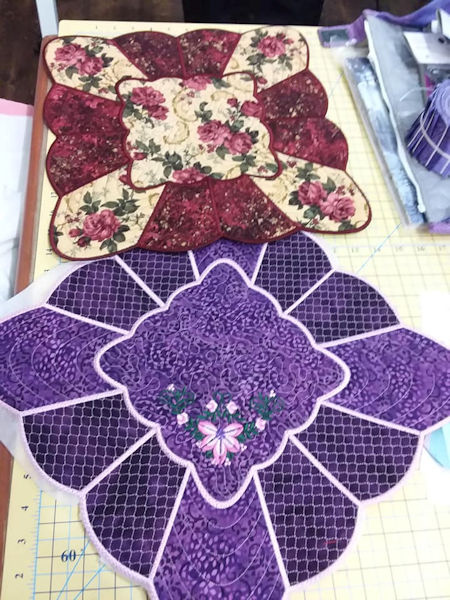 ROSIE– Rosie has done a wonderful quilt using our Large Jungle Applique Elephant.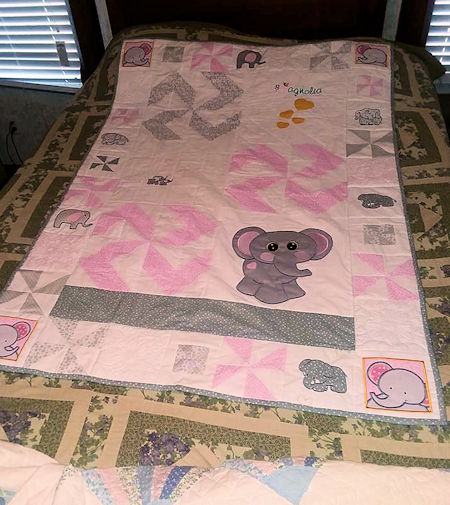 SALLY - created these beautiful notebook covers by using the design for our Crazy Patch Clutch and adapting it. Sally says…I used the Clutch Purse pattern to make Journal Covers for the girls in my grandson's class. This is a great pattern. I made 13 different girl covers. I made a few changes as I went along but they all turned out beautifully. I have attached a picture a few of the Journal Covers.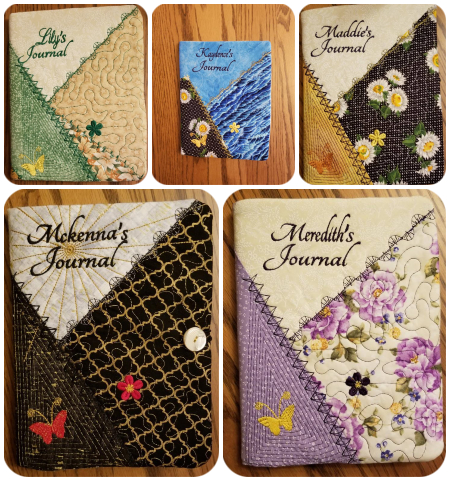 MARY PORTER & her husband created a work of art filled with love for their Granddaughter using our Dress- Up Daisy design set. Mary says…Finished the Daisy book for our granddaughter's Birthday, my husband did the illustration on it! I think he did an amazing job.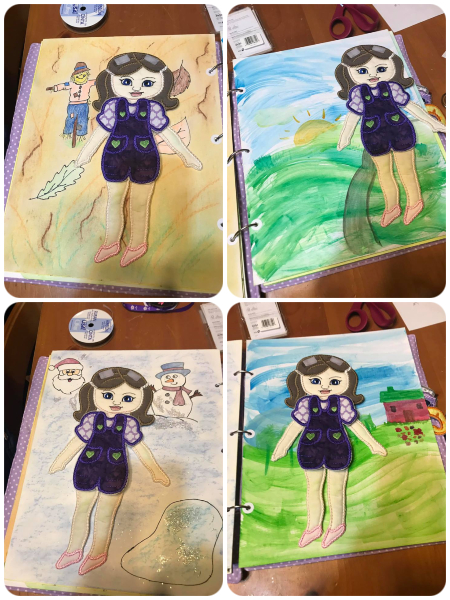 CORRIE - Has been busy creating these beautiful quilts for her Grandchildren. Corrie says…I made these quilts for my grand children. The giraffe is a camp cot size and the big one a 3/4 bed size. The quilt blocks are the leaves from abstract blocks and the animals from jungle applique. I also made some individual animals which were glued to art blocks for the bedroom wall. They love sleeping in their jungle bedroom!!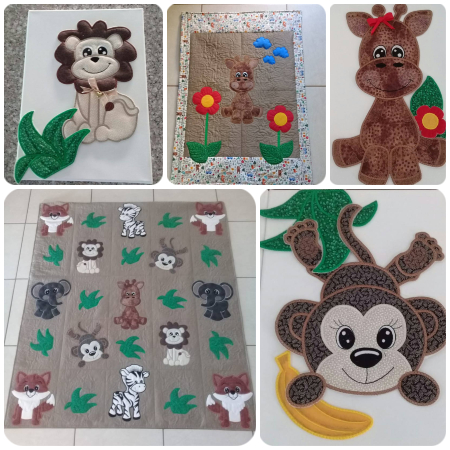 JEANETTE - We're so glad Jeanette has stopped lurking and shared with us her wonderful Kreative Kiwi projects. The Admin Team were quite pleased with all of her results! Jeanette says…I am usually just a lurker However I am so pleased with KK designs I thought I would show you what I did throughout 2018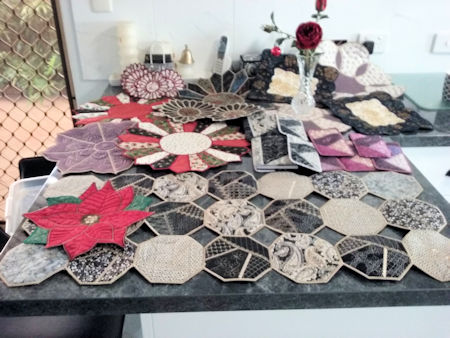 TINA SUE - Was busy using the Scallop Coaster design to make card playing bags for her Brother's Birthdays. So clever!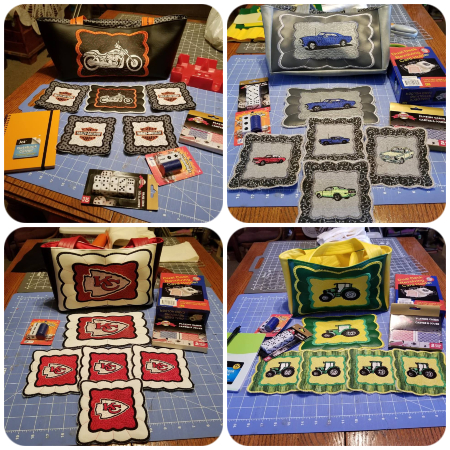 DEBRA BUSH - has created this cute Green chicken and says it's the First one. We can't wait to see what else she comes up with!4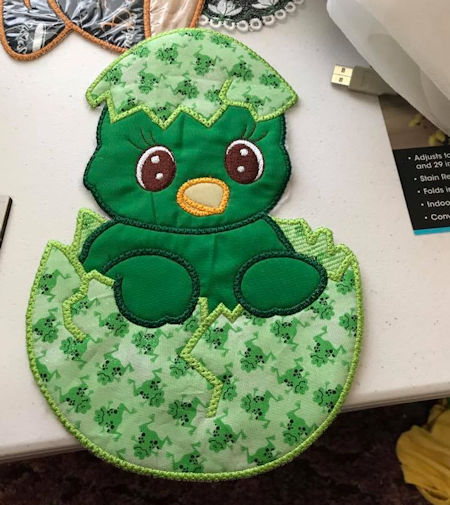 NANCY MILLER –used our Hearts in Abundance and the Announcement Ted to create this beautiful seasonal flag. Nancy says…Wanted to do February with the announcement bear holding a valentine instead of a balloon so I used my software to put the final heart from Hearts in Abundance in place of the balloon. I'm happy with the result so far.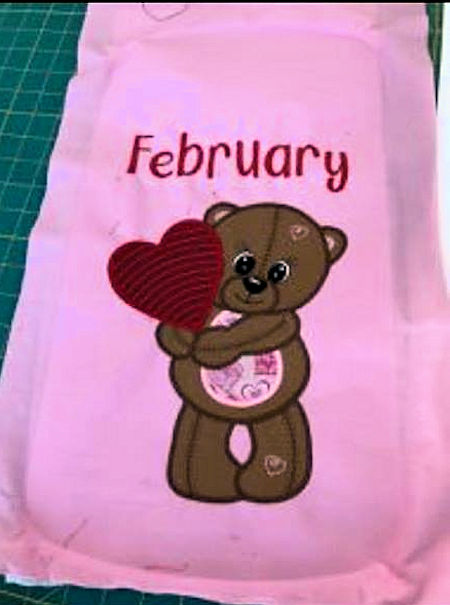 ---
Seriously - this is just a very small portion of the photos and amazing ideas that get shared on the Group
If you haven't joined already, what's stopping you??
Don't miss out on this amazing Kreativity? 
Join our Kreative Kiwi Group today