arrow_circle_down Designs
arrow_circle_down Subscribe
arrow_circle_down Large Seashell
---
In case you are new to the world of large applique designs, let me fill you in. A large applique design is one which needs 2 or more hoopings, with the joining completed as you stitch, in the hoop. The beauty of my large applique designs is you can quickly create a 3D Design much larger than your hoop.
---
---
Our Large Seashell is made in three hooping's - joined easily in-the-hoop like a Jig-saw.
The perfect design for a sea themed room or Beach House.
Having a Beach Party?  How cute would these look as Drink Coasters for your Cocktails!!
The Design is completely reversable – use matching bobbin thread
Finished Size
5x7 Hoop                                       22 by 21cm – 9 by 8 inch
6X10 Hoop                                    31 by 29cm – 12 by 11 inch                                              
8X8 Hoop                                       29 by 27cm – 11.5 by 11 inch
8x10 Hoop                                     33 by 30cm – 13 by 12 inch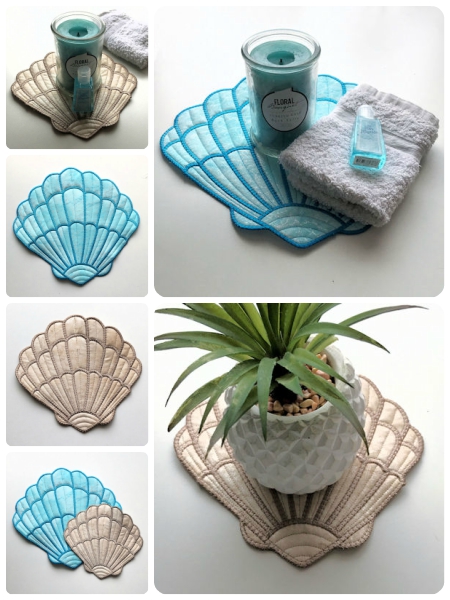 ---
VIDEO
Kay from Kay's Cutz loved Kay's (confusing isn't it) Hold All design, so has very kindlly shared her video of not only how to make the Large Seashell in the hoop, but has also included the added steps required to make the Sea Shell Hold All.
Thanks Ladies!
VIEW MORE LARGE APPLIQUE PLACEMAT VIDEOS
---
HELPFUL BLOGS
---

INSPIRATION
How cute is the 'hold all' Kay made using the Shell design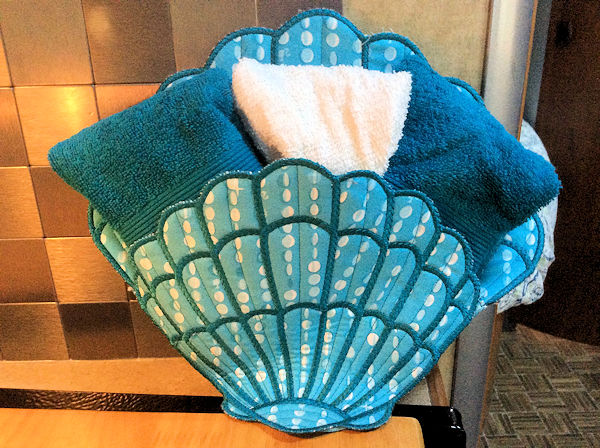 ---
I just LOVE our Kreative Kiwi Group - you take a simple design and make 'something wonderful'
Top Left - Kay's 'hold all' 
Top Right - Vivienne's Sea Shell with her matching Sea themes
Bottom Left - Mary Beth's Sea Shell Table Setting
Bottom Right - Elaine's Sea Shells in her Bathroom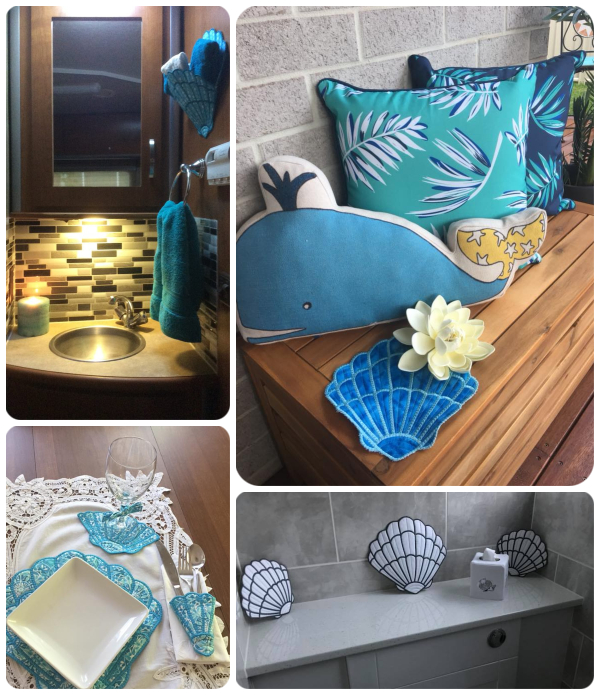 Mary Beth's made her very cute Utensil Holder by stitching the small Sea Shell Coaster, folding in half, and stitching down the sides - Great idea Mary Beth!!
---
I know I am always amazed by your creativity, but when I saw these photos on the group it was just Wow!!
Maggie used our Large Shell on this AMAZING Mermaid costume for her little Mermaid
Maggie writes "I made this for a Little Sea Princess who turned 4 this week-end using Kreative Kiwi's large shell design. I used the 5x7 size for both the bodice and tailfin. The tailfin also has a shell on the back making the outfit pretty on both front and back."
Isn't this absoutely amazing!!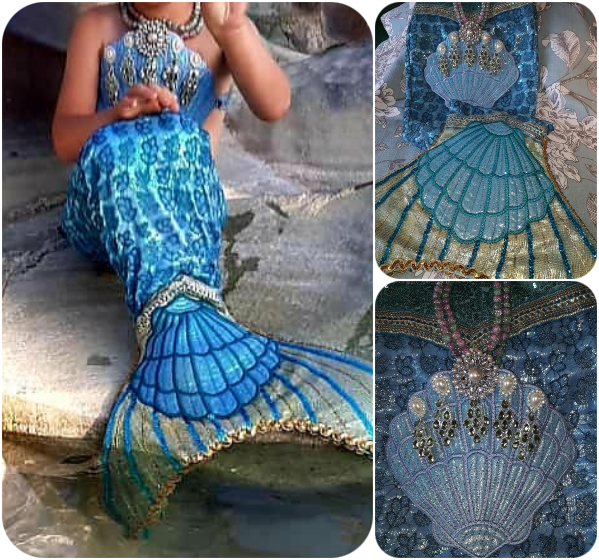 ---
indi shared her beautiful table sets she made using our Large Shell Applique - Instant Winner!!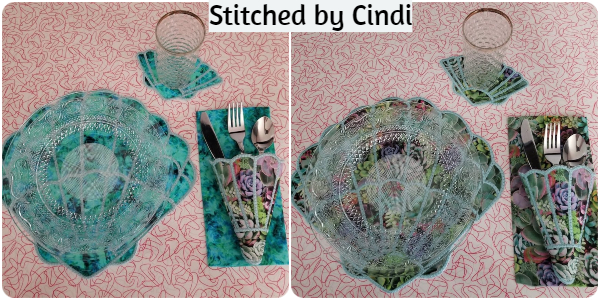 ---
We've had another great idea for using this Sea Shell design
 

 

Corrie created this gorgeous Towel Holder by:

Stitched two Sea Shells - One is flipped for the Back
Sewed the two of them together on her sewing machine , with the towel in the middle, and  leaving a gap at the top open
Attached the Kam snaps, and then stitched the gap shut.

Thanks so much for sharing Corrie
---
---
Dianne took our simple design and made something special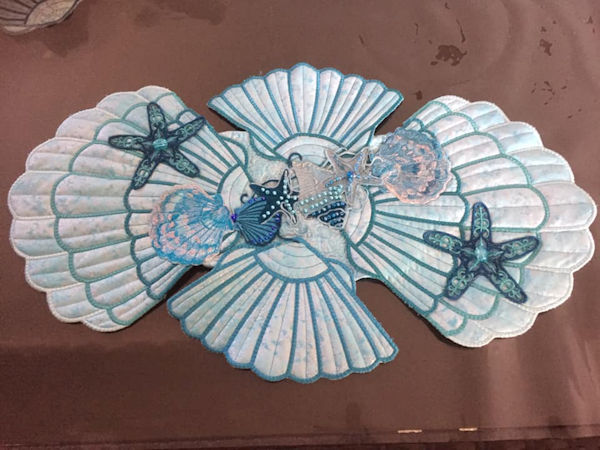 ---
Click here to view more designs made by our Kreative Kiwi group members for more inspiration!
VIEW SAMPLES OF OUR LARGE APPLIQUE PLACEMATS
| Hoop Size | Model | Type | Year |
| --- | --- | --- | --- |
| 5x7 | | | |
| 8x10 | | | |