arrow_circle_down Designs
arrow_circle_down Subscribe
arrow_circle_down Shirley Sews
This redwork set is dedicated to my great friend Shirley.  Shirley really does sew!!  Shirley was my boss and friend for many years, and while my Mum first introduced me to sewing when I was small, there were many years when sewing was on the back burner - then Shirley would bring in her beautiful quilts that she made, and I will drool over them, and then I visited her home and saw the fabric - cupboards and cupboards full of it.  Shirley re-ignited my sewing spark, and it is fair to say I wouldn't be where I am today without her.  Thanks Shirley.
These designs come in both 4x4 and 5x7 sizes.
I got all excited and had 40 minutes before I had to pick the girls up from kindy, so I decided I would make a quick 'needle roll' - no measurements, just the designs I wanted to use - Stitch, cut, sew.  Well I got it made - very cute, but.. dummy me, didn't think about the fact there were 3 'front' surfaces to embroider, not just the centre one that I stitched!  So the needle roll is looking decidedly bare, but figure it will give me an excuse to add more buttons and maybe - dare I say it..  do some hand embroidery.
---
Helen was awarded her Instant Win for this beautiful Quilt made with our Shirley Sews Designs
Beautiful in its simplicity Helen!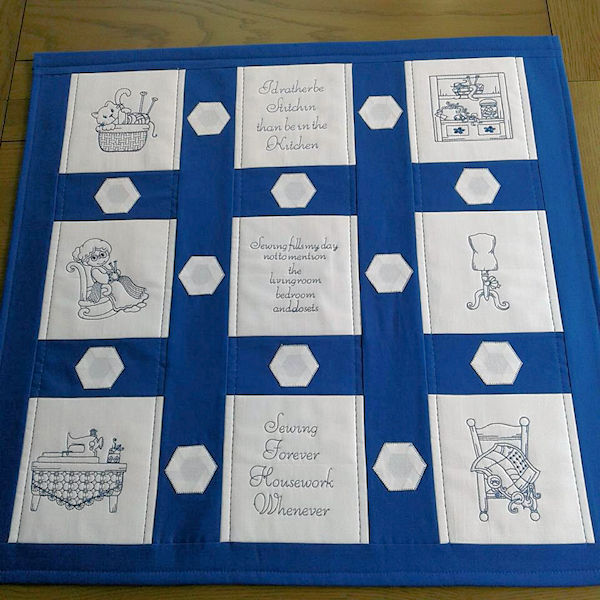 ---
Christine combined these designs with our Orange Peel Design to make this fabulous quilt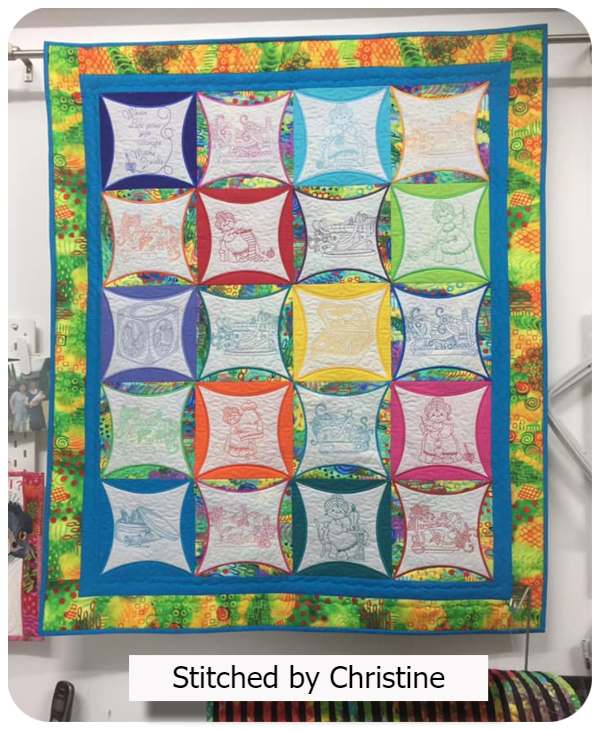 | Hoop Size | Model | Type | Year |
| --- | --- | --- | --- |
| 4x4 | | | |
| 5x7 | | | |