---
---
I adored the Jungle Babies Artwork from AMB Illustrations, so started off with the Panda design, and the set grew from there!!
I wanted each 'Baby' to be simple, and keep to two hooping's - easy and (fairly) quick to assemble.  The elephant ended up being 3 hooping's, but if you are new to my Large appliques, then start with another design and you'll understand the process.
** The Leaves shown in the Quilt are included in your design file.
| | |
| --- | --- |
| | PANDA5x7 hoop18 by 21 cms7 by 8.5 inches 6 x10 hoop20 by 25 cms8 by 9.5 inches 8x8 and 8x10 hoop24 by 29 cms9.5 by 11.5 inches |
| GIRAFFE5x7 hoop15 by 25 cms5.8 by 10 inches 6 x10 and 8x8 hoop20 by 34 cms8 by 13 inches 8x10 hoop23 by 39 cms9 by 15 inches | |
| | LEOPARD5x7 hoop20 by 19 cms8 by 7.5 inches 8x8 hoop22 by 12 cms8.75 by 8.5 inches 6 x10 hoop26.5 by 25.5 cms10.5 by 10 inches 8x10 hoop29 by 28 cms11.3 by 11 inches |
| ZEBRA5x7 hoop14 by 22 cms5.5 by 9 inches 6 x10 hoop18 by 29 cms7 by 11 inches 8x8 and 8x10 hoop20 by 35 cms8 by 14 inches | |
| | ELEPHANT5x7 hoop19 by 20 cms7.4 by 8 inches 6 x10 and 8x8 hoop23 by 24 cms9 by 9.5 inches 8x10 hoop29 by 31 cms11.6 by 12 inches |
| LION5x7 hoop14.6 by 21 cms5.7 by 8.3 inches 6 x10 and 8x8 hoop18 by 26 cms7 by 10 inches 8x10 hoop20.5 by 31 cms8 by 12 inches | |
| | MONKEY5x7 hoop18.5 by 22 cms7.3 by 8.8 inches 8x8 hoop21 by 25 cms8 by 9.7 inches 6 x10 hoop22 by 26 cms8.5 by 10 inches 8x10 hoop27 by 32 cms10 by 12.75 inches |
  

I made this Quilt top with my samples (I haven't quilted the top yet, as I want to give the quilt to a little one – just waiting on him/her to be born – then I will embroider their name in the borders)

 (The Quilt is straight, it's just the photographer (me) that needs some work!!)

***Please note - there are no instructions for the pictured Quilt -  I used a variety of hoop sizes to make the Jungle Animals on my Quilt, and the size, and designs will be based on your own hoop size and preference.  The nature of the designs is you add them to 'any' Quilt.
While the Designs are not reversible – (I looked at it, but it added a complexity that I wanted to avoid), If you want to use them for Wall Hangings, or Large Mobiles, - you can simply stitch the completed design to a piece of felt, then carefully cut away the excess felt – you could even leave an opening in the felt, and add stuffing.
You can do so much with these Large Appliques 
Cushion

Draw-string Bag

Towel

 

 

 

Many of my customers use these designs on Minky Blankets – Add a name, and you have the perfect personalised Baby Gift
NEW***  Need more ideas?  Read our Partying with our Jungle Animal Blog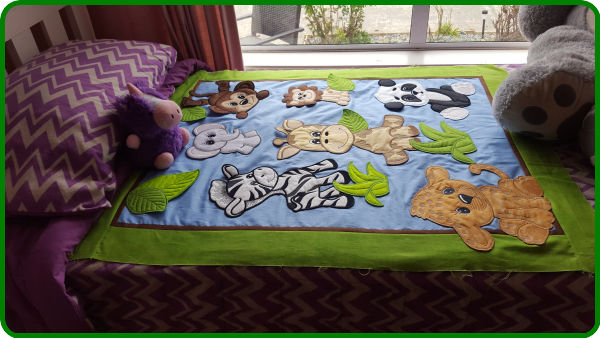 I LOVE this idea of Darina's - such a 'kreative' use of these Jungle Animal designs