arrow_circle_down Designs
arrow_circle_down Subscribe
arrow_circle_down Large Owl Applique
---
In case you are new to the world of large applique designs, let me fill you in. A large applique design is one which needs 2 or more hoopings, with the joining completed as you stitch, in the hoop. The beauty of my large applique designs is you can quickly create a 3D Animal Design much larger than your hoop, and then add them to quilt blocks, reading pillows or pretty much any item as you like. 
---
Our Large Owl is made in 2 hooping's  - joined easily in-the-hoop like a jig-saw. Once you have created your Owl you can add them onto a pre-made item,   Sweat-shirts, cushions etc.
Finished Size
8x10 hoop           25.5cm by 35cm
8x8 hoop             19.5cm by 26.5cm
6x10 hoop           21.5cm by 29cm
5x7 hoop             18cm by 24cm
My Ruby loves Owl's so I finally made her this very cute Owl to go on a minky throw for her Bed.  The throw was on sale for $5.00, and adding the owl has made it look fantastic.   Ruby has 2 birthdays to go to, and she's asked if I could make them for the girls for presents.  Not bad for $5.00 plus some fabric scraps.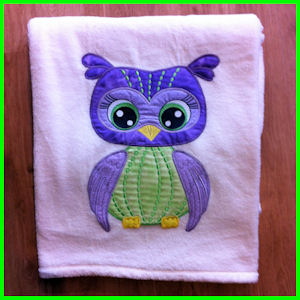 ---
VIDEO
Kay has added a video showing how to make this Owl reversable by changing the stitch order of the original design
View more Large Applique Animal Videos
---
HELPFUL BLOGS
---
INSPIRATIONS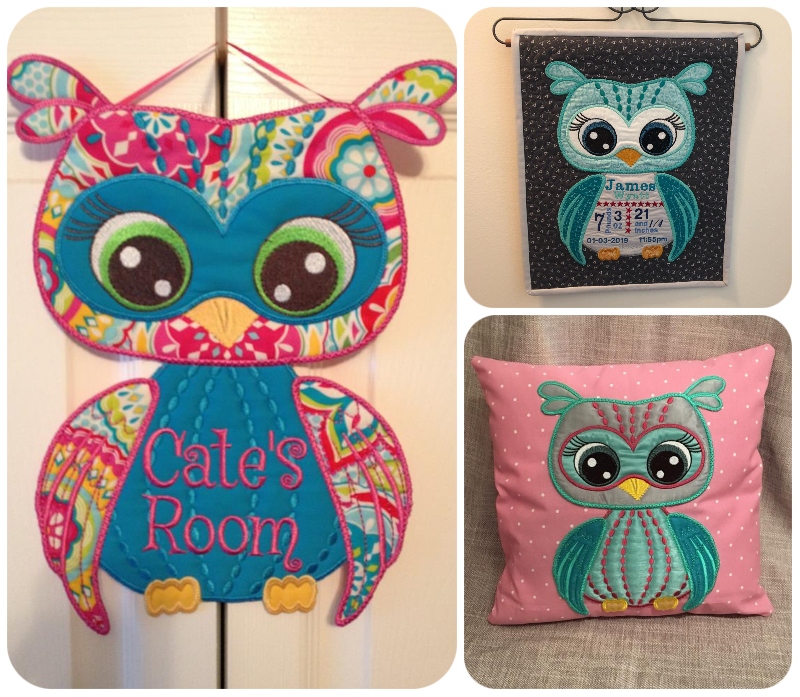 ---
As a fellow crocheter, I LOVE this idea - Gloria added our Large Owl to her crochet Bathroom Set - I can see a few more of these being created!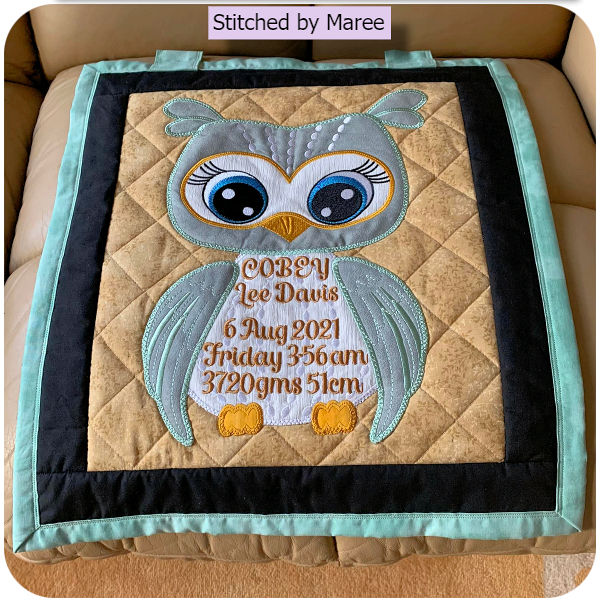 ---
Rosemary combined our Large Owl with the Wise Old Owls designs for this amazing quilt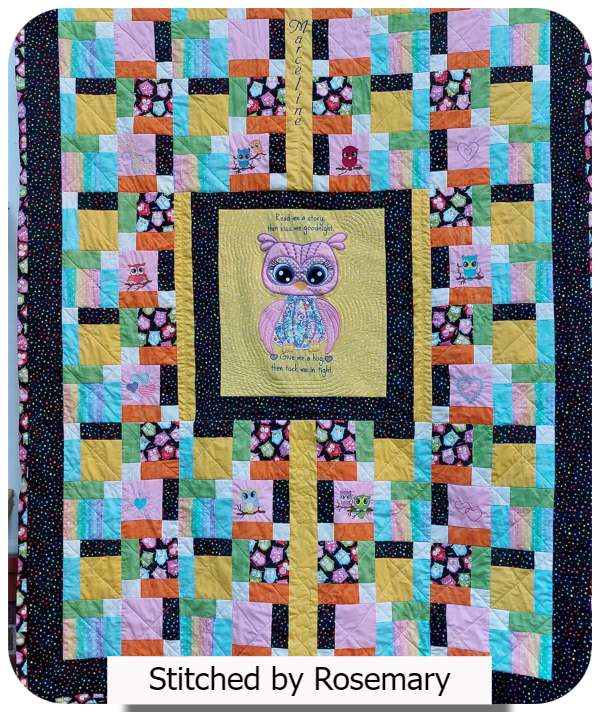 There are just too many photos shared by our Kreative Kiwi members to show on this page!
VIEW MORE SAMPLES OF OUR LARGE OWL APPLIQUE
VIEW OTHER LARGE APPLIQUE ANIMALS
---
| Hoop Size | Model | Type | Year |
| --- | --- | --- | --- |
| 5x7 | | | |
| 6x10 | | | |
| 8x10 | | | |
| 8x8 | | | |