---
---
Our Large Owl is made in 2 hooping's  - joined easily in-the-hoop like a jig-saw.
Finished Size
8x10 hoop           25.5cm by 35cm
8x8 hoop             19.5cm by 26.5cm
6x10 hoop           21.5cm by 29cm
5x7 hoop             18cm by 24cm
Once you have created your Owl you can add them onto a pre-made item,   Sweat-shirts, cushions etc.
My Ruby loves Owl's so I finally made her this very cute Owl to go on a minky throw for her Bed.  The throw was on sale for $5.00, and adding the owl has made it look fantastic.   Ruby has 2 birthdays to go to, and she's asked if I could make them for the girls for presents.  Not bad for $5.00 plus some fabric scraps.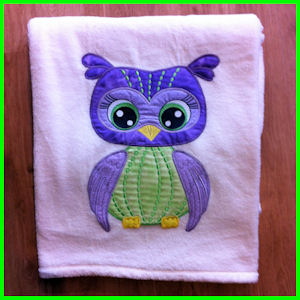 Artwork by AMB Illustrations
Thank you so much to the Ladies who have shared their creatvity with us!
---