arrow_circle_down Designs
arrow_circle_down Subscribe
arrow_circle_down Dress Up Daisy
Are you constantly looking for ideas for Birthday/Christmas Present for a little Girl? - This set is for you!!
Daisy comes with 8 complete Outfits for hours of quiet fun - Finished Doll is between 12 and 16 inches high
This set was so fun to create and stitch - I could have gone on and on designing outfits for Daisy.
The Girls and I had a great time playing, and choosing fabrics, so Imagine the fun a little one will have dressing Daisy for all her adventures!
Finished Size
| | |
| --- | --- |
| 6X10 hoop (160X260mm) | 5X7 hoop (130X180mm) |
| 9 by 16 inches | 7 by 12 inches |
| 22 by 41cm |  17 by 31 cm |
Daisy is created in our Large Applique Technique - Multiple Hoopings which are created and joined in-the-hoop, like a jig-saw.  
This creates a stunning Large Applique.   FULL photo Step-by-step Instructions are included
| | | |
| --- | --- | --- |
| | | |
| | | |
| | 6X10 Daisy | |
---
---
Here is a small sample of photos shared by our Kreative Group - Click picture to view more photos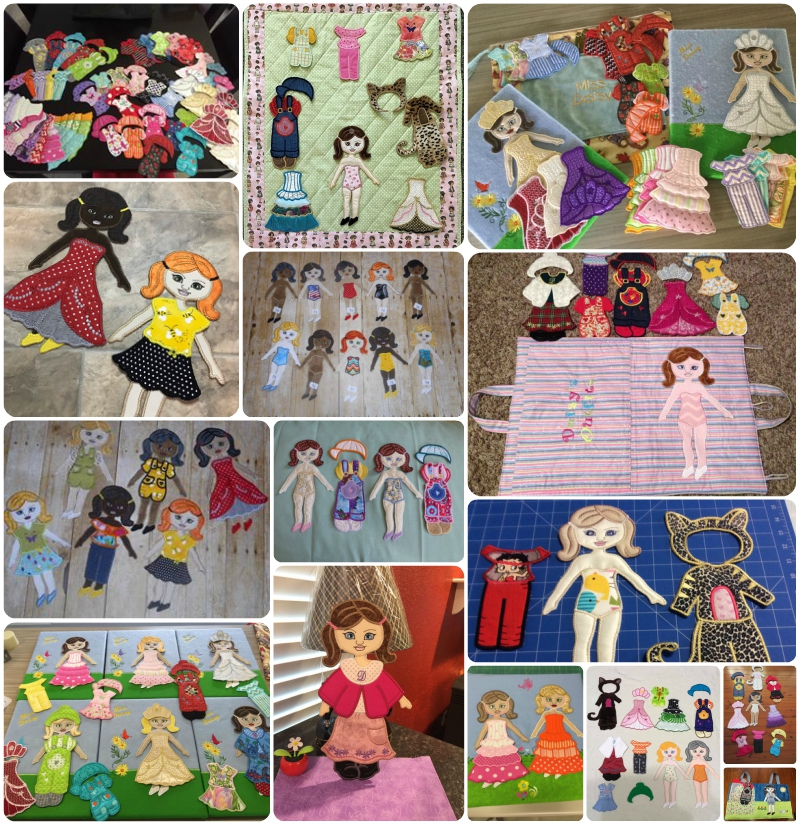 ---
How gorgeous are these Dolls Ann made, and the story behind them is even cuter!!  Dress Up Daisy and Dress Up Tony
Ann writes "I LOVE these doll designs. I am currently making a whole set and bag for my granddaughters 2nd birthday.
But this set is for my mom who lives in an assisted living facility and they decorate outside their doors each month. She wanted a doll bride and groom for June Weddings!!!! I think they turned out rather cute"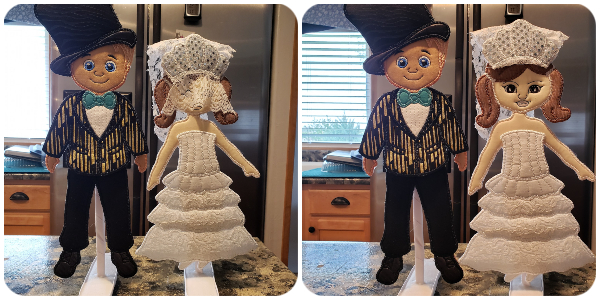 ---
VIDEO
If you are new to this style of design, please watch Kays step-by-step video showing how she makes our Dress Up Tony - the same techniques are used in making Daisy
Here Kay shares how she makes Tony's shorts
View your shopping basket or browse other items.
Other products you might be interested in