arrow_circle_down Designs
arrow_circle_down Subscribe
arrow_circle_down Crazy Patch Bag
Use our Crazy Quilt Bag design to create a unique one-of-a -kind Bag for yourself or friends.
The Crazy Quilt panel is created with 3 Hooping's – joined together in-the-hoop.  
The bag is completed on your sewing machine – Full Instructions included.
We have included the Candlewick Alphabet as shown, but you will need editing software to place the Letter in the 'area' of your choice.  Feel free to add your own designs to create a truly unique bag.
A lovely project to use your pretty Fabrics.   You can also make a long pillow/cushion with the completed panel.
 Finished Size – 5X7 Hoop – Width 10.5-inch Height 6.5 inch
                                6X10 Hoop – Width 15 inch  Height 9.5 inch
Watch Kay from Kay's Cutz show you how to make this Crazy Patch Bag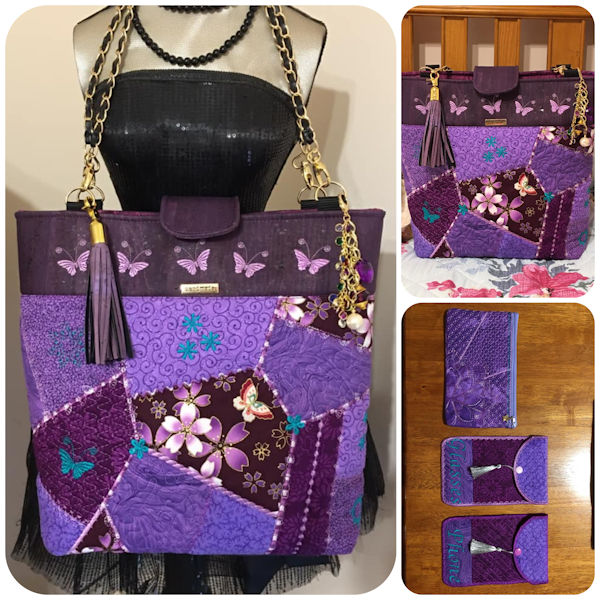 Cathy of Pickle Creations used our Crazy Patch Design to create this amazing Arm-chair Caddy
---
Teresa was awarded an Instant Win for her kreative way of using our Crazy Patch Bag design.
Teresa writes "I finally got found to using the crazy patch bag design. I made a front and a back piece put together with a 2" spacing strip, and the flap used just the centre section of the CP design. Lining and strap from the scrap stash."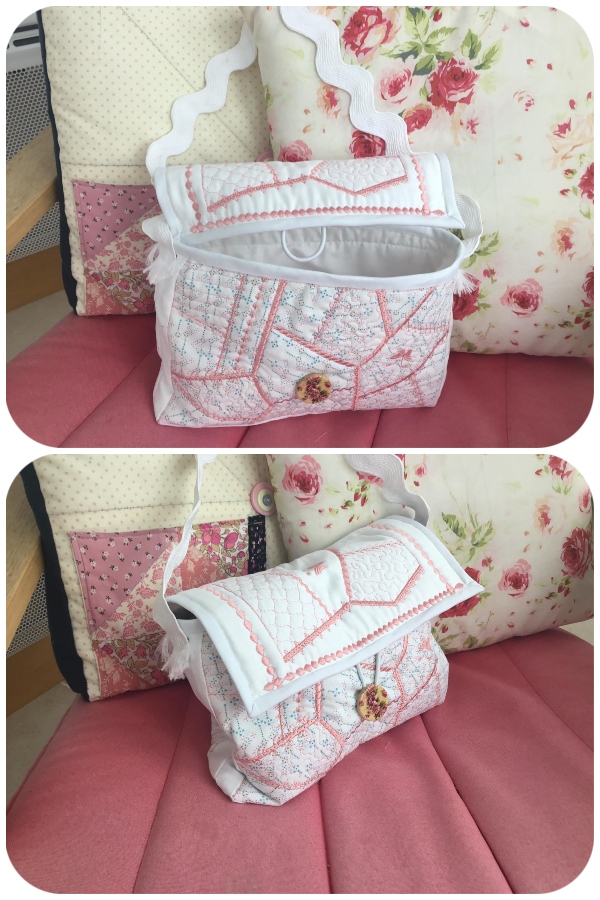 ---
Billie adapted our Crazy Patch Bag design to make a larger bag - isn't it stunning!!  the colors are perfect - the design within the circle is Billie's own
Billie writes:  I finally finished my version of the Crazy Patch Quilt Bag. I made 4 of the 5x7 panels. I sewed two together for the front and two for the back. The crazy patch panels were so easy to follow the instructions. Thanks for a great design.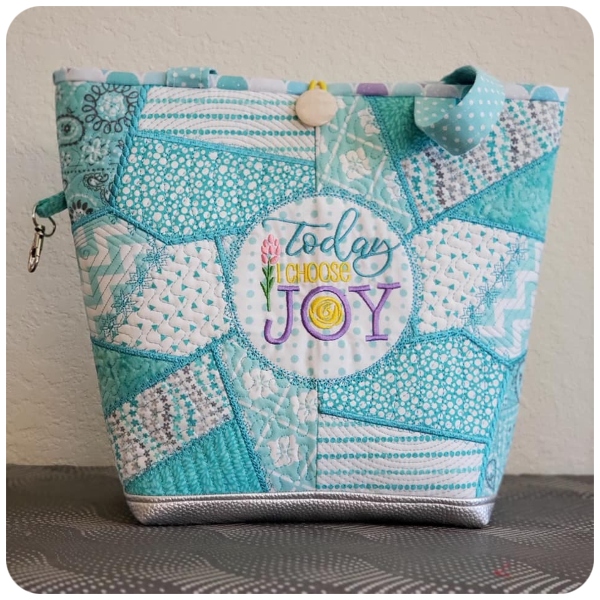 ---
Cathy shared her beautiful kreative way of using our Crazy Patch Bag design to make this beautiful Memory Pillow (The wording is Cathy's own)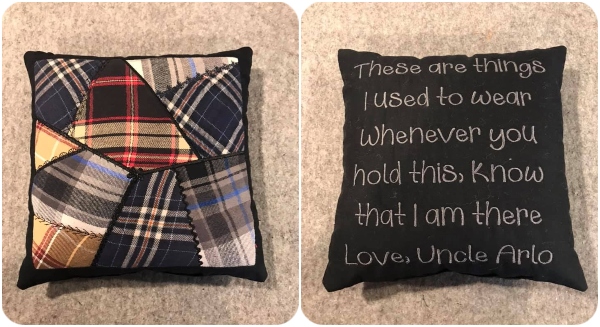 ---
Karen created this stunning bag - LOVE the handles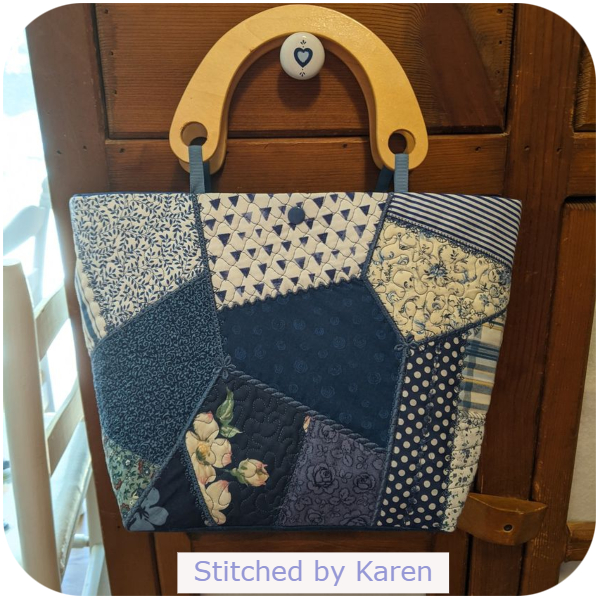 ---
Wendy shared another 'amazing effort' using our Crazy Patch Bag design
Wendy writes:  So back at the end of may I decided that I could do a "sewing bee " quilted jacket, but squares are boring right? So made a sheet of fabric using kk crazy patch bag panels. Love the finished results. But oh my god did it take me a long time. It's a complete one off because I won't be doing another.
Absolutely amazing Wendy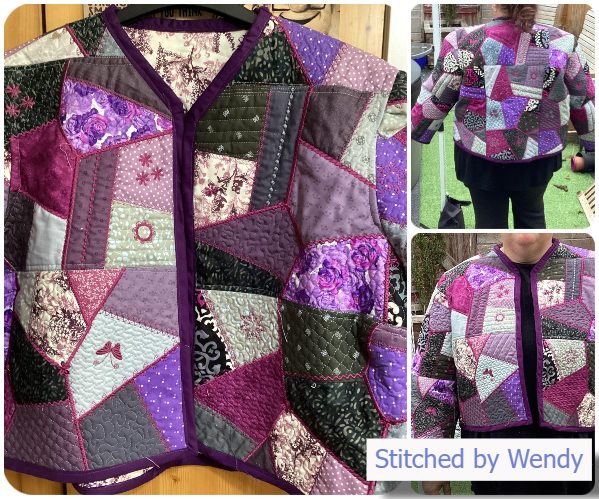 ---
This was one of Lillian's entrys in our Up-cycling competition 
I repurposed my little black dress that is totally outdated and old, into coordinated pouches for myself. There was plenty of fabric as I used the lining too.
Unfortunately I had to skip some of the quilting as I could not do it on the sequins but the pouches still came out perfect.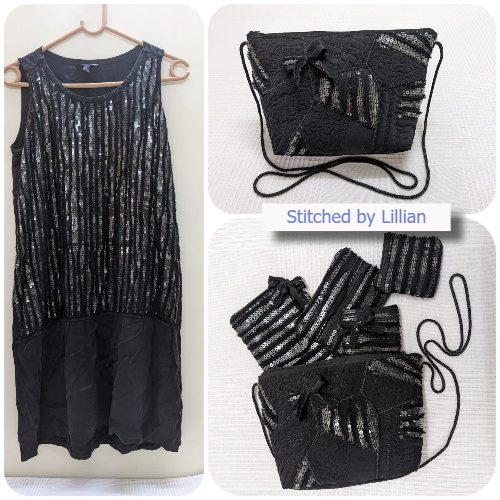 ---
Marilyn also made this beautifyl remembrance bag
We lost a dear friend (Ken) to Covid in 2020. I asked his wife if she had any shirts that I could make a memory tote for her from. She said yes! I've been wondering what I was saving them for.
Shirts, ties, a pair of jeans. I added things I remember about him.
Here is the result.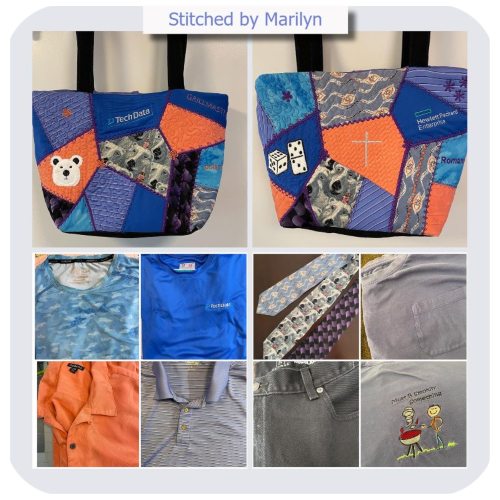 ---
JoAnn was awarded an Instant Win for her awesome Crazy Patch Bag
The straps are amazing!
To create the 'raggy' effect on the bag, rather than flip and fold the crazy patch pieces, she left them with raw edges
such a cool idea!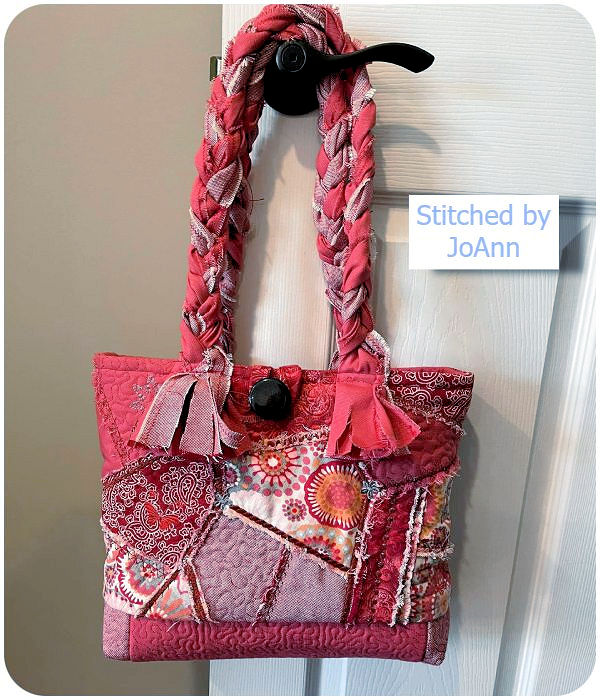 Click on photo to view larger image
| Hoop Size | Model | Type | Year |
| --- | --- | --- | --- |
| 5x7 | | | |
| 6x10 | | | |