arrow_circle_down Designs
arrow_circle_down Subscribe
arrow_circle_down About Us
Welcome to Kreative Kiwi. We are based in New Zealand - Free Machine Embroidery Designs are available throughout our site, for you to try our designs and be assured of our quality designs. Our aim is provide a variety of quality, affordable designs so you can create unique and beautiful items.
Who are We?
Hi, I'm Heather from Kreative Kiwi.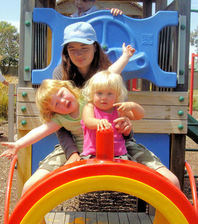 As most of you are, I am absolutely addicted to machine embroidery - I love creating designs, then watching them being sewn onto fabric. Even after days of sewing out designs, I can still be amazed by how beautiful a design can be. I get immense satisfaction when one of my designs (babys) is finally perfected!
I live in Christchurch, New Zealand. My hubby Derek is a Truck Driver (completely uninterested in the hundereds of designs I continually ask him to look at). We have 3 girls - DeAna (13), Jaime (3) and Ruby (2), and 2 embroidery machines!
What started it all?
I was 6 months pregnant with my 3rd baby and I was going crazy - I had thought I could do lots of sewing and quilting while being an at-home Mum (Silly me), but I wasn't getting any sewing done, so I thought I'd get some wool.
Off I went to to our local sewing shop - Barkers Wool and Haberdashery in Hornby - Daphne had a machine working by itself! I was astounded I had never ever seen a machine like that - I just knew I had to have it. The obsession started - I worked on it for weeks and weeks, but I GOT IT! a 2nd hand Pfaff 7570.
Daphne enrolled me in beginners classes with Barbara to learn how to use the machine. I was so impatient to learn about machine embroidery, that I started the classes at about 8 months pregnant - and as you can guess, I had to miss the last class, as I was in hospital having Ruby. So there I was 2 new kids in 14 months, and an embroidery machine! LIFE WAS GOOD.
Soon everything that didn't move was embroidered on, there were no plain T-shirts for our kids. All the Christmas presents for the nieces and nephews were completed in September.
Fast forward 3 years, and here I am - fulfilling a dream! OK my kids no longer have draws full of embroidered T-Shirts and its probably vouchers for Christmas, but I've found my passion and what I want to do with the rest of my life. How lucky is that!
Whew! hope I haven't bored you too much. Anyway I look forward to sharing my designs with you all, and hope you continue to visit us, and watch us grow!
Cheers Heather
By the way - if you are in Christchurch and into machine embroidery, visit Daphne at Barkers - I read on all the groups, some of the horror stories of people buying machines and having no support. Daphne has been fantastic, and is always so helpful with all aspects of embroidery. Plus shes got the Pfaff CV (My next dream). THANKS DAPHNE!!