arrow_circle_down Designs
arrow_circle_down Subscribe
arrow_circle_down Crazy Patch Table Runner
---
In case you are new to the world of large applique designs, let me fill you in. A large applique design is one which needs 2 or more hoopings, with the joining completed as you stitch, in the hoop. The beauty of my large applique designs is you can quickly create a 3D Design much larger than your hoop.
---
Our Crazy Quilt Table Runner is created with 7 Segments – joined together completely in-the-hoop
 The Table Runner is then completed with your sewing machine.
Full Photo Instructions included
---
Finished Size
Finished Panel Size – (excluding seam allowances)
·         6X10      9.5 Inches High – 29 Inches Wide
·         5X7         6.5 Inches High – 19 3/4 Inches Wide
Finished Table Runner Size
·         6X10      12.5 Inches High – 32 Inches Wide (1.5-inch Border added)
·         5X7         8.5 Inches High – 21 3/4 Inches Wide (1-inch Border added)
---
This design includes a mix of quilting and decorative stitches - you can choose to quilt each piece, or showcase a special fabric.  Add your own designs as you wish.
I have created the designs, so that Panels 3-4 and 5-6 are the same shape (different designs and stitches) so, you can make your Table Runner Smaller by omitting Panels 5 and 6 (or 3-4) or, make an even longer table Runner by stitching panel 3 and 4 AGAIN after panel 6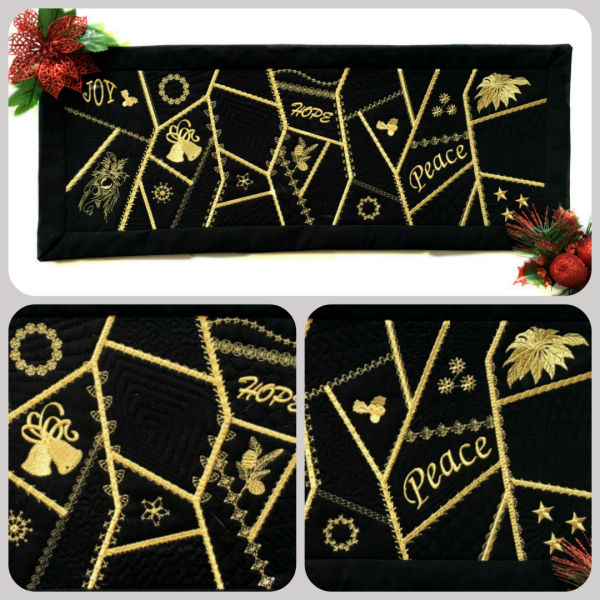 ---
VIDEO
While we do not have a video currently for this deisgn, You can view our Christmas Stocking design, which uses similar techniques.
VIEW MORE LARGE APPLIQUE PLACEMAT VIDEOS
---
HELPFUL BLOGS
---
---
INSPIRATION
Mozelle was awarded an Instant Win for her Crazy Patch Tabl Runner - the addition of praire points makes it look like a totally new design!!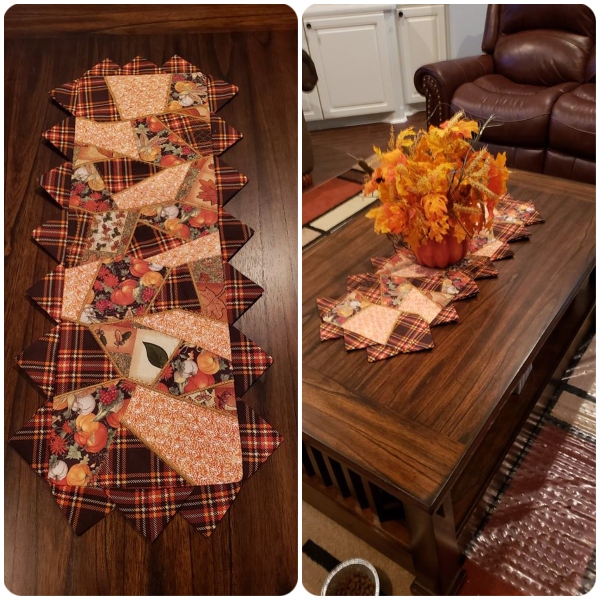 ---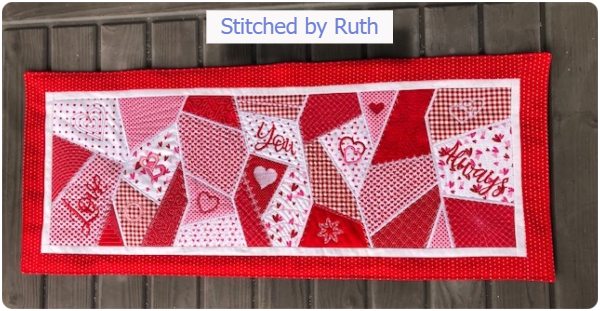 Ruth combined designs from our Crazy Patch Heart to create her Valentines Table Runner 
---
Dorothy writes: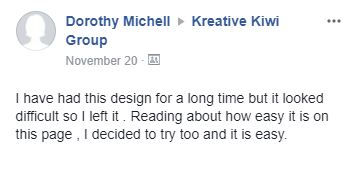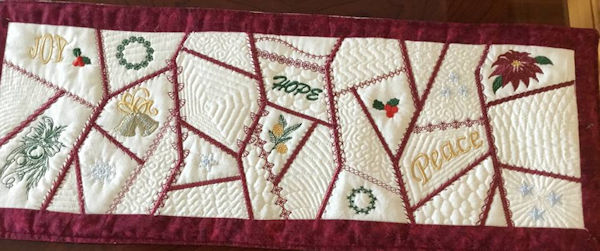 ---
Narelle created this stunning Table Runner - LOVE your colors Narelle - It gives the design such a modern fresh look

---
Here is a small sample of Table Runners made and shared on our Kreative Kiwi Group
Click here to view larger photos
---
How is this for amazing effort - Char Char made this incredible quilt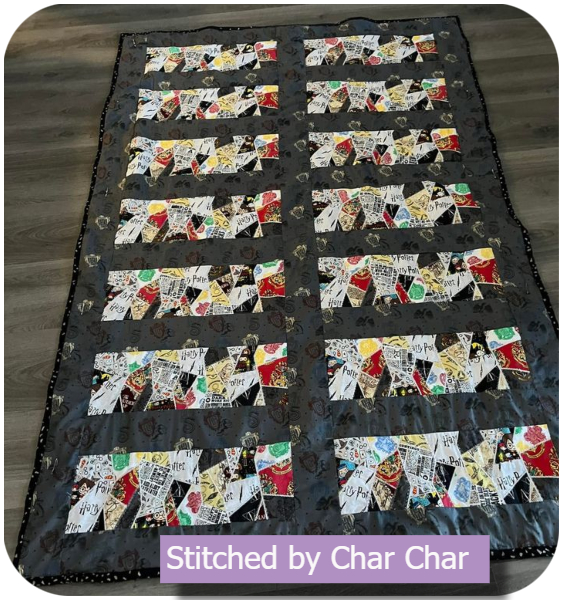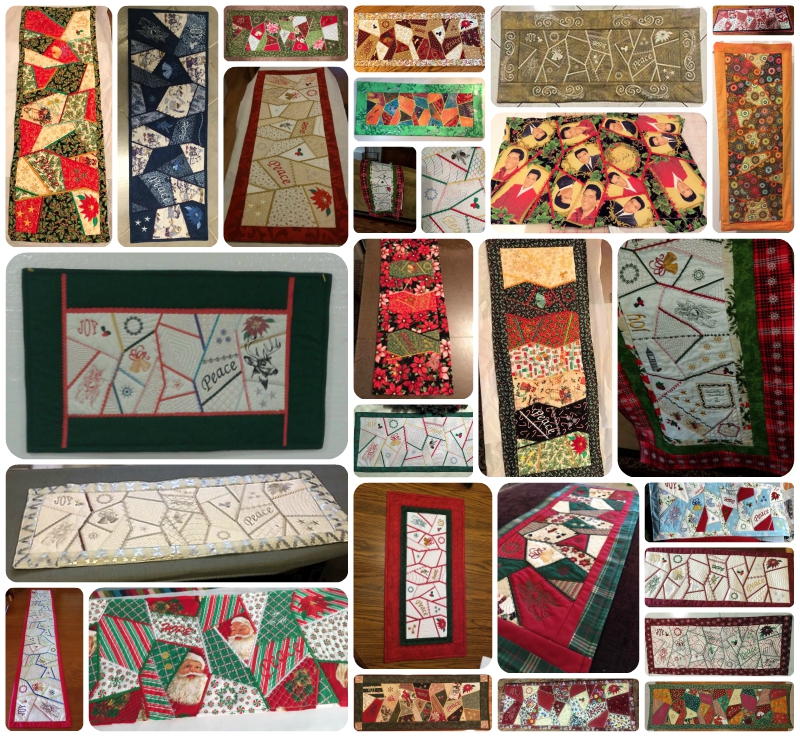 ---
How 'kreative' is this?  Brigitte was awarded an Instant Win for her kreative use of our Table Runner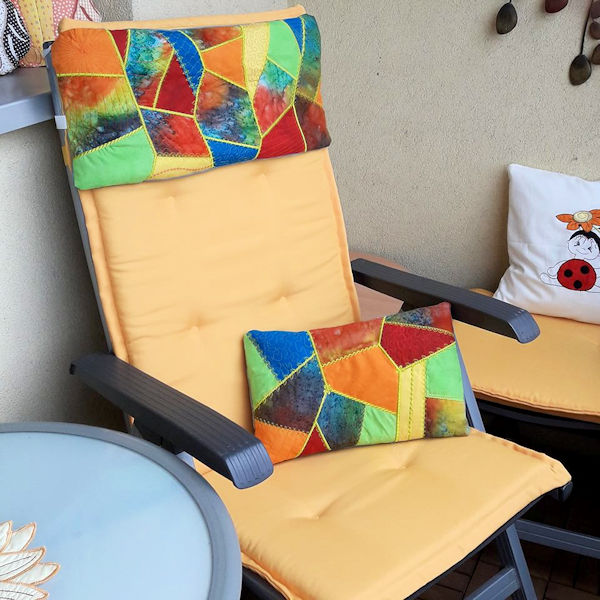 ---
Click here to view more designs made by our Kreative Kiwi group members for more inspiration!
View more items made with our Crazy Patch Embroidery Designs
---
| Hoop Size | Model | Type | Year |
| --- | --- | --- | --- |
| 5x7 | | | |
| 6x10 | | | |