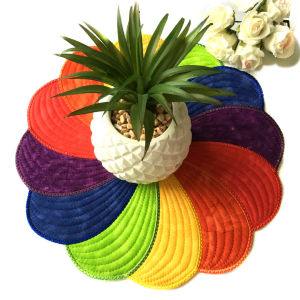 ---

---
WHAT ARE LARGE IN THE HOOP APPLIQUE DESIGNS?
Put simply, they are multi-hooping applique designs, where you create and join the designs in-the-hoop - they enable you to make finished applique designs that are much bigger than your actual hoop.
The 'beauty' of the designs, is that although you are 'multi-hooping' (hooping more than once), the designs all fit together like a Jig-saw, so there is no nasty re-hooping/aligning
We have a number of How To Videos showcasing our Large Applique Designs
WATCH OUR LARGE APPLIQUE VIDEOS
---
MATERIALS NEEDED FOR LARGE APPLIQUES
Sharp Scissors
Water Soluble Stabiliser FABRIC TYPE (see below)
Batting/Wadding/Pellon
Backing Fabric
SCISSORS
As with any Applique, the closer you can trim your fabrics, ensures a professional finish.
Everyone has their preference, BUT whatever type of scissors you use, they need to be SHARP!
WATER SOLUBLE STABILISER
Can use a different stabiliser for these designs?
The answer is Yes, you can, BUT I cannot ensure you will get a great stitchout
There are two reasons we use Water Soluble Stabiliser (fabric type, NOT solvy)
You can remove ALL traces of stabiliser on the edges when finished
The Fabric WSS is strong enough to take the cutting out/zig zag and satin stitches without ripping.
If you use Cut away Stabiliser, you will see the Stabiliser on the edges – not recommended
If you use Tear-away Stabiliser, you need to use 2 or 3 layers, so it doesn't rip at the edges while you are stitching. You may have more 'fluffies; on the edges, but you can use a Sharpie Pen to color them in.
**Members of the Kreative Kiwi group have suggested one layer of Water Soluble Stabiliser plus one layer of thin Tearaway – when you use warm water along the sides to remove the WSS, it gets 'sticky' and helps stop the fluffies from Tear-away.
Or.. Hoop 1 layer of WSS, then once you have stitched the first guideline (which is the full size of the item), float a smaller 2nd piece over the actual guideline.
---
QUICK TIP - HOW TO STOP MOVEMENT WITHIN YOUR HOOP
Many of our Large Appliques are quite stitch intensive, so it's important not only to use the correct Stabiliser, but to also minimise any stabiliser movement within the hoop. Watch Kay's video showing how you can add tape to your hoop, to minimise any chance of your stabiliser moving while you are stitching your design.
---
BATTING/WADDING/PELLON
Why do you use Pellon in these Designs?
I Love Pellon – I use it in ALL of my Large Appliques because It gives the designs 'body', it enhances the Quilting stitches, and I believe it ensures a really 'neat' Satin Stitch edge.
The pellon I use (we seem to have different names in NZ) is a thin (maybe ¼ inch) polyester or, a slightly thicker iron on pellon (I rarely iron it on)
Can you use other Batting/Wadding/insul-brite for Place-mats)?
Yes – I would opt for the thin versions, just to help your machine.
Can I make Large Appliques without pellon/batting?
Yes you can – once again – you may find the Satin Stitch edging is not quite as crisp, I would test it first on fabric of similar weight (you'll only have to test one section, to see if you like it)
---
FABRIC CHOICES
I mainly use Cotton Fabrics for these designs. If you were to use very thin cotton, or Satin, then I recommend you add an iron on interfacing (or similar) – see below
**I generally add 1 inch 'allowance' to my fabric sizes ie 5x7 design – cut fabric 6x8 – my reasoning for this, is, it is easier to cut away the excess fabric/batting/backing, when you have a bit of fabric to hold on to.
---

WHAT TYPE OF BACKING FABRIC TO USE
This is dependant on the use of the finished product.
If you are not going to be able to see the back of the finished product ie stitching the design to a Quilt/Bag etc, then you can use any 'cotton' fabric.
For reversable Placemats/Coasters, I have been using a very thin iron-on Interfacing on the backing fabric – just makes the fabric easier to cut on the back of the hoop, and no threads peeking out of the satin stitch.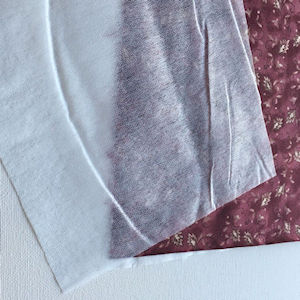 Thin iron on interfacing used on Backing Fabric (for Place-mats)
For Placemats/Coasters/animals that aren't reversable, I use Cutaway Stabiliser as the backing fabric – again, easy cutting on the back of the hoop, and no 'fluffies'
**Again, another tip from the group:
I have a little trick that I want to share. When I use a cotton fabric for appliqué that has a tendency to fray, I lightly spray it with spray starch before applying the Heat an Bond, Steam a Seam, or whatever bonding stabilizer you are using. This gives a little crispness to the fabric, keeps it from unravelling and makes it easier to trim.
---
---

CONSTRUCTION
You must Stitch the designs in the correct order – this ensures your design is joined correctly
Similarly, Do Not Color Sort our Large Applique designs – We use different Colors in the designs to tell your machine to STOP at a certain points – once again, to ensure the design is joined in the correct order
---
---
TRIMMING BATTING AND FABRIC
One of the key factors in achieving neat joins or edges, is trimming away the excess Batting. Sue shares a great tip - making a plastic template to pre-cut your Batting - Click here to view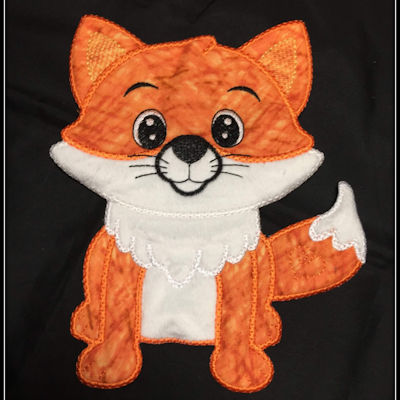 Kim our Awesome Admin from our Kreative Kiwi Group has shared how she achieves neat joins - everytime.
Click here to read - How to achieve Perfect Joins - everytime
---
---
RE-SIZING LARGE APPLIQUES
I DO-NOT RECOMMEND RE-SIZING LARGE APPLIQUE DESIGNS
All the construction – outlines and joining are created within the design to allow the designs to match up – if you re-size one part of the design without the 'matching' part, they will not fit together.
Click here to read- How to combine our Large appliques to be sewn in One-hooping
You could put all the pieces together, and do a total re-size – that will allow all the pieces to match up. But.. re-sizing satin stitch creates its own problems – you may end up with either smaller satin stitch that will not cover your joins, or wide satin stitch that your machine won't stitch.
Unless you are really good with your editing software, I do not recommend re-sizing these designs – I certainly could not guarantee a quality stitch-out
---
---
FINISHING
Generally I do not completely wash out all the Stabiliser – I use a Cotton Bud/Q Tip and warm water to dissolve the Stabiliser on the edges.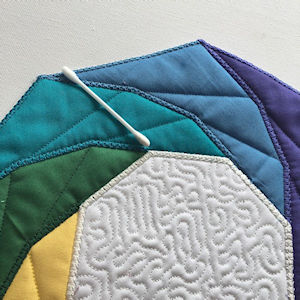 Normally the designs are being used as Placemats or added to a Quilt or Tote Bag, so leaving the Stabilser 'inside' the design has not mattered. We've had one instance, when ironing the finished product, that an extremely hot iron caused the stabiliser inside to shrink!! – but all was not lost – in that case, we did wash the item, and was able to iron it (at a cooler temperature) back into shape.
---
---
ATTACHING LARGE APPLIQUES TO A FINISHED ITEM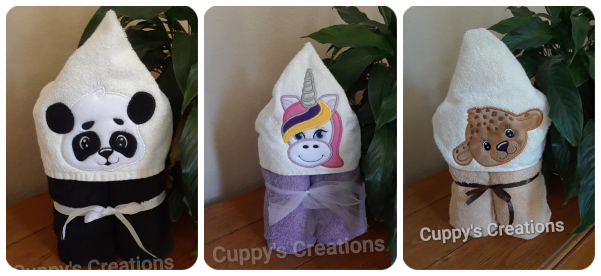 There are many benefits to stitching your completed applique to a project, rather than appliqueing as you go - the first one being, if you have an issue with the stitch-out (we all have them), you won't have messed up your entire project, and secondly, you have a very neat back - you only have the outline stitching showing, rather than the back of your applique design. I love this finish on Minky blankets or towels
Click here to watch our video showing how we stitch Large Appliques to an item
---
---
We have a wide variety of Large Applique designs - from cute animals to Large Place-mats
Click here to view our Large Applique Designs
We have a number of How To Videos showing how to create our Large Applique Designs
---
---
Posted: Thursday 25 May 2017
Comments
Best information I have ever read for embroidery help..Thank yoi

Posted: 2018-08-20 13:11 by Kaye Morgan

I am so unsure how to attach leaves not sure which placement do I use lst line or second and how to make the leaves bind on the top is that what you are talking about by wet in then when I iron it I can bind it up>

Posted: 2018-06-22 15:47 by glenda cone

Thank you for all of your help on everything! Love being part of this group.

Posted: 2018-05-01 02:48 by Lyn