arrow_circle_down Designs
arrow_circle_down Subscribe
arrow_circle_down In the hoop Mandala 2 Placemat
---
In case you are new to the world of large applique designs, let me fill you in. A large applique design is one which needs 2 or more hoopings, with the joining completed as you stitch, in the hoop. The beauty of my large applique designs is you can quickly create a 3D Design much larger than your hoop.
---
Our In-the-hoop Mandala Topper is made in multiple hooping's - joined easily in-the-hoop like a Jig-saw.   
We have included 2 versions of this Mandala – One fabric where you can play with thread Color Combinations, or a multi fabric Applique version where you can use your favourite fabric colors to match your home décor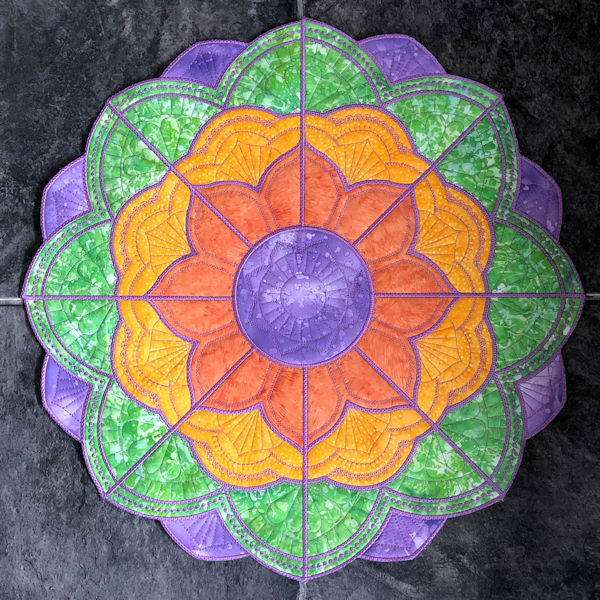 Multi Fabric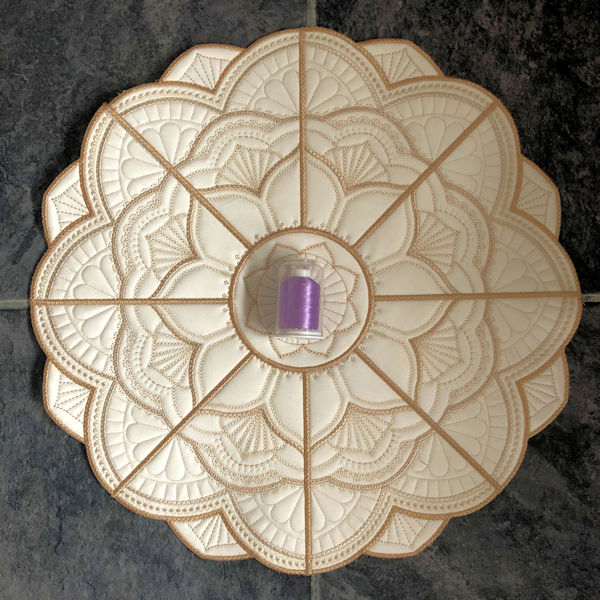 One Fabric Mandala with quilting in different color threads - 8x8 hoop size
---
NEW VERSION ADDED OCT 2019
A quicker version with One Fabric and one color thread - no stopping to change thread, so stitches faster
If you have previously purchased this design, please log into your account and re-download 
our revised files include this One Fabric/One thread option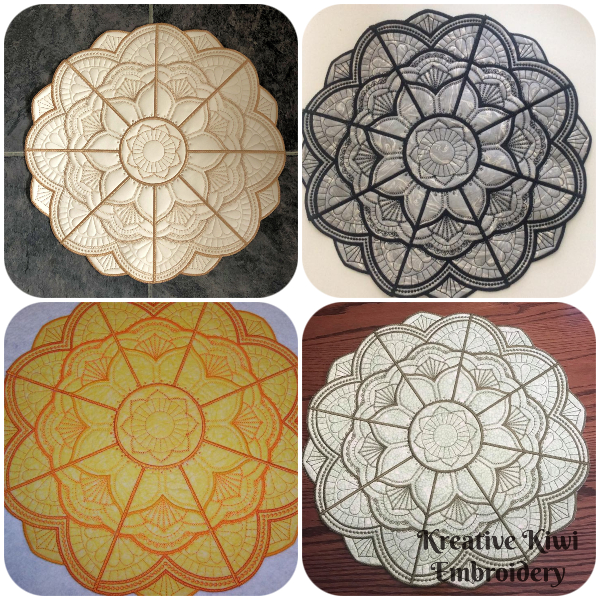 ---
Our design set includes Four hoop sizes
FINISHED SIZE
5x7

130X180 mm

6x6 Hoop

160x200 mm

8X8 Hoop

200x200mm

9X9 Hoop

240x240mm

Just under

13-inch square

33 cm square

Just over

15-inch square

40 cm square

Just over

19-inch square

48cm square

Just over

23-inch square

58cm square

The largest section is

128.3 x130.7mm

The largest section is

154.9 x158.5mm

The largest section is

187.1 x192.7mm

The largest section is

230.8 x238.3mm
---
VIDEO
Watch Kay's step by step video
VIEW MORE LARGE APPLIQUE PLACEMAT VIDEOS
---
HELPFUL BLOGS
---
INSPIRATIONS
We're starting to get some beautiful samples thru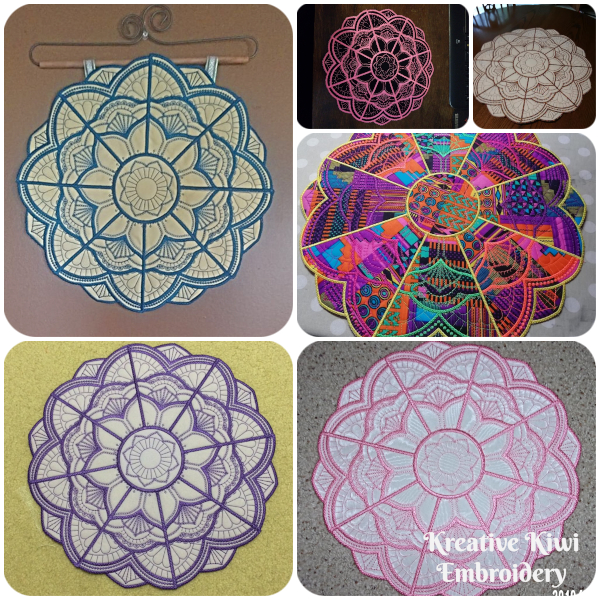 We love the creative way Manjiri used our Mandala2 Placemat in her gorgeous bag - so creative!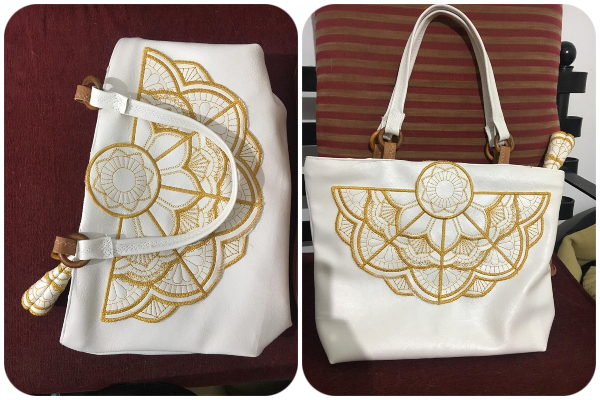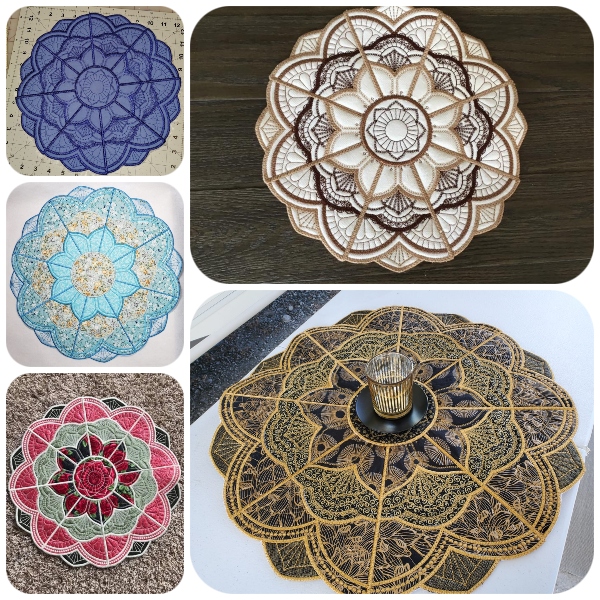 Nancy shared her bright and beautiful Mandalas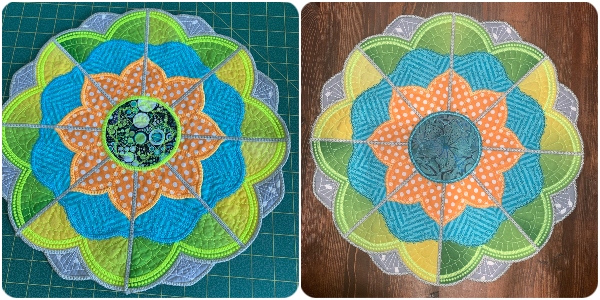 ---
Sandy shared her beautiful Large Mandala - Sandy couldn't decide on a color scheme, so went with scraps, and doesn't it look amazing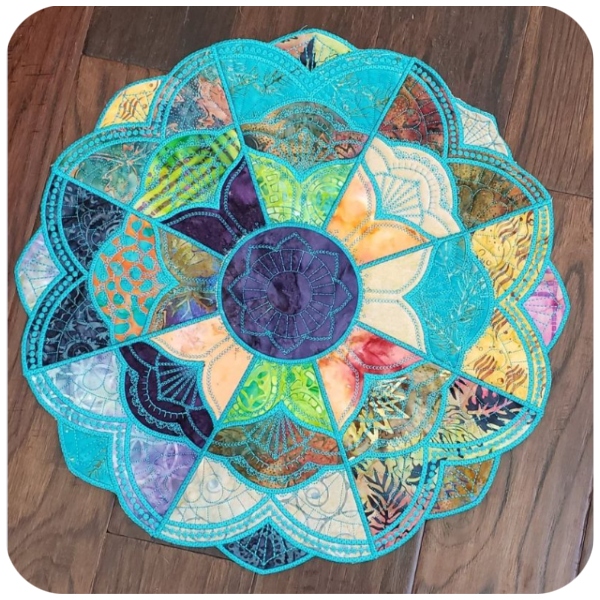 ---
Click here to view more designs made by our Kreative Kiwi group members for more inspiration!
View more Mandala Placemat Samples
| Hoop Size | Model | Type | Year |
| --- | --- | --- | --- |
| 5x7 | | | |
| 6x6 | | | |
| 8x8 | | | |
| 9x9 | | | |