arrow_circle_down Designs
arrow_circle_down Subscribe
arrow_circle_down How to make In the hoop Sleeping Bags for Little Dolls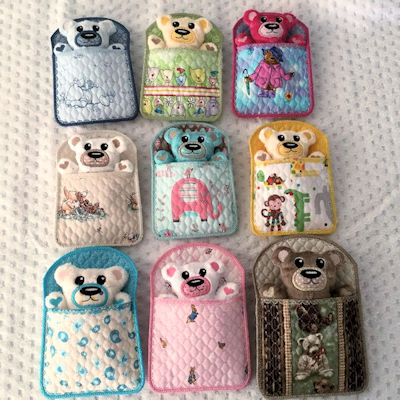 Make a super cute gift for a little one when you make these gorgeous In the hoop Sleeping Bags for little dolls.
Darina shares her fabulous idea
Thanks so much Darina!!
---
We loved Darinas cute idea so much, we created a

that you can use instead of small Dolls
Darina adapted our Quilt Bag for her Sleeping Bags

While we can't make the Quilt Bag free, use the code

TEDBED

at Check-out, and you will get the Quilt Bag for $2.50 (75% discount)
---
When you make the Quilt Bag to Instruction, you have your pretty fabric on the front of the hoop, and, add the front 'pocket' to the back of the hoop - this is so the 'pretty' fabric shows when you fold the flap to the front

Because the Sleeping Bags stay open, you can swap the fabrics around, and add your pocket on the front of the hoop
Lining Fabric - plain Blue

Pretty Fabric - Florals
Sound confusing?
Just follow the Quilt Bag Instructions, but make the changes marked in RED
(Its harder to explain, than it is to just do!!)
---
Quilted Front
Make the quilted front as per instructions using your 'pretty' fabric
Now stitch the Bag

Stitch Color 1 Guideline for Bag

Place your Pretty Fabric on the BOTTOM of the hoop

Place your Lining Fabric on the TOP of the hoop

Stitch Color 2 to attach
Stitch Color 3 which is the Quilting

Place your completed pocket ON THE FRONT OF THE HOOP

Skip Color 4 (decorative stitch for Flap)
Remove Hoop from Machine and Cut away all your excess Fabric
Return hoop to Machine and stitch Color 6 - Satin Stitch edge
That's it! All done
---
Sue from OML shows how to make the original Quilted Bag
---
Heres (just a few) Sleeping Bags Darina has made
Such a great way to use up fabric scraps - and a really cute Gift that Little Ones will LOVE

I've seen posts on the Group about using this idea for Little Gifts for Kids in need
WHAT NOW?
CLICK HERE TO VIEW THEVERY CUTE TED AND THEIR BEDS
---