---
Disclaimer - I'm a Machine Embroidery Addict, not a video maker!
We've added these videos to be used in conjunction with our Full Photo Instructions that come with our designs.
---
LARGE APPLIQUE DESIGNS
Create Large designs with 2 or more hoopings - with ALL the lining up done for you - In-the-hoop
In a hurry to try?
Watch the video below which showcases the techniques used 
then Download our Free Large Piggy (with full photo instructions)
start your addiction now!
---
LARGE APPLIQUE PLACEMATS
Our Large Place-mats are created and joined in-the-hoop
For the below example - Octagon Splendour 
Use your 5x7 hoop to create an 11.5 inch place-mat - a 6x10 hoop creates a whopping 16 inch place-mat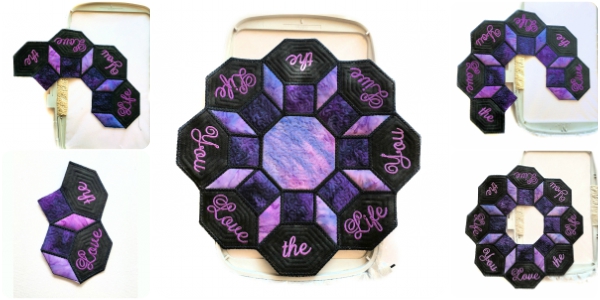 This video shows the techniques used in this style of design
Click here to view the stunning placemats made by our Kreative Group
---
Kay has very kindly shared her video showing how she makes our Crazy Patch Glass Case - Thanks so much Kay
Kays next video is our very popular Crazy Patch Notebook