arrow_circle_down Designs
arrow_circle_down Subscribe
arrow_circle_down How To Make Your Own Bobbin Keepers For Next To Nothing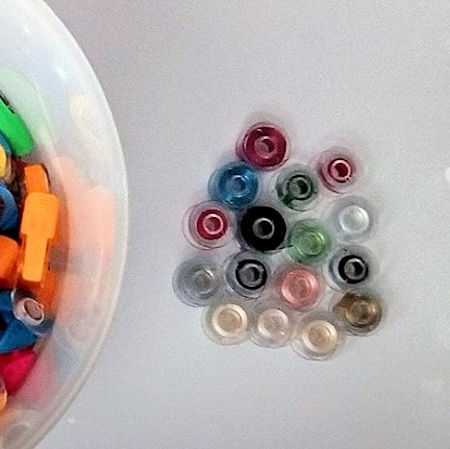 Fed up with your bobbins unravelling? Fed up with paying out for silicon bobbin keepers?
Kay shows you how to make your own that do the job far better than any store bought ones and you can make loads of them in minute
I use 14-15 mm (external measurement) clear aquarium tubing that is at least 2 mm thick as it needs to be able to hold firmly around the thread when stretched out and return to its shape when the bobbin is nearly empty. I find thicker walled tubing is far better than thin as it has more memory.
Measure the thickness of the stalk of your bobbin and that will be the internal size of your tubing, as bobbin sizes do vary. I would suggest that you go to your local hardware/garden store, anywhere that sells garden hose normally sell clear tubing, it will enable you to take an empty and full bobbin and ask them to cut you 1/4" sample off to test for size. Once you have the right size for your bobbin you can buy accordingly, as 10 feet is an awful lot of tubing. Each keeper is cut to 1/4" so you get a lot to the yard.
---
Subscribe to our Youtube channels to stay up to date.