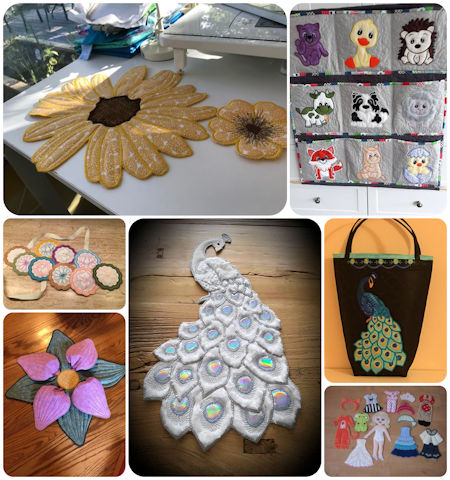 Ever wondered why you should join a Facebook Group?
Here we share one week on our Group 20-27 June 2018
---
A bit of history - Kreative Kiwi is a one-man-band. It's just me, (Heather) creating, digitising, testing, writing, cooking/cleaning (you get the picture) One night about 14 months ago, on a whim, I decided to create a Facebook Group. I figured I might get some members, and if not, then no worries. I wasn't sure how much 'work' it might be, so I did ask in a Newsletter if anyone would be able to help me.
Hand's down, it is the best thing I ever did. I met Kim - our wonderful Group Leader, which lead to the creation of our fantastic Admin Team - Kim, Darina, Faye, Flo, Christine, Betty and our dearly missed Toni . In addition to being embroidery addicts, these Ladies run the Facebook Group, helping each and everyday, with queries and hints and tips. I no I keep saying it, but its true - You Ladies make the Kreative Kiwi Group the fantastic group it is - THANK YOU SO MUCH
It's not only our Team, we have some amazing Members - Our top 'Contributors this month are Carol Smith, Mary Anne, Janice Devenport, Cathy Harrison and Jeni Seidel. These Ladies not only freely share their beautiful ideas, but always have a lovely comment or encouraging tip for our Newbies.
---
What does this mean for you?
Wow, I have so much help explaining designs. Being in New Zealand, often I am asleep when queries come in - with the Group, not only can you get help on my 'off hours', but often, the Group have better ideas than me, or can help with names of specific products/sales that I don't have access to in New Zealand. Talk about win/win! Plus you get to share your creations with an amazing and supportive group of people who truly understand how it feels to 'create' on your embroidery machine - often our friends/family don't quite 'get' it. My amazing Dad used to laugh at me for taking 'perfectly good fabric' - cutting it up, then sewing it back together to make a patchwork quilt)
---
Enough 'talking' - Lets celebrate whats been shared this week on the Group
(This is just a small sample from the week)
---
THIS WEEK'S TRENDING DESIGNS
Quick off the mark! We released our Large Scallop Placemat last week, and already we have photos coming thru on the Group

Brigitte created these bright placemats on a 'rainy day'

Our Lovely Kim choose bright florals for her Placemat

Susie showed another style with her gorgeous Teapot fabric

Our Floral Topper design has been very popular on the Group - this week we had photos from

Gay - Grey/pink

Patsy Black/White

Terri ink/Green

Margie Red/White

I posted this when I started it but today I finally finished it. A group of toppers placed closely together on the dresser top reminds me of a garden.

Lorraine - Orange/White
---
ITEMS MADE WITH OUR FREEBIES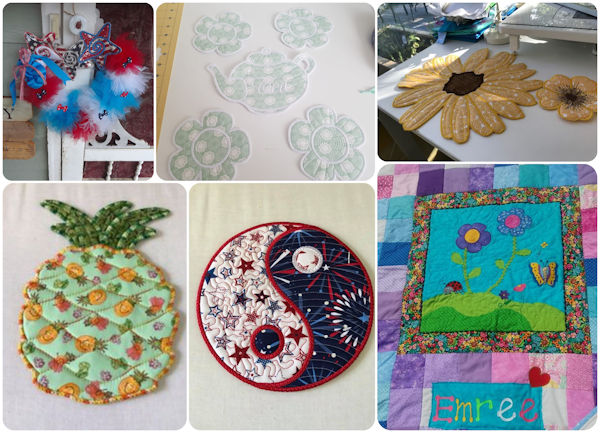 I love seeing photos of items made with our freebies. Often these photos are from 'newbies, who have tried a new technique for the first time (which is the whole idea of our freebies), or an experienced embroiderer who likes to share their 'take' on the freebies, or really inspire us by using our simple freebies in amazing projects!!:
Top Left - An amazing wreath made by Cheryle who used vinyl on our Freebie Star to make her incredible wreath
Top Middle - Lorraine used our FreebIe Teapot and Flower to make her cute set - beautiful colors
Top Right - Susan also used two freebies to make her set - our new Poppy Coaster and Large Flower freebie
Bottom Left and Middle - We've had a lot of Pineapples shared this week - I love Diana's use of fabric and variegated thread
also her very patriotic take on our Yin Yan Coaster
Bottom Right - How kreative is Rosie - Our Flower Coaster looks way more exciting on her gorgeous quilt
---
ITEMS MADE WITH OUR 'HOW TO' BLOGS
I'm so Thankful for the amazing Ladies who share their talents by creating and writing instructions for their beautiful projects. It is even more amazing seeing these instructions being used!!
Kathy and Betty used our Large Unicorn for their pillows

How gorgeous is Faye's Raggy Quilt (I think we should crown Faye the Raggy Quilt Queen)

Design Ideas to embellish Baby Bibs

How cute is Eugenie's Bib?

This beautiful project by Cathy Harrison made by heart sing!

This is a 'meeting' of two very clever Ladies.

Cathy who shares her amazing patterns with us, has made this beautiful Doll Carrier, using Darina's free Tutorial

How lucky are we, to have met these two Ladies!

Cathy used our Beautiful Ballerina Design

(still one of my very favourite designs)
---
SHARING IDEAS
Brenda shared her photos of the clever way she used our Floral Coaster designs
Getting ready for vacation and just finished a hostess gift for friends we will visit. I made 8 of the floral coasters in different colors -- flowers and coasters. Made a 9th one to be a "holder" by attaching ribbon to tie them all up with a bow. I love KK designs!

Adding our Large Appliques to bags is very popular
This week these Ladies share their creations
Top Left - Annette - Spring Basket
Top Right - Jeni - Large Peacock
Bottom Left - Kathy - Large Butterfly
Bottom Middle - Carol - Large Peacock
Bottom Right - Margo - Large Butterfly

Marjorie shared this stunning Peacock she made using 'fur' fabrc and vinyl for the tail 'bits'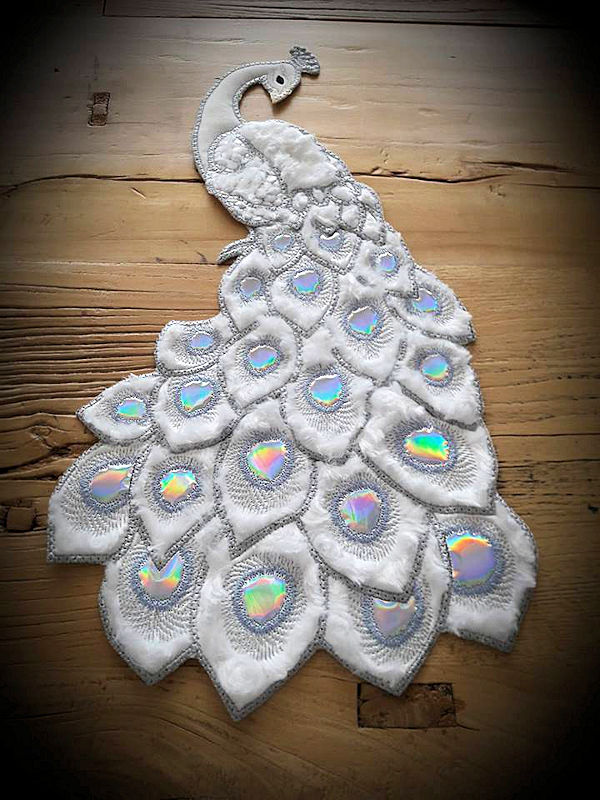 Here is an awesome example of kreativity - Betty personalised our Large Applique Star for a Wedding Gift (I would never have thought of that)
Betty writes: I have stitched this star for my granddaughter who is getting married in September. Such a lovely design and the instructions are so easy to follow. Thank you very much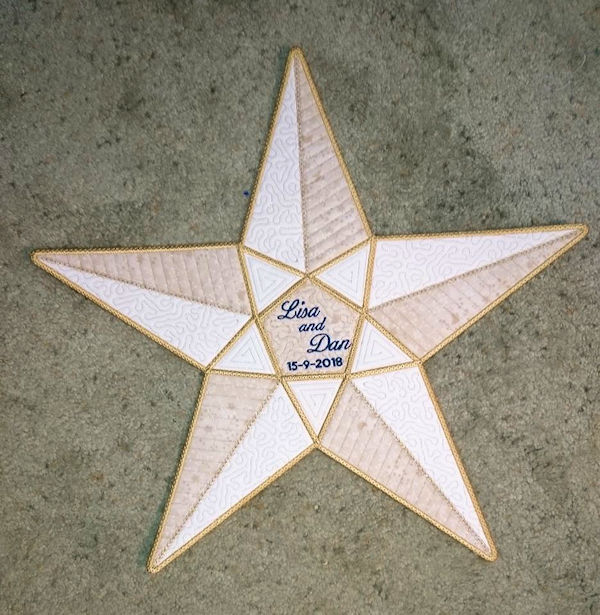 ---
CELEBRATING MAMMOTH EFFORT!!
We're all happily addicted to machine embroidery, and while a lot of our designs are 'make in a day' projects, some projects take just a little more time. I LOVE seeing these photos being shared, and so do you!! We can see by the comments and likes, just how many of you appreciate the time and effort taken to create these awesome projects.
| | |
| --- | --- |
| | Hanny shared her cute Dress Up Daisy Sets - yes, Hanny created two complete sets |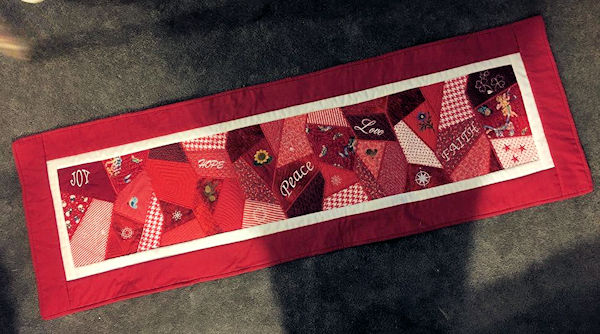 Joanne shared her stunningly beautiful Crazy Patch Table Runner
Aren't her colors so bright and beautiful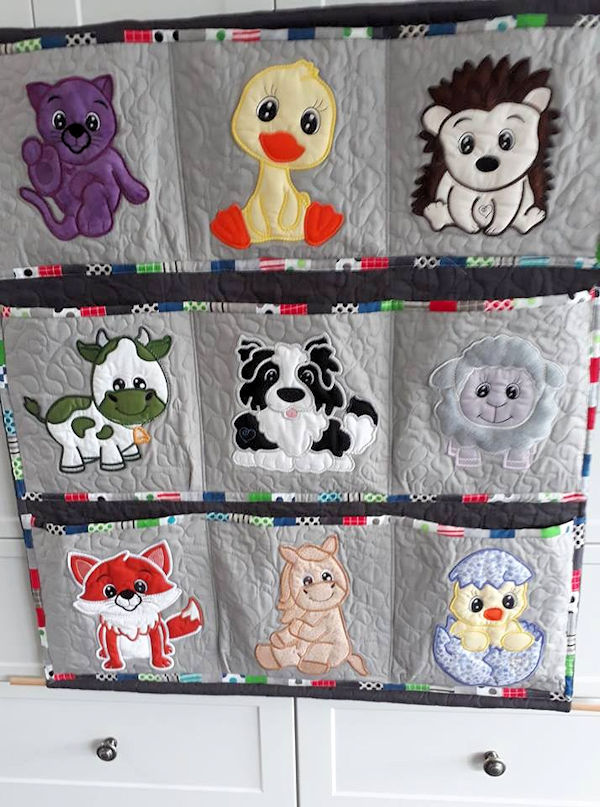 Jo shared this absolutely awesome Pocket Wall Hanging she made for her Grandson
Such a kreative use of our Large Applique Animals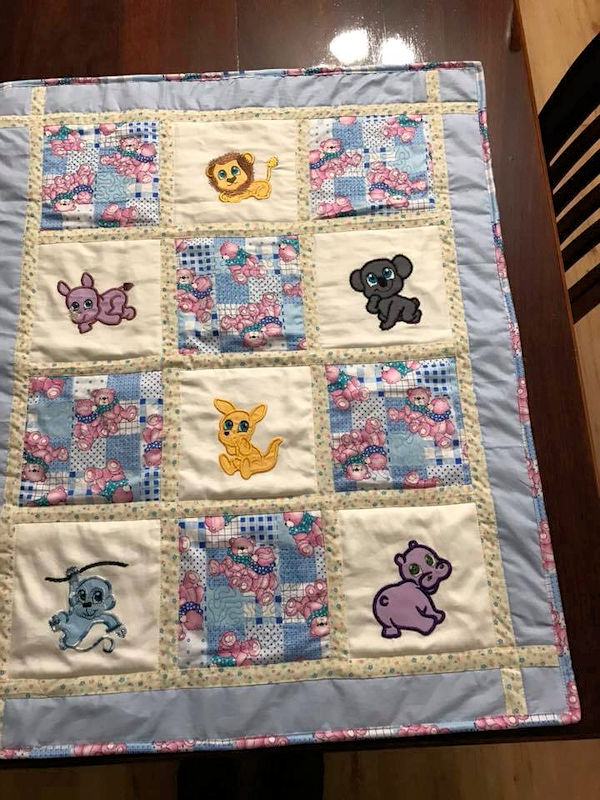 How about this mammoth effort
This is Louise's First ever Quilt - it sure surpasses my first one
Thanks so much for sharing Louise
Designs used re our Free Zoo Applique 4x4 designs
---
DARINA
Last, but definitely not least, each and every week Darina inspires us all, with pictures of the items she has made 'this week'. (We all think that Darina secretly has elves that work at her house 24/7)
Darina writes: My bookmark family is growing! Sunday is my 'do what I want' embroidery day! My bunnies, frogs and monkeys have fluffy tummies
😜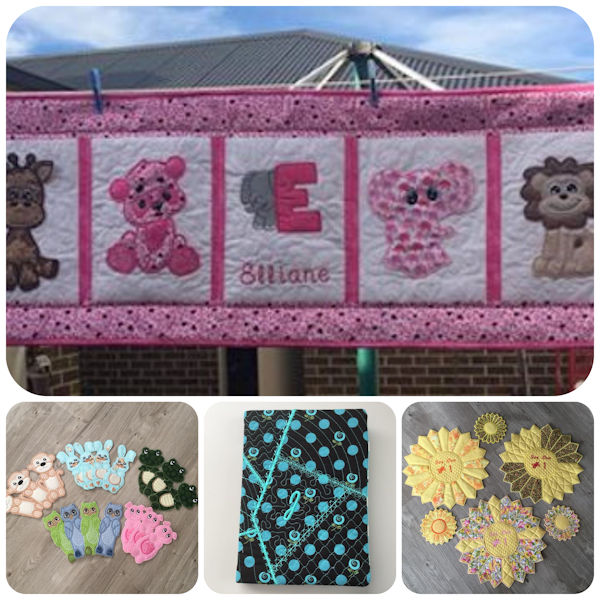 ---
That's it - a very small snap shot of what happens on the Group. This is in addition to all the help our Ladies provide.
If you are on Facebook, then please join us, and share your hints and tips, successes and failures (yes, we do get the odd one), or just enjoy being in a Group of like-minded Embroidery Addicts.
So what if you don't use Facebook? Don't worry, another by-product of the Group, is I have been able to very clearly see common questions or queries, which I incorporate into our Help pages and Website Blogs. (Grab a coffee and have a read!).
Faye, Kim, Darina and Cathy have been amazing, sharing their ideas and instructions, not only on the Group, but by writing 'How to' blogs which we share on the Website, and, as time permits, I showcase as many photos as I can on our Inspiration page, and Newsletters.
Please let me know if you would like to see more of this type of Blog, by clicking the LIKE button below.
---
Please
Posted: Wednesday 27 June 2018