arrow_circle_down Designs
arrow_circle_down Subscribe
arrow_circle_down Design Ideas to embellish Baby Bibs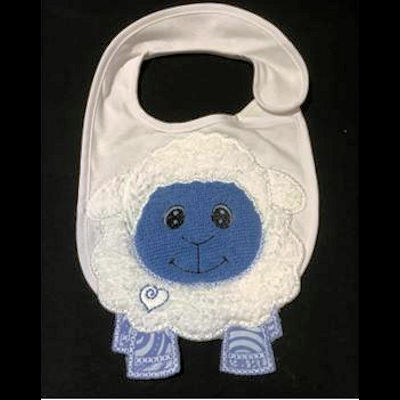 Instructions kindly shared by Faye Waller
This is such a fun way to use the appliqué animals, especially the sheep which will be the focus of this Blog. The bib is done completely in the hoop and will require two hoopings. For purpose of the Blog I used adhesive stabilizer, however I have also used cut away stabilizer and basting spray with equal success. The process is the same for both. I used the 5x7 applique, but choose yours according to the bib size you have.
MATERIALS
Cutaway stabilizer (or adhesive stabilizer)
Water Soluble Stabilizer
Water Soluble Topping
Pellon (for body only)
Plain bib
Towelling Fabric in two colours
Scraps of fabric for feet
Backing fabric—flannel is ideal
NOTE
Before starting on the bib complete the body of the sheep (1SHEEP) as per Heather's instructions.
Use File named BONUSBIB(hoopsize) for the Sheep Head
Pellon is not used on the bib as the towelling is sufficiently thick.

---
STEP ONE - Preparation
Hoop Your stabilizer with the PAPER side up
Stitch the outline of the sheep – Color 1
Remove hoop and carefully tear away the paper from INSIDE of the stitching line to expose the sticky surface
Place the hoop on a flat surface
Take your bib and fold in half to find the centre line
Carefully align the centre of the bib with the centre markings on the hoop Press down firmly. Unfold bib and press the other side down firmly
If you are using cut away stabilizer and basting spray the steps are essentially the same.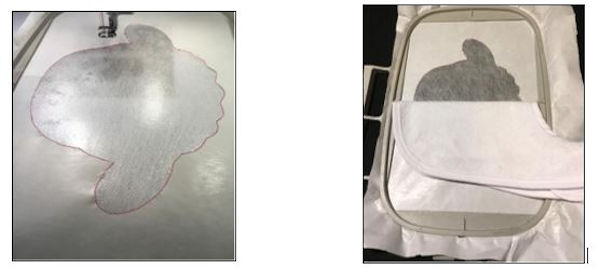 STEP TWO - Stitching
Place the hoop back into the machine and continue to stitch the design
Color 2 attaches the Bib, and stitches fabric guideline
Color 3 attaches Face fabric
Color 4 attaches Fleece Fabric
Float Water Soluble Topping over the design and stitch out the facial features
Color 5 White of eyes
Color 6 Black Eyes and Nose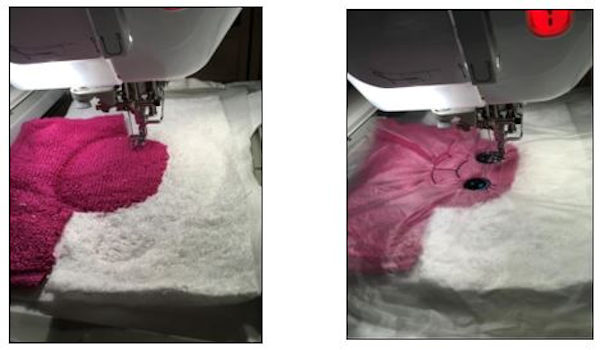 STEP THREE - Adding the backing
Place your backing fabric under the hoop either taping it in place or floating it
Stitch Color 7 which stitches the outline which will attach the backing fabric
Remove hoop from machine and trim the top and backing fabrics. Leave the topping on at this stage as it will help give definition to the satin stitch
Stitch Color 8 which completes the zigzag
STEP FOUR - Attaching the body
Continue with the steps as per the design, attaching the body to the head Color 9 joins the Body to the head
At this point ensure that the bottom of the bib is lying flat and won't get caught up in the stitching
Continue stitching Color 10 Face Satin Stitch and Color 11 Fleece Satin Stitch
Remove from hoop and trim stabilizers
Design is now complete. Gorgeous!!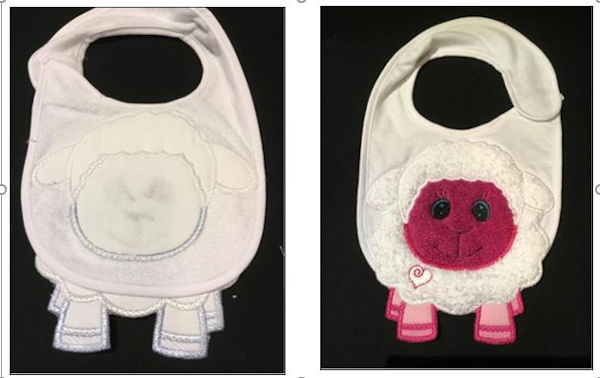 HINT
If you are going to make more than one bib, I suggest that you leave the bib in the hoop and carefully cut the head out from the stabilizer. You will then have a perfect template for the next one.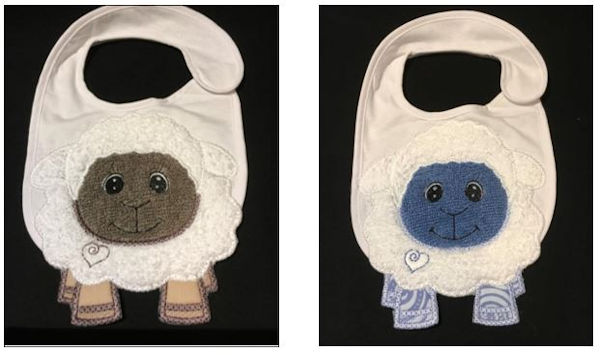 ---
Faye used the Large Sheep design from our Large Farm Animal Collection
You could use just about any of our Large Animal Designs
Susanne has used the head only for her cute Bibs
Download Printable version (PDF)
---