arrow_circle_down Designs
arrow_circle_down Subscribe
arrow_circle_down Large Mandala Flower Placemat
---
In case you are new to the world of large applique designs, let me fill you in. A large applique design is one which needs 2 or more hoopings, with the joining completed as you stitch, in the hoop. The beauty of my large applique designs is you can quickly create a 3D Design much larger than your hoop.
---
---
As requested, – a 'variation' on our Large Mandala Topper – Our Mandala Flower is made in multiple hooping's - joined easily in-the-hoop like a Jigsaw.   
A 'rounder' flower shape
Available for 4x4 hoops
8 segments, rather than 4, so the finished design is much larger – 4x4 hoop makes a 9-inch Placemat – the 9x12 hoop makes a 24-inch Placemat
FINISHED SIZE
4X4

100X100mm

5x7

130X180 mm

6x8 Hoop

160x200 mm

8X10 Hoop

200x260mm

9X12 Hoop

230x280mm

Just under

9-inch square

22 cm square

Just under

13.7-inch square

35 cm square

Just under

17-inch square

43 cm square

Just over

21-inch square

54cm square

Just over

24-inch square

62cm square

The largest section is

83.4 x98.3 mm

The largest section is

128.3 x152mm

The largest section is

157.94x187.8 mm

The largest section is

195.8 x234.40 mm

The largest section is

224.1 x268.7 mm
This placemat is made with 1 fabric you could use 8 different fabrics for the Petals
Choose between stitching the inner detail in 3 graduated colors, (MULTI) or a quick 1 thread option (ONE)
| | |
| --- | --- |
| | |
| Multi Thread | One Thread color |
SIZE COMPARISON
4x4 Hoop - Unquilted Back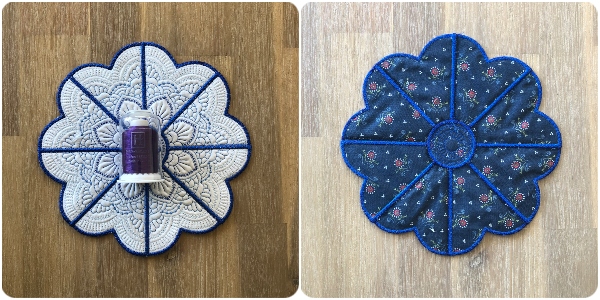 8x10 Hoop - Quilted Back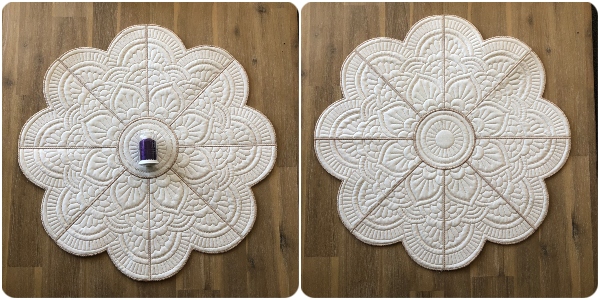 ---
VIDEO
While we do not have a video for this design, you can watch our Manadala placemat deisgn, with similar techniques
VIEW MORE LARGE APPLIQUE PLACEMAT VIDEOS
---
HELPFUL BLOGS
---
INSPIRATION
Jo used our Large Mandala Flower for this very kreative set.  Jo writes: I made the large Mandala placemats for a friend's birthday. It took me 3 days and 9 bobbins to finish. The utensil holders are made from the 5" Mandala design. I embroidered step one twice for 1 utensil holder. Attached the two together using my sewing machine. They are not attached to the placemats.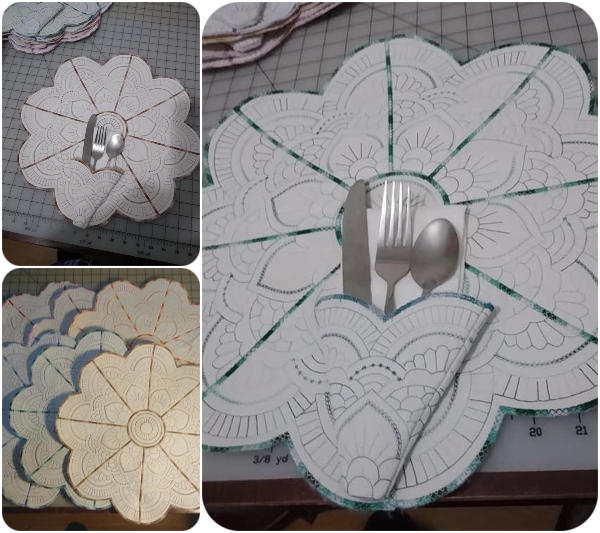 Click here to view more designs made by our Kreative Kiwi group members for more inspiration!
CLICK HERE TO VIEW MORE MANDALA PLACEMENT SAMPLES
| Hoop Size | Model | Type | Year |
| --- | --- | --- | --- |
| 4x4 | | | |
| 5x7 | | | |
| 8x10 | | | |