arrow_circle_down Designs
arrow_circle_down Subscribe
arrow_circle_down Large Koala Applique
---
In case you are new to the world of large applique designs, let me fill you in. A large applique design is one which needs 2 or more hoopings, with the joining completed as you stitch, in the hoop. The beauty of my large applique designs is you can quickly create a 3D Animal Design much larger than your hoop, and then add them to quilt blocks, reading pillows or pretty much any item as you like. 
---
Our Large Applique Koala is created and joined In 2 hoopings (3 for 5x7 hoop) -  allowing you to make a free standing applique animal , larger than your hoop.
 

 FINISHED SIZE

5X7 Hoop  8 by 8.5 inches  20 by 22 cms

6X10 Hoop  9.5 by 10.5 inches  25 by 27 cms

8X8 Hoop  9 by 10 inches  23 by 25 cms

Note – there is no separate 8x10 – it is the same sizing as using the 6x10 hoop

 By popular demand, we have added a Plain version of the Koala 

---
 

SAVE!!

Purchase this design in our
---
VIDEO
New to our Large Applique designs? 
Watch Kay's step-by-step video which shows you the techniques to make a Large Applique Design 
Make your first Large Applique Animal
View more Large Applique Animal Videos
---
HELPFUL BLOGS
---
INSPIRATION
I had to share Anne's simple but so effective Quilt idea - the gorgeous Large Koala centre, then to make the borders, Anne writes "I Straightened the centre then just cut fabric into 2in strips 6 and 9in long, and went around til i was happy with size"  Anne used a Fat pack of fabric - Isn't this just beautiful!!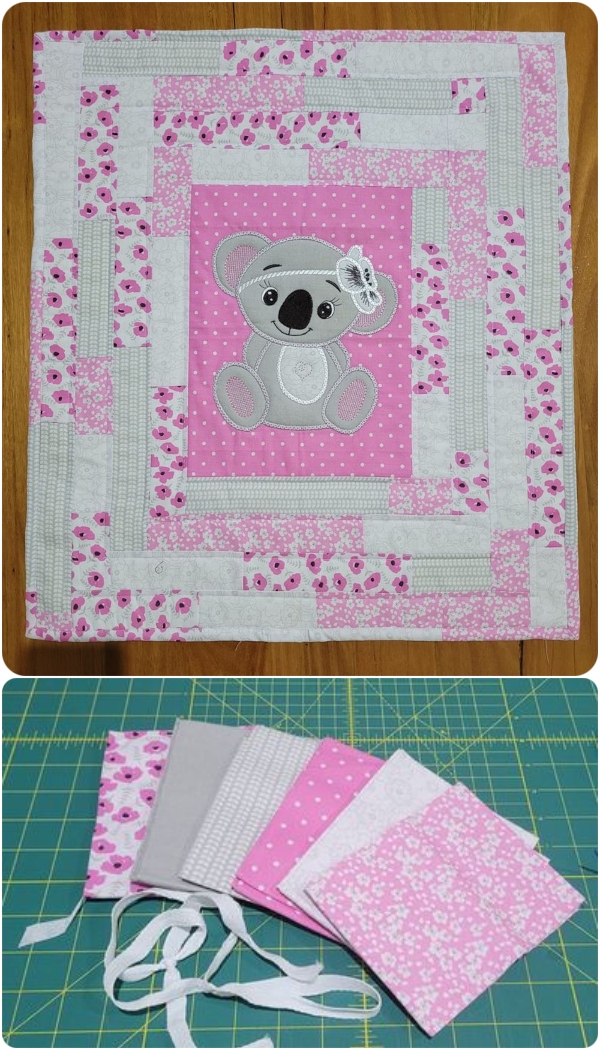 ---
Pam was awarded an instant win for this her first (in her words) "First time in my life to take up such a challenge!! I just love KK designs!!"  Pam you did an awesome job!!  Pam used our Large Koala Applique and combined our redwork Storks into the 8x8 orange Peel Blocks.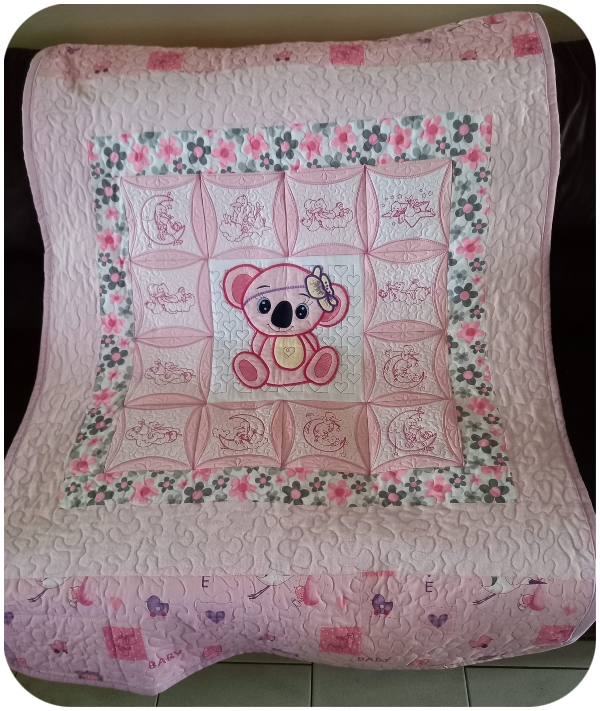 ---
Here is a tiny sample of Koalas made by our Kreative Kiwi Embroidery Group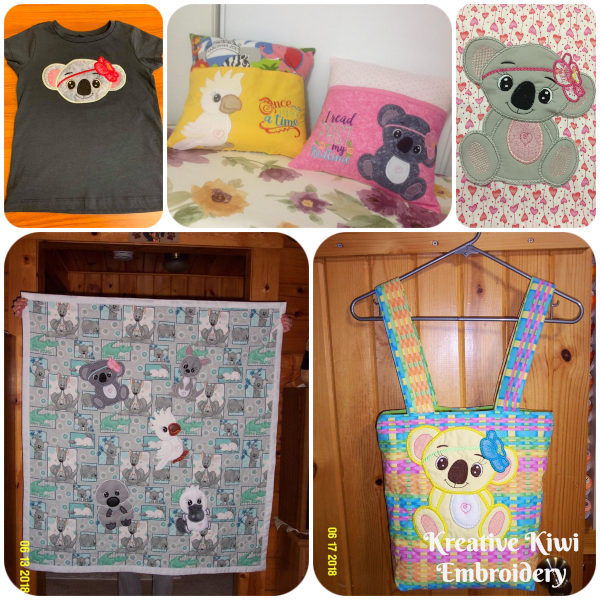 Cecile made this beautiful bag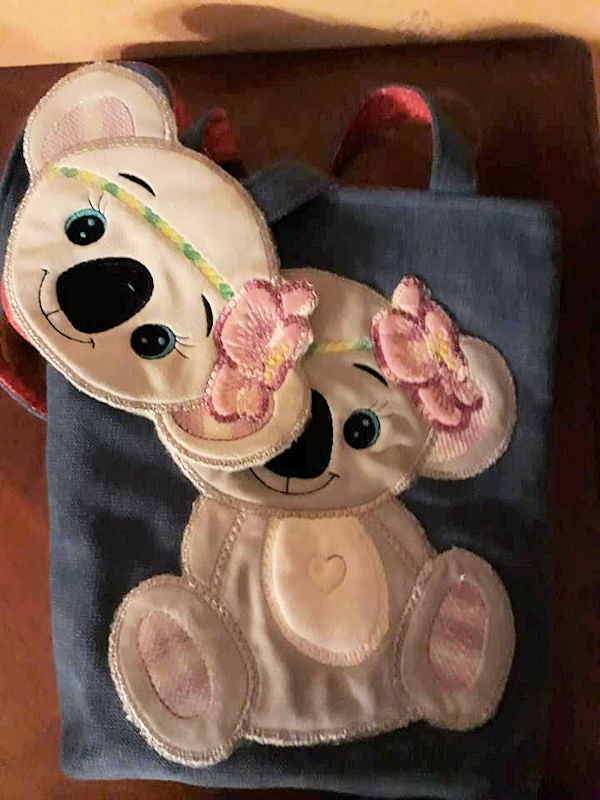 ---
Sally was awarded an Instant Win for her gorgeous Koala Birth Announcement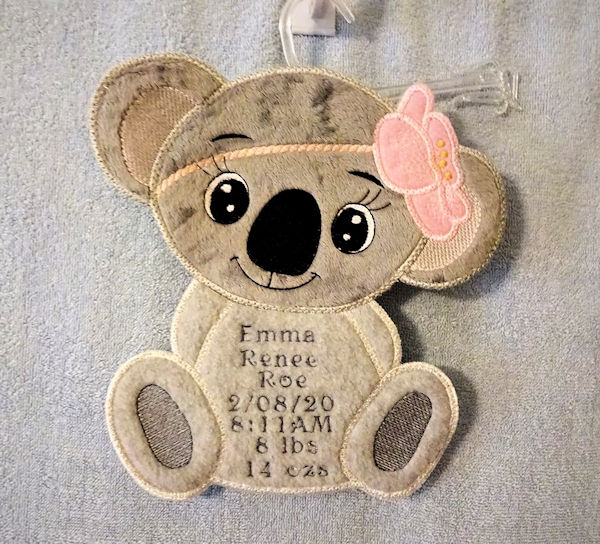 ---
LOVE, LOVE, LOVE this idea of Connie's - using fur as Ear backing - soooooo cute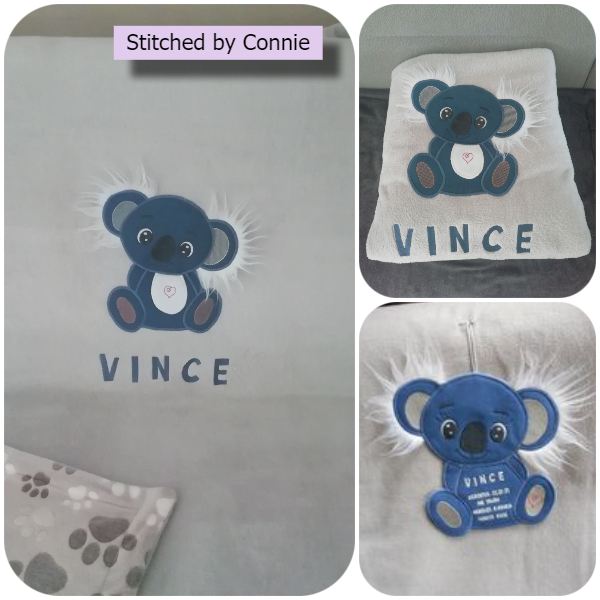 ---
---
| Hoop Size | Model | Type | Year |
| --- | --- | --- | --- |
| 5x7 | | | |
| 6x10 | | | |
| 8x10 | | | |
| 8x8 | | | |