arrow_circle_down Designs
arrow_circle_down Subscribe
arrow_circle_down In the hoop Notebook Cover
---
---
If you are new to our In the hoop Notebook designs, please read our Notebook Size information, which clarifies what size notebook to purchase
---
---
You're in charge when you choose our in the hoop Notebook Covers – created and joined completely in the hoop – including Linings
Pretty or Plain Satin Stitch
With corner/without corner
Bubble or Line Quilting
It's up to you!!
Imagine the unique gifts you can make from this one versatile design
---
NOTEBOOK SIZE
These Notebook covers fit the A5 and A6 Notebooks, a Notebook sizing which is used 'worldwide' apart from the USA.
A5 - 5.83 x 8.27 - REQUIRES 6X10 Hoop
A6 - 4.13 x 5.83 - REQUIRES 5X7 Hoop
UPDATE – ADDED SIZE
BY POPULAR REQUEST, WE HAVE ADDED DESIGN FILES FOR A US 5X7 NOTEBOOK
This is not a design for the 5x7 hoop – it requires a 6x10 Hoop
US 5x7 Notebooks are available on-line at Walmart.com
If you have already purchased this design, but want the added US Notebook Files, then please log into your account and download the Design File again
KK-IN THE HOOP NOTEBOOK.V2
A big THANK YOU to the lovely Ladies who tested this new size for me
---
VIDEO
View ALL In the hoop Notebook Videos
---
HELPFUL BLOGS
Click here to read all our Notebook Cover Blogs
---
INSPIRATION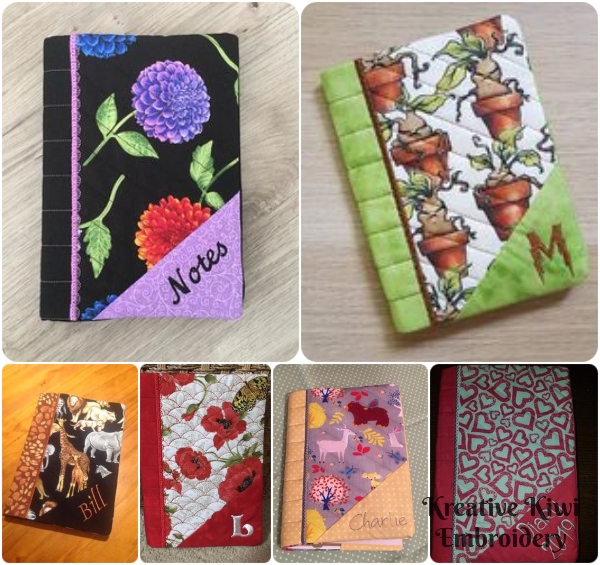 There are too many photos to add to this page
 View Notebook Covers made with our In the hoop Notebook Design
---
View your shopping basket or browse other items.
Other products you might be interested in