arrow_circle_down Designs
arrow_circle_down Subscribe
arrow_circle_down Guide to In the hoop Notebook Sizing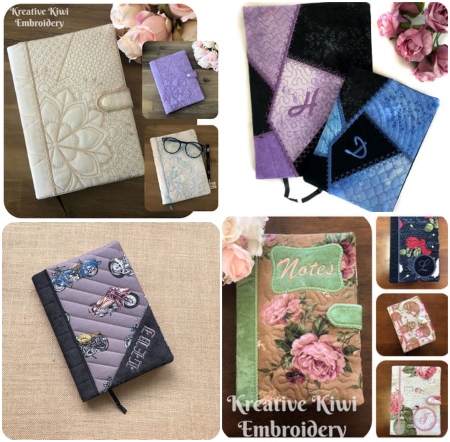 Not sure of what Notebooks you can purchase to fit our In the hoop Notebooks? I've put together this guide, which I hope will help.
---
BACKGROUND
When I created my first multi-hoop In the hoop Crazy Patch Notebook about 5 years ago (so I had some 'home-made' Christmas gifts for my family), I had no idea how popular the In the hoop Notebook idea would be.
I live in New Zealand, and we have a fairly standard Notebook size - A5 or A6 - this Notebook size is readily available through-out New Zealand and Australia. The main varient is the spine size.
Anyway, in my innocence, I sent the Notebook design off into the World. Really simple - 2 sizes
A small Notebook made in a 5x7 hoop (called A6)
A larger Notebook made in a 6x10 hoop (called A5)
Fairly quickly, I realised that the United States has different 'standard' Notebook sizes - and just to make it more confusing, the 'standard' size (that will fit in our hoops) is a 5x7 inch Notebook (talk about creating confusion, as the 5x7 Notebook cannot be stitched in a 5x7 hoop)
Due to insane demand, I created a third Notebook size for my US customers for three of the Notebook sets (The US size Crazy Patch version will be available soon)
A 5X7 inch Notebook, made in a 6x10 hoop (called US)

---
WHAT SIZE NOTEBOOK DO I PURCHASE?
---
MY TOP TIP -
Make a 'test' cover based on the available hoop size you have, and take that with you to your local shop and find a Notebook that it fits
---
Otherwise
BY HOOP SIZE
If you have a 5X7 hoop:
You can make the small size Notebook only
You need to purchase a Notebook that measures approx 4 inches wide by 6 inches high
If you live in New Zealand/Australia - The standard A6 notebook measures 4.13 by 5.83 inches
If you live in the United States, members of our Facebook Group have purchased 4X6 notebooks from Dollar Tree and Walmart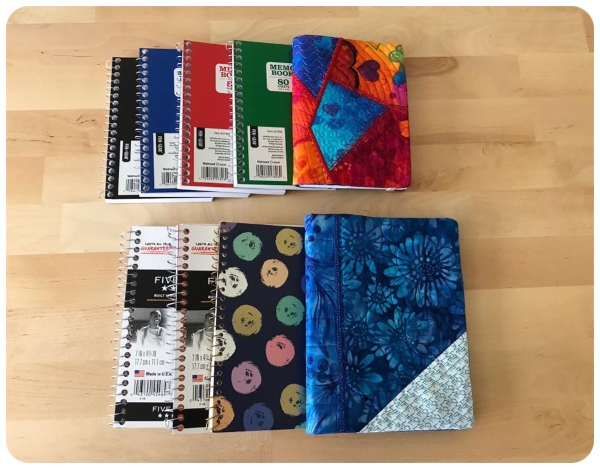 Bev purchased these small notebooks from Dollar Tree
---
I get my (small) notebooks from Walmart. It's their notebook call Pen+Gear its 4x6 inches and is spiral bound. Have 80 sheets in them.
---
I used spirals from Dollar Tree I think it was the Joot brand
---
TIP - search online for local stockists
A6 Notebooks or 4 x 6 inch notebooks
(sorry I can't link my search, as its based on the delivery country, so my results will be different from your)
If you have a stockist either on-line or shop, please email help@kreativekiwi.com and we can add the info to this list
---
---
If you have a 6x10 hoop:
You have a choice of two versions
You can purchase A5 Notebooks which measure 5.83 by 8.27 inches (readily available in New Zealand/Australia in any Stationary shop)
Or, you can purchase a Notebook which is 5 inches wide, and 7 inches high (more readily available in US)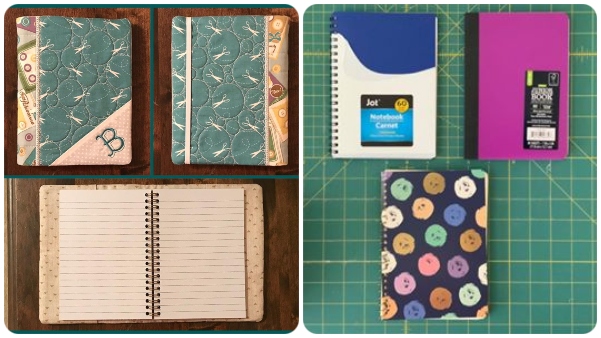 Beverly gets 5x7 inch notebooks from Walmart or Dollar Tree.
---
Or, again do an on-line search to find a local stockist
Search A5 Notebooks or 5x7 Inch Notebooks
"I buy a two pack from Amazon that are the correct size..Milko Transparent Hardcover A5 ruled. They fit perfect. They were 12.99 for a 2 pack a few months ago"
If you have a stockist either on-line or shop, please email help@kreativekiwi.com and we can add the info to this list
---
Just to muddy the waters, within all these 'standard sizes', there are size variants - some notebooks are thinner or are spiral rather than bound, or even not true to the standard size (Refer this blog from Notebook Stories)
There can also be slight size variations when you make your cover - the thickness of batting you use, how much bulk you can remove from the seams (trim as close as possible) and the type of fabric.
The good news is, its not too hard to customise your completed Cover to fit almost any size variation - here are 2 tips below from our Kreative Kiwi Group.
TIP 1

If your finished Notebook is just slightly bigger than your purchased Notebook, (notebook is loose in the cover) you can turn it back to the wrong side as pictured, and use your sewing machine to stitch around inside the final stitch line to make the whole Notebook smaller.

TIP 2

If you find Notebooks that are the right size, but the spine is too wide, once you have completed the 2nd hooping, and before you join the Front in the 3rd hooping, you can make the spine thinner by cutting the excess off the spine - just cut an equal amount along the stitched guideline ie you feel the spine is 1 inch too wide - cut 1 inch off the width of the Spine at the end of the 2nd hooping - before you make the join on the 3rd hooping.
Can I re-size the actual Embroidery File?
For sure!! If you are confident with embroidery software or re-sizing on your machine - just be mindful that you need to increase/decrease the 3 files by the exact same percentage *you just can't then sell that design file as a 'new embroidery design*
---