arrow_circle_down Designs
arrow_circle_down Subscribe
arrow_circle_down Crazy Patch Notebook Cover (In-the-hoop)
PLEASE NOTE - These Notebook covers fit the A5 and A6 Notebooks, a Notebook sizing which is used 'worldwide' apart from the USA.
Sorry, I was not aware of this when I released this Design.
A5 and A6 Notebooks are available on-line at Walmart or Amazon - search for A5 and A6 Notebooks
A crazy-patch Notebook for a 5x7 inch US Notebook will be released soon
A  beautiful, unique Gift!!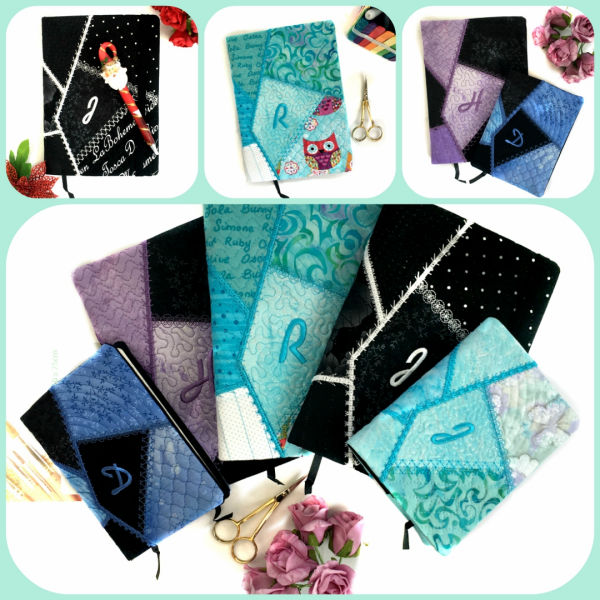 These very cute Notebook Covers are created AND joined in 3 Hooping's.
Full alphabet for personalisation
No additional sewing required
Full Photo Instructions Included
6x10 Hoop – A5 Notebook
5x7 Hoop – A6 Notebook
Finished Size
NOTEBOOK SIZE
A5 - 5.83 x 8.27 inches
A6 - 4.13 x 5.83  inches 
This design includes a mix of quilting and decorative stitches - you can choose to quilt each piece,
or showcase a special fabric.  Add your own designs as you wish
| | |
| --- | --- |
| Front | Back |
---
---
Darina shares how she easily adds a Lining to her Notebooks
Cut a piece of fabric the height of the book cover and wide enough to tuck in half way into the flaps. 
Neaten the ends.
Stitch top and bottom along the existing stitch line.
Pull through like a sleeve.
Turn back the two ends.
Press and insert book.
---
Kay has very kindly created a video showing how the Notebook Cover is made - Thanks so much Kay!!
---
 
 

Want to know how to enhance your Crazy Patch or In the hoop Notebooks  with a closing  Tab? 

Faye shows us how to create the Tab, and add it while you are stitching your design
---
View the Beautiful Crazy Patch Notebooks made by our Kreative Kiwi Group
---
View your shopping basket or browse other items.
Other products you might be interested in