arrow_circle_down Designs
arrow_circle_down Subscribe
arrow_circle_down Announcement Santa
---
In case you are new to the world of large applique designs, let me fill you in. A large applique design is one which needs 2 or more hoopings, with the joining completed as you stitch, in the hoop. The beauty of my large applique designs is you can quickly create a 3D Design much larger than your hoop.
---
Our Large Announcement Santa is created using our join-in the hoop method, with no additional sewing needed.
A versatile design - use with or without the pocket
Larger sizes can be used as Door/Wall Hanging or standalone Placemats
The smaller sizes could be used with the pocket as Utensil Holders or pencil holders for young ones or add lollies and gift-cards, for a cute present
Darina stitched her sample to a Christmas Placemat – perfect for little ones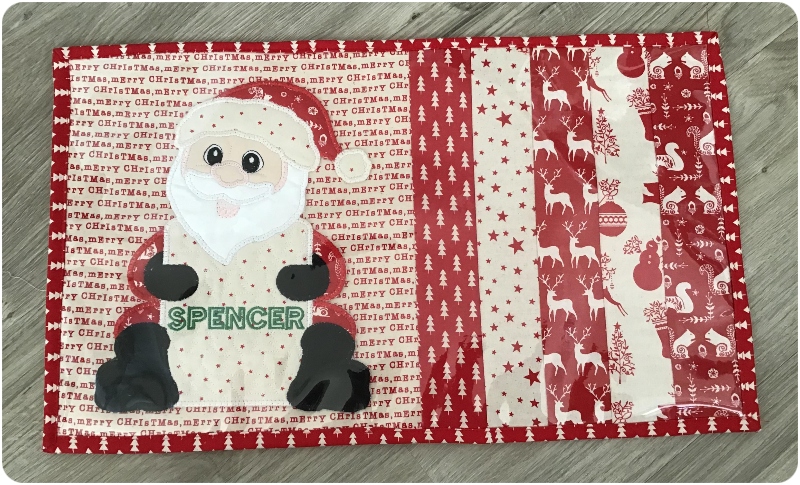 FINISHED SIZE
5x7

130x180

mm

6x10

160x260

mm

8x8

200x200

mm

8x12

200x300

mm

9x14

230x340

mm

17.8 by 23 cm's

22 by 28 cm's

20 by 25 cm's

27 by 35 cm's

31.5 by 40 cm's

7 by 8 inches

8.6 by 11 inches

8 by 10 inches

10.5 by 13.7 inches

12.4 by 16 inches
This design set includes the wording 

Merry Christmas for 5x7 6x10 8x8 
Merry Christmas and HappyNew Year for 8x12 & 9x14  Or add your own wording
Size Comparison

Left – 5x7
Middle – 8x12
Right 6-10
While the design is not completely reversable, I do show how to add backing at different points,
so the back is neat and tidy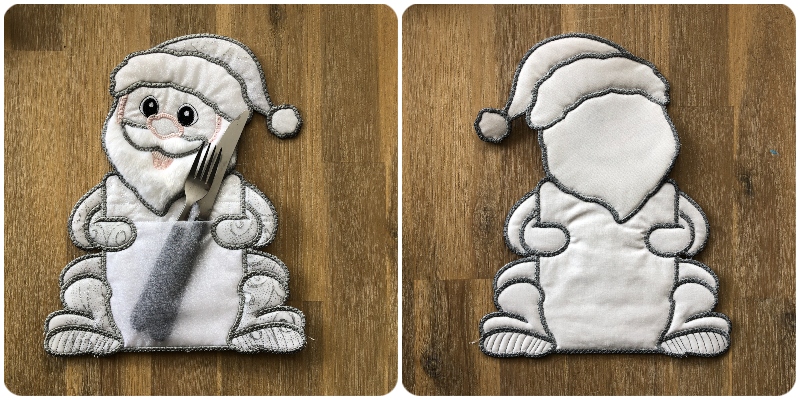 ---
VIDEO
While we do not have a video for this design, if you are new to this style of design, please watch the video below of our Giftcard Santa which uses the same joining and adding pocket technique
---
HELPFUL BLOGS
---
Click here to view more Christmas Inspiration 
View your shopping basket or browse other items.
Other products you might be interested in