arrow_circle_down Designs
arrow_circle_down Subscribe
arrow_circle_down Creating a Beautiful Embroidered Birth Announcement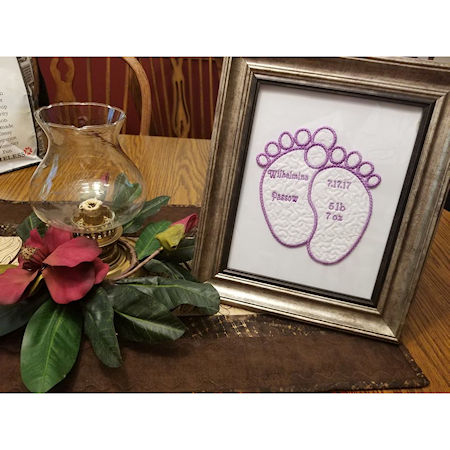 Creating a Beautiful Embroidered Birth Announcement
A gorgeous machine embroidered birth announcement makes a wonderful keepsake gift. New parents love being able to hang these personalised decorations in their baby's new bedroom. Unlike many printed paper birth announcements, an embroidered birth announcement will last for many years and be able to be given to the child when they turn 21.
One of the great things I enjoy about creating birth announcements is their versatility. They can be personalised with text for the new arrival by using editing software or with different colours of fabric. Quick and easy to make, birth announcements are also great to sell at markets or online shops. If you are keen, you can also make and send them to family and friends instead of an email or card welcoming baby's arrival.
Unique Machine Embroidered Birth Announcements
Like so many other Kreative Kiwi designs, I am blown away with the creativity which has been used by everyone when making their birth announcements. If you've never made one before, a good place to start is with my free large applique Baby Feet Design. (Waultraud used this design for our cover image) This will not only introduce you to the world of large applique designs, but also to personalising your designs. If you have editing software, it's easy to create your own text or designs. If you don't I recommend you use Mandy from Veronica and Me Designs who will be able to do this for you.
While any large applique embroidery design could be used, here are a few of my favourites:
Faith Fairy – Faith holds a large sign which is perfect for embroidering baby's special details on
Large Applique Angel – this angel has plenty of space on her cloud for names, dates and weights
Large Monkey – a real boyish birth announcement, this monkey holds a darling little heart which will hold a name, which his paws are perfect for all the important dates and weights
Large Teddy – a unisex embroidered birth announcement, this applique teddy is great for using as a wall hanging or sewn onto a baby blanket
Sleepy Pony – for all the horse lovers, this large sleepy pony applique also has some great spaces for baby's information to be embroidered upon
Large Car - perfect for little boys whose Dad's love cars
What Could You Embroider on a Birth Announcement?
| | | |
| --- | --- | --- |
| | | |
| stitched by Debbie | stitched by Amalia | stitched by Jackie |
A traditional birth announcement has all the important details about the new arrival. The name, date and time of birth, weight at birth, baby's length, place of birth and parent's names. Newspaper birth announcements often have the name of the midwife or doctor who delivered the baby, sibling's names, grandparent's names and place of birth.
---
It's a bit trickier when it comes to an embroidered announcement, often because there is just not enough space. I'd recommend you stick with the name, date, weight and time. If you are making them to sell at a market, use generic phrases such as welcome baby boy or girl.
| | | |
| --- | --- | --- |
| | | |
| stitched by Jeanette | stitched by Maria | stitched by Katie |
Not just for Babies!
As our hugely kreative group has shown, there's no need to limit these announcements to a new arrival. Our Faith Fairy, Large Truck and Large Owl have been very popular designs to stitch for older kids.
| | | |
| --- | --- | --- |
| | | |
| stitched by Betty | stitched by Faye | stitched by Nancy |
Click here to view more amazing examples from our Kreative Kiwi Group
---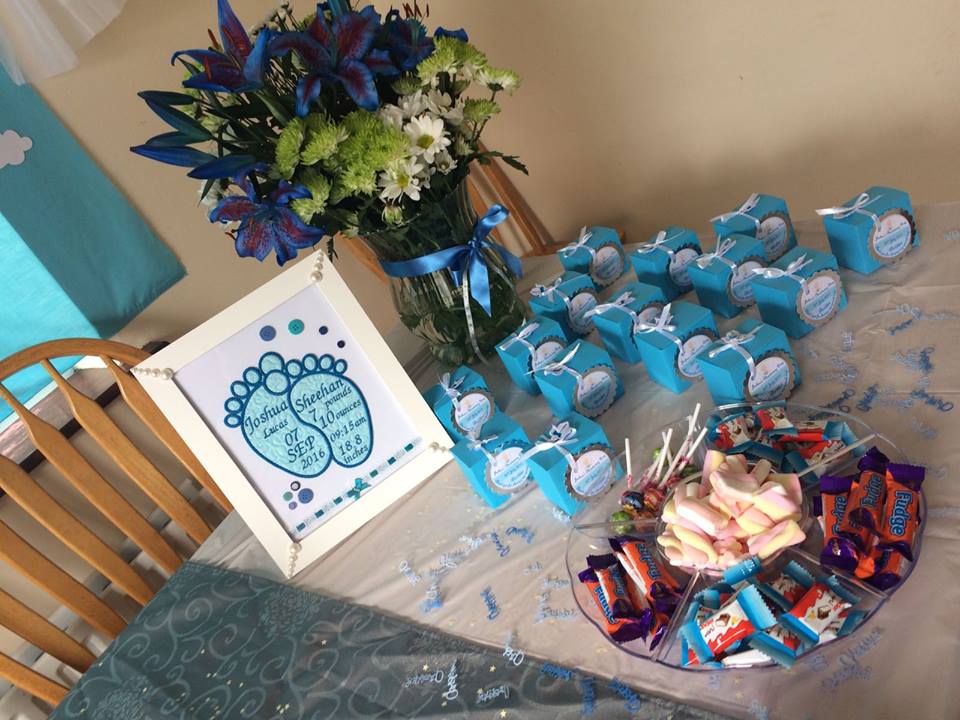 If you are new to our Large In the hoop Designs, make sure you download our FREE Baby Feet Applique and try this technique.
---
Danyello stitched, then framed the feet to use at her Son's Christening. What a wonderful keepsake!!
---
I'd love to see the machine embroidered birth announcements you have made! You can send them to me in an email to heather@kreativekiwiembroidery.co.nz, or pop them up in our Facebook group.