arrow_circle_down Designs
arrow_circle_down Subscribe
arrow_circle_down Sleepy Kitty
---
In case you are new to the world of large applique designs, let me fill you in. A large applique design is one which needs 2 or more hoopings, with the joining completed as you stitch, in the hoop. The beauty of my large applique designs is you can quickly create a 3D Animal Design much larger than your hoop, and then add them to quilt blocks, reading pillows or pretty much any item as you like. 
---
Our Sleepy Kitty is made in 3 hooping's  - joined easily in-the-hoop like a jig-saw.
Finished Size
8x10 hoop           27.5cm by 31.5cm
8x8 hoop             20.5cm by 24cm
6x10 hoop           23.5cm by 27cm
5x7 hoop             18.5cm by 21cm
Once you have created your Sleepy Kitty,you can add them onto a pre-made item,   Sweat-shirts, cushions, or as I've done, appliqued to a polar fleece blanket.  Quick and easy yet looks like you've spent hours.
I've also included 9 Redwork designs that fit a 4x4 hoop - Create a beautiful quilt with the larger Sleepy Kitty as a centre block.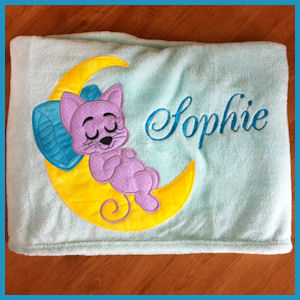 ---
VIDEO
New to our Large Applique designs? 
Watch Kay's step-by-step video which shows you the techniques to make a Large Applique Design 
Make your first Large Applique Animal
View more Large Applique Animal Videos
---
HELPFUL BLOGS
---
Chcek out our Kreative Kiwi page to see more animal designs!
| Hoop Size | Model | Type | Year |
| --- | --- | --- | --- |
| 5x7 | | | |
| 6x10 | | | |
| 8x10 | | | |
| 8x8 | | | |