arrow_circle_down Designs
arrow_circle_down Subscribe
arrow_circle_down Large Applique Tree
---
In case you are new to the world of large applique designs, let me fill you in.  A large applique design is one which needs 2 or more hoopings, with the joining completed as you stitch, In the hoop.  The beauty of my large applique designs is you can quickly create a 3D Animal Design much larger than your hoop, and then add them to quilt blocks, reading pillows or pretty much any item as you like. 
---
I had so many requests to create a Large Tree design to go with our Large Applique Animals.  I 'pondered' on this for quite a while, working out how to make the Tree as flexible as possible.  I hope what I have come up with will work for you.
This is a design to play with, to get the finished Tree style to suit your quilt
---
FINISHED SIZE
5x7

130x180mm

6x10

160x260mm

8x12

200x300mm

18 by 54 cm's

22 by 64 cm's

27 by 81 cm's

7 by 21.5 inches

8.7 by 26 inches

11 by 32 inches
The Finished size is based on the Tree Trunk only – with 4 pieces.  You add as many Tree Tops as you wish to make the style you want
You can make a shorter Tree Trunk by skipping File 3
---

SAVE!!

Purchase this design in our

---

I used the 5x7 version of the Tree in my Forest Friends Quilt

 

I used the 5x7 size of the Green Tree Tops – if you have other hoop sizes, you could do the 5x7 Trunk files, but larger Tree Top sizes to create a 'bigger' bushier Tree top

 

You can add the optional branches as I did


The Tree Trunk is made as one unit – I've made the 3rd piece with an identical join, so you can make a shorter tree by using piece 1,2 and 4, or a taller tree by stitching piece 1,2,then 3 as many times as you like, and lastly piece 4
The 2 branches are made in 1 hooping
You make as many Tree Tops as needed to shape the Tree you like.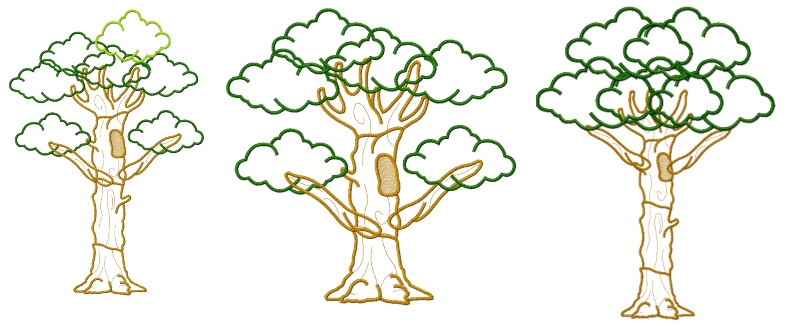 5X7 Trunk – 4 parts

5x7 Tree Tops

5X7 Trunk – 3 parts

5x7 Tree Tops

5X7 Trunk – 4 parts

8x12 Tree Tops
 

I used Part 4 (Tree Base) as a stump for the Squirrel to sit on

 

I used the Tree Top File to make 'background bushes' and Clouds
---
INSPIRATION
Darina used the Large Tree in her growth chart, while Lou combined the Tree with our Jungle Animal designs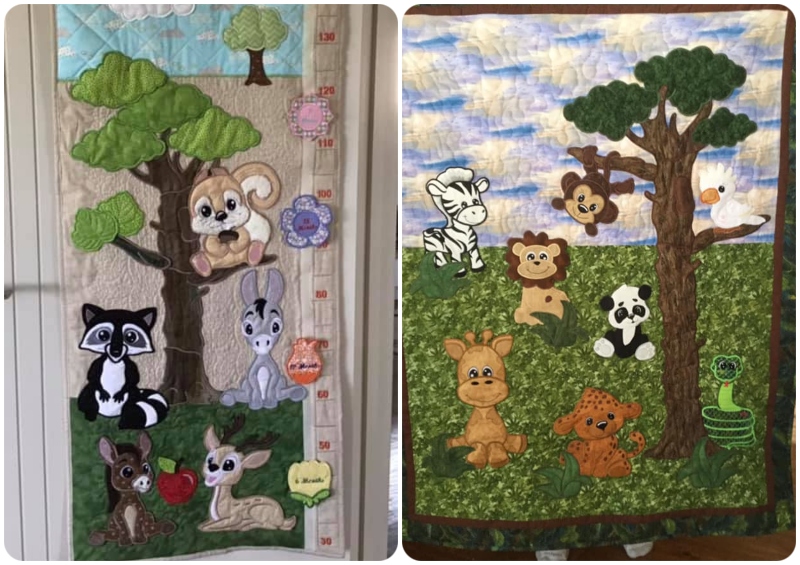 Candie combined this Large Tree with our Large Eagle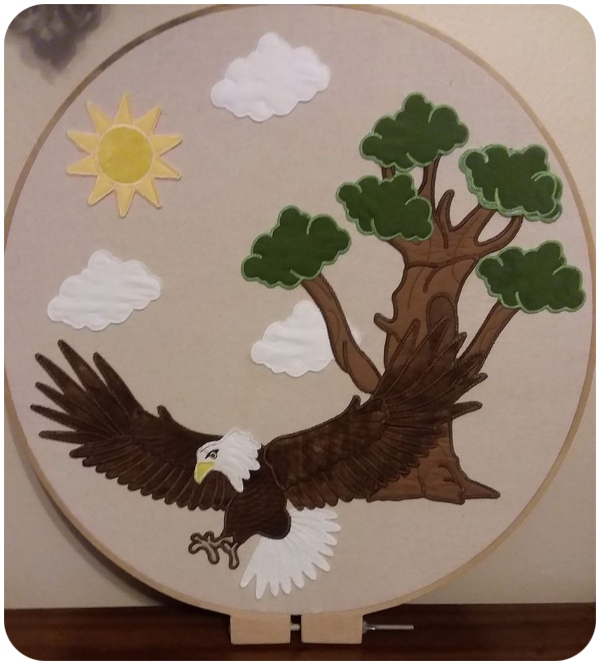 ---
How unique is Claire's Birth Announcement - I love it!!  You could do a Tree for each sibling - very very cool.
Claire used our large Tree and Fox Appliques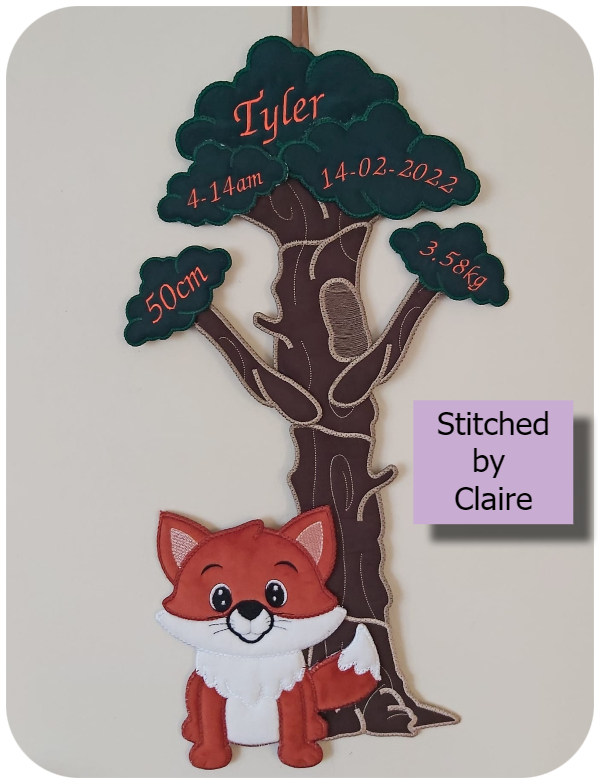 Vickie combined this Large tree with the Leaf and Giraffe from our Jungle collection to make this awesome Tree of Life Quilt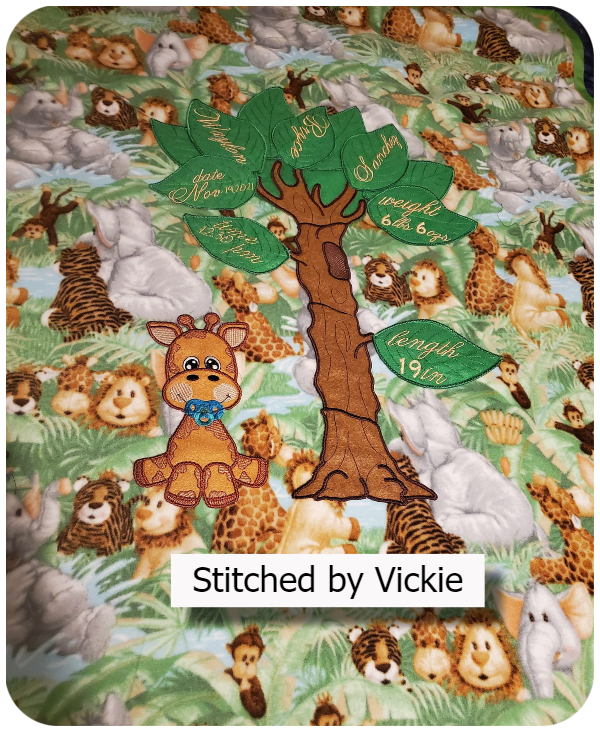 ---
How creative is this amazing Growth Chart Eva made for her Grandson. Beautiful work Eva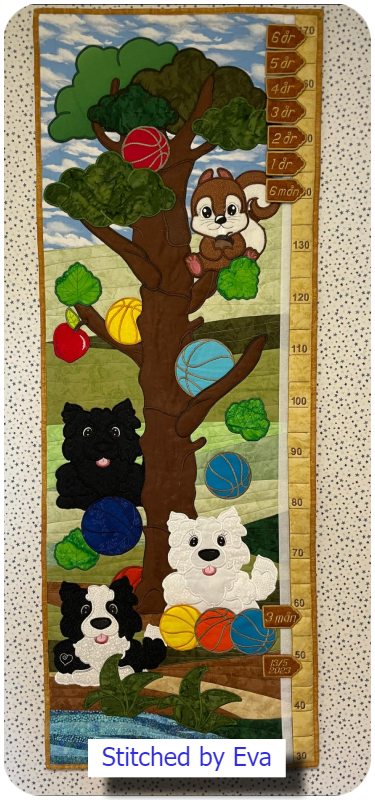 Eva combined designs from the following sets
| Hoop Size | Model | Type | Year |
| --- | --- | --- | --- |
| 5x7 | | | |
| 6x10 | | | |
| 8x12 | | | |