arrow_circle_down Designs
arrow_circle_down Subscribe
arrow_circle_down In the hoop Hexagon Placemat
---
In case you are new to the world of large applique designs, let me fill you in. A large applique design is one which needs 2 or more hoopings, with the joining completed as you stitch, in the hoop. The beauty of my large applique designs is you can quickly create a 3D Design much larger than your hoop.
---
---
You've seen these Hexagon Placemats before - Now you can make them completely in the hoop
Created and joined completely in your Embroidery Hoop.   Multiple hoopings mean you can make a Placemat much larger than your hoop
The Design file includes the 2 styles in 4 hoop sizes - 5x7 6x10 8x8 and 8x10
Strip style – perfect for Jelly Rolls or to use up scraps of fabrics
One Fabric style – quick to stitch – wonderful for border fabrics, or to showcase your own embroidery designs
FINISHED SIZE
5x7 Hoop

6X10 AND 8X8 Hoop

8x10 Hoop

35 by 30 cm's

13.5 by 11.8 inches

 

42 by 37 cm's

16.7 by 14.5 inches

50 by 44 cm's

20 by 17 inches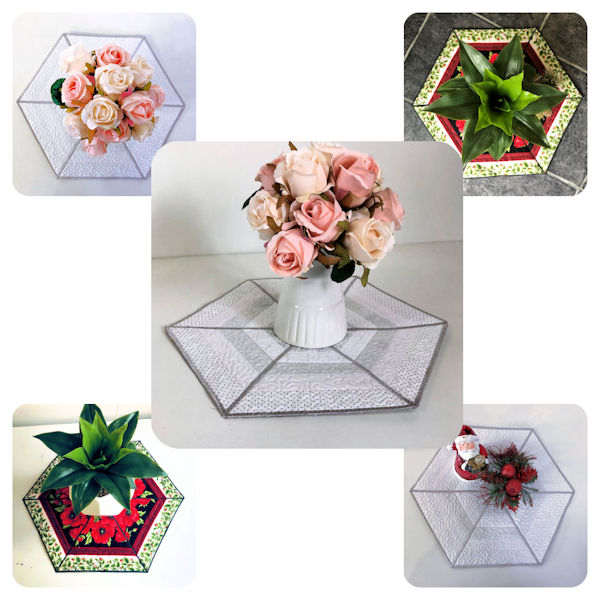 ---
VIDEO
While we do not have a video for this design, Kay from Kay's Cutz has shared her excellent video showing how to make our Topper which shares similar construction techniques.
(step by step photo instructions are included in your download file)
VIEW MORE LARGE APPLIQUE PLACEMAT VIDEOS
---
HELPFUL BLOGS
---
INSPIRATION
Irene created her Hexagon Placemats to go with her stunning Mandala 2 Placemat
such stunning colors!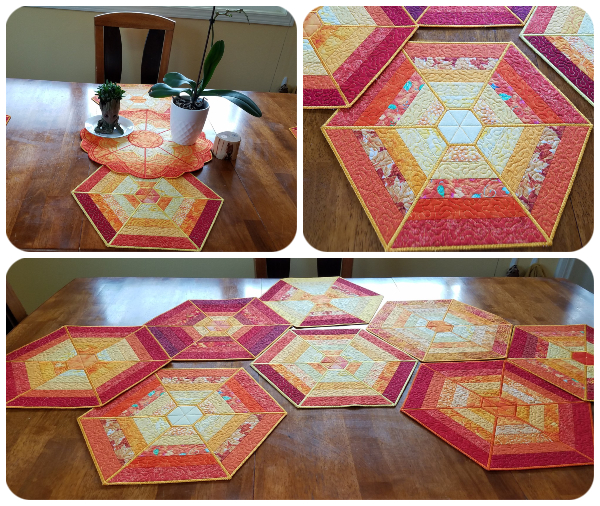 ---
Sandy made five of the 5x7 size, then stitched them together on her sewing machine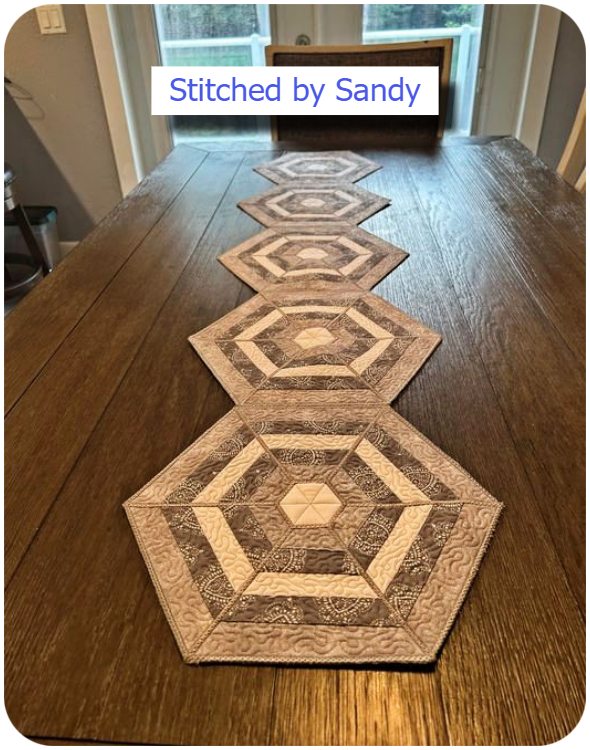 ---
Carol created this gorgeous Placemat for a friend who had recently lost her dog 
Isn't it beautiful!
(sorry, the dog designs are not Kreative Kiwi)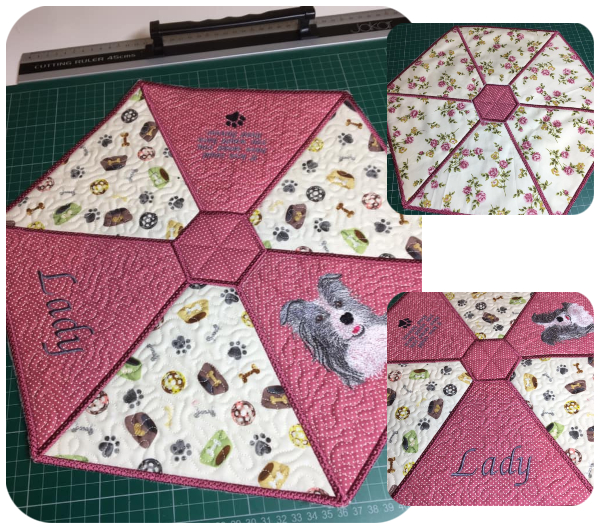 ---
Rina made this reversable table setting using our In the hoop Hexagon Placemat Design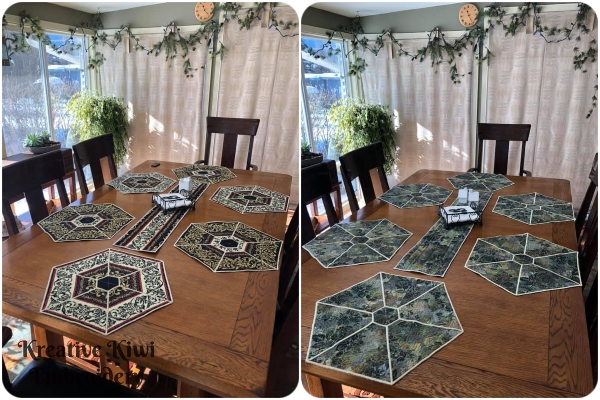 ---
Caroline created this beautiful set - with matching Free Octagon Coasters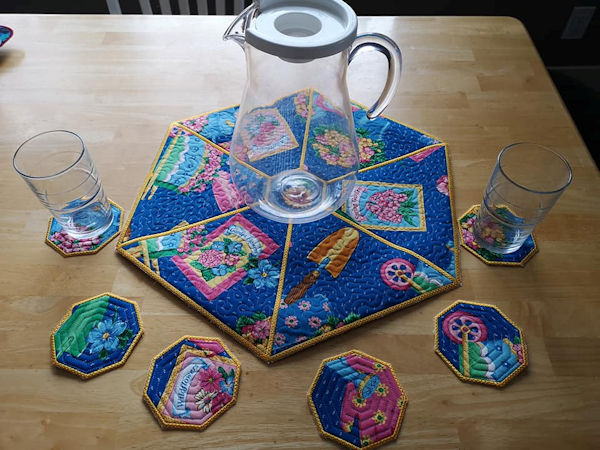 ---
Toni played with fabric placement for this beauty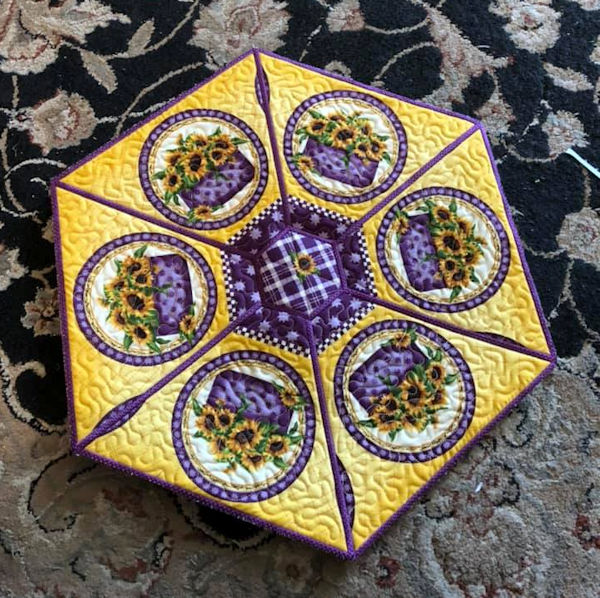 ---
Bonnie shared her Christmas Skirt idea using our Large Hexagon Placemat - Bonnie writes "I just finished my first converted placemat into a tree skirt. I used the hexagon placemat KK548. I omitted the A segment, made 6 B segments and 1 C so that all the edges were finished and there would be an overlap. After making the segments, I removed all from the hoop, switched my machine to regular sewing and finished the top edge with first a satin stitch, then put a smocking stitch over it to duplicate the finish on the other edges. I was going to put designs on each panel, but with the fabric I selected, I decided that would be too busy."    I think its pefect Bonnie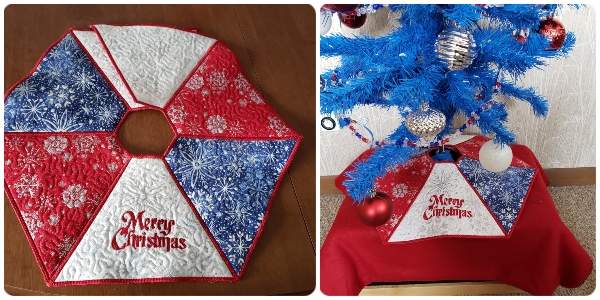 ---
---
---
Click here to view more designs made by our Kreative Kiwi group members for more inspiration!
| Hoop Size | Model | Type | Year |
| --- | --- | --- | --- |
| 5x7 | | | |
| 6x10 | | | |
| 8x10 | | | |
| 8x8 | | | |