arrow_circle_down Designs
arrow_circle_down Subscribe
arrow_circle_down Fabric - What a difference it makes!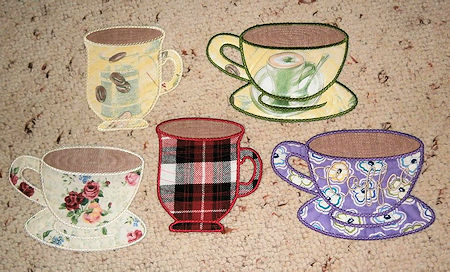 When I first got my Embroidery Machine, I added filled embroidery designs to everything that moved. A few years down the track, and based on our most popular designs, machine embroidery has changed. It seems in our short on time lifestyles, Applique and In-the-hoop Projects enable us to quickly make professional hand-made items. - Great for quick gifts, or for selling at Markets. Being clever with Fabrics adds another (and even quicker) element.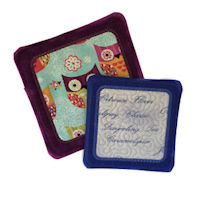 Our In-the-hoop Coasters have been very popular, but I had so many requests for a 'blank Coaster', so I created one. This is my effort - pretty boring!
Then I started seeing photos from my incredibly creative Facebook Group - and 'what a difference Fabric (and imagination) makes!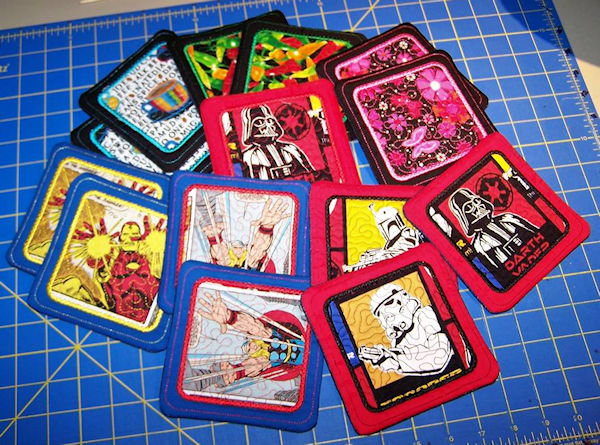 How awesome are these Coasters? Debra has taken our humble 'Blank Coaster' used licensed fabrics and her Coasters are now 'really cool for young ones' - I'm sure they would sell well at Markets.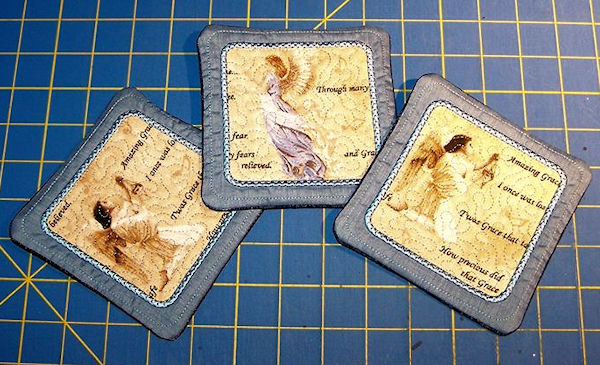 With this fabric, the Coasters are transformed into a beautiful Gift for a Friend at Church, or a Friend needing some inspiration.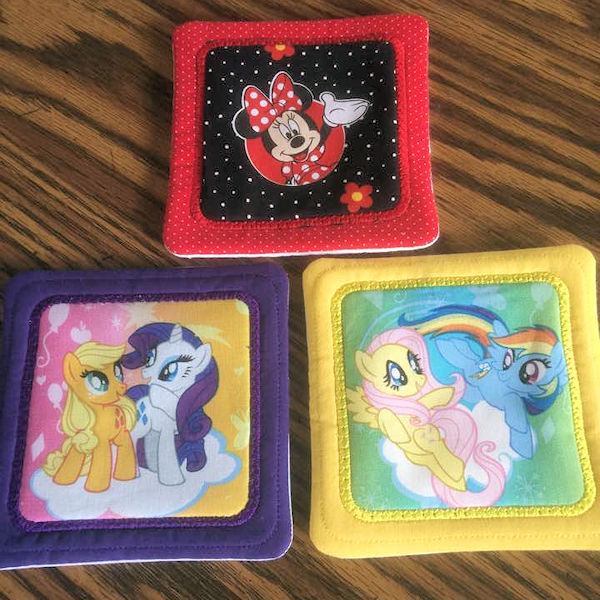 These very cute Coasters from Cindy, are perfect for little Girls - They would make lovely party favours!
These examples, all use a technique called 'fussy cutting' - Click here for tips on Fussy Cutting
---
---
Fabric choice doesn't just apply to small projects like Coasters - Our large applique Place-mats can also be made with 'special' fabric.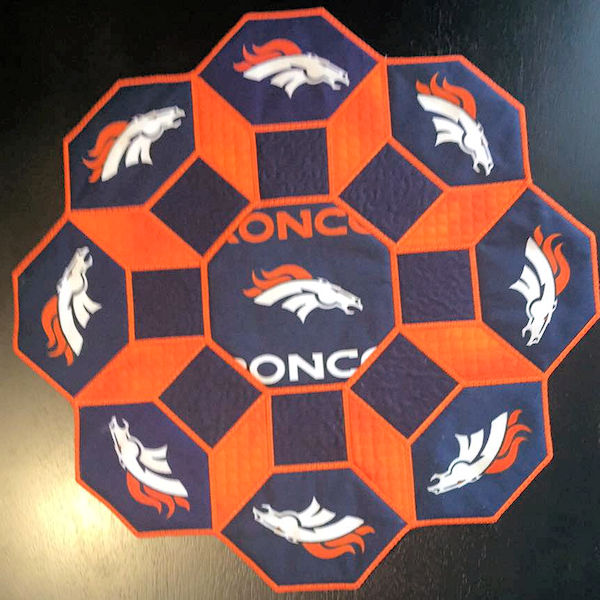 Maria used our Octagon Placemat to make this for the 'Mancave' - Her Fabric choice has changed the 'pretty' placemat into a very cool 'Man' Placemat (and we all know how hard it is to embroider for Men!)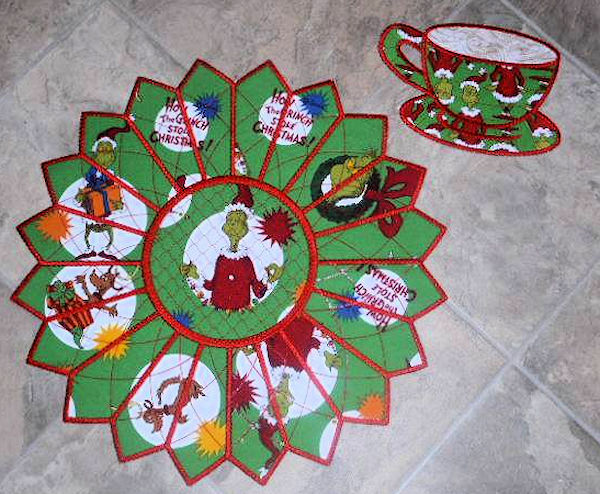 Toni uses our Dresden Design for many of her Sets - this is just one example - again, a 'pretty' design is now suitable for Boys.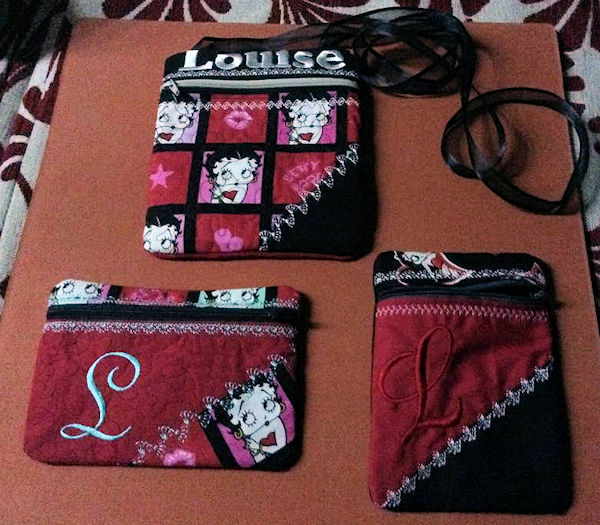 Betty shared this today - again a clever use of licensed fabric with our In-the-hoop Bags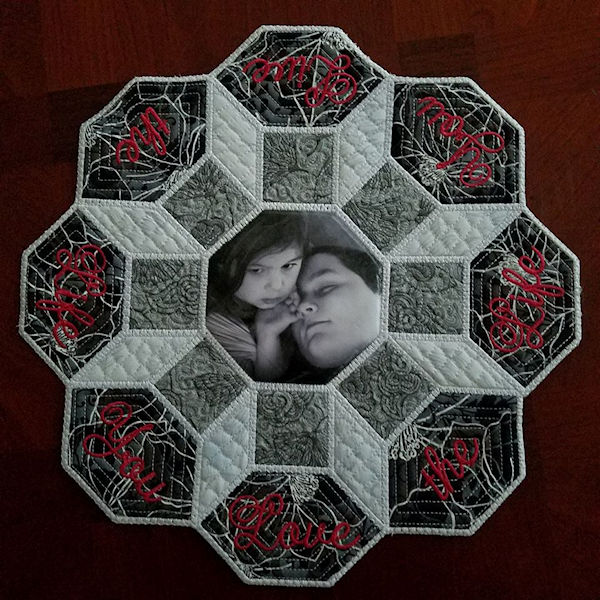 How inspiring is this absolutely stunning Placemat Dawn made for her Daughter - I think this is truly beautiful. I bought printable fabric 'paper' for my computer from my local Craft Shop, do a quick search on Google for your closest stockists.
What a difference Fabric Makes!!
---
Its not only using special/licensed fabric, sometimes just the style of fabric makes a difference.
How about this? - My Hexagon Swirl (rainbow) against the absolutely beautiful Placemat Jacqueline made - same design, but they look totally different,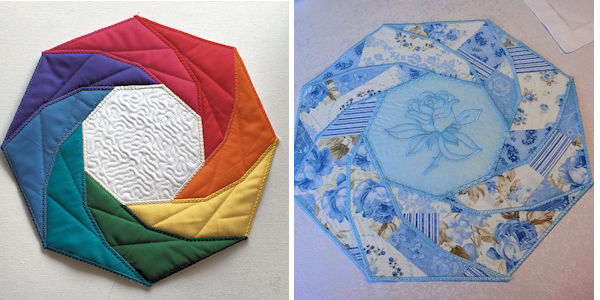 ---
Rita used nappa (imitation leather) for these Free Coasters - Again, what a difference Fabric makes!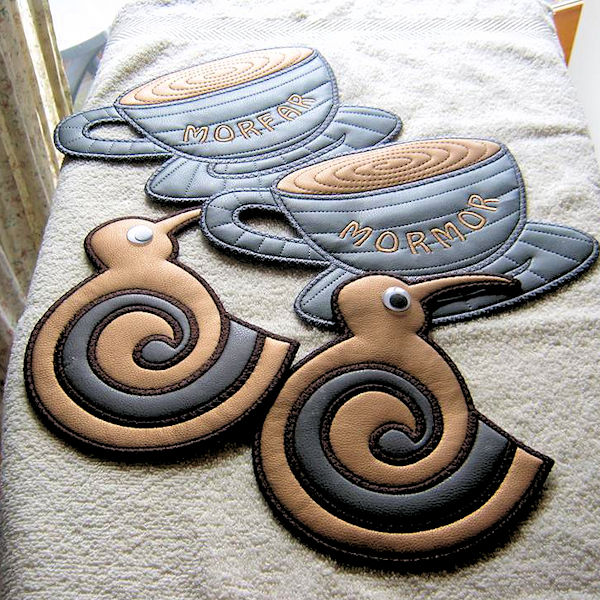 ---
I hope this gives you a few ideas on how your Fabric choice can both enhance your Embroidery Designs, and in the case of the Coasters, enable you to make quick and popular items for a market, or for a personal gift, and in most instances, you only need scraps!
---
Want to see an example of one design/many fabrics? - Take a minute to view our really quick video showing how different our Free Coffee Cup Design looks with different fabrics .
---
---
If you are looking for Inspiration, be sure to join the Kreative Kiwi Facebook Group - the photos being shared are truly inspiring - it will give you lots of ideas.
A HUGE THANK YOU to the wonderful Ladies on the Group - using their photos lets me add pictures to my ideas - its much nicer seeing photos rather than just words.
For those without Facebook - Check out our Inspirations page, I put together quick videos show casing everyone's amazing projects.
---