arrow_circle_down Designs
arrow_circle_down Subscribe
arrow_circle_down Large Double Dresden Applique
---
In case you are new to the world of large applique designs, let me fill you in. A large applique design is one which needs 2 or more hoopings, with the joining completed as you stitch, in the hoop. The beauty of my large applique designs is you can quickly create a 3D Design much larger than your hoop.
---
One Design, two very different styles.   Our In-the-hoop Double Dresden is made in 5 hooping's - joined easily in-the-hoop like a Jig-saw to create a stunning large size design.
5x7 hoop creates a 10-inch Double Dresden
6x6 hoop creates a 12-inch Double Dresden
8x8 hoop creates a large 15-inch Double Dresden
For our Christmas Topper, we used 20 different Christmas Fabrics scraps, and omitted the extra Quilting.  With the Sunflower Design, we used One Fabric to show off the Quilting. 
I can't wait to see what you all do with this design.  By itself, it makes a stunning Placemat, or Table Topper, or could add it to Tote Bags and Cushions.   I would like to make a few different sizes, and add them to a pieced Quilt, to create the 'wow' factor.             
If you have editing software, I am more than happy for you to add your own designs to the centre, to create unique Placemats for yourself.
I've constructed the design, so it can be completely reversible – I use Cutaway Stabiliser as a backing, but you could easily use a pretty fabric, and create two Toppers!  (You'll need to use matching Bobbin Thread if you want the Topper to be reversible)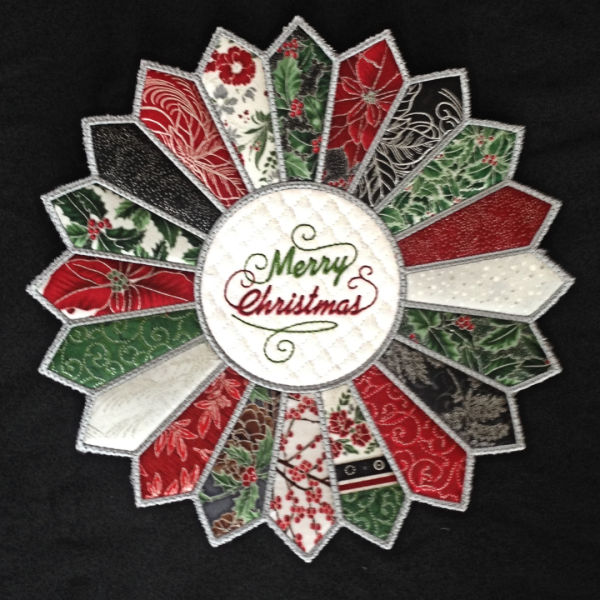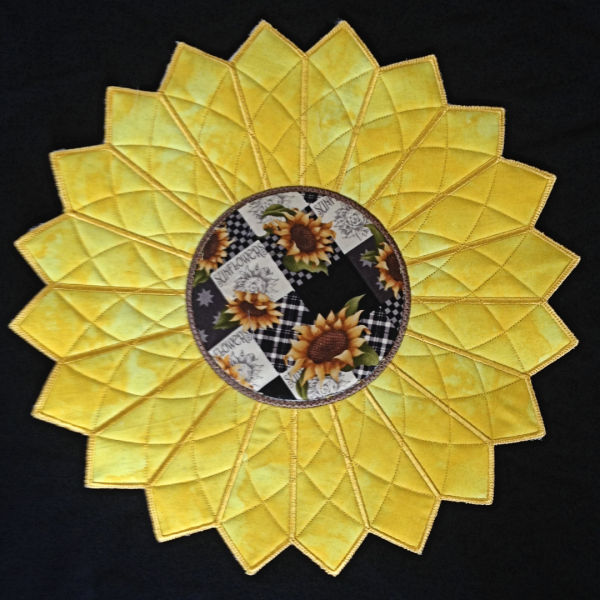 ---
VIDEO
While we do not have a step-by-step video for this design, if you are new to this technique, please watch how to make our Swirly Placemat - The same method is used to make that placemat
Or, watch how to make our Larger In the hoop Dresden Placemat
VIEW MORE LARGE APPLIQUE PLACEMAT VIDEOS
---
HELPFUL BLOGS
---
INSPIRATION
Pat used an assortment of Easter Fabrics for her very cute Placemat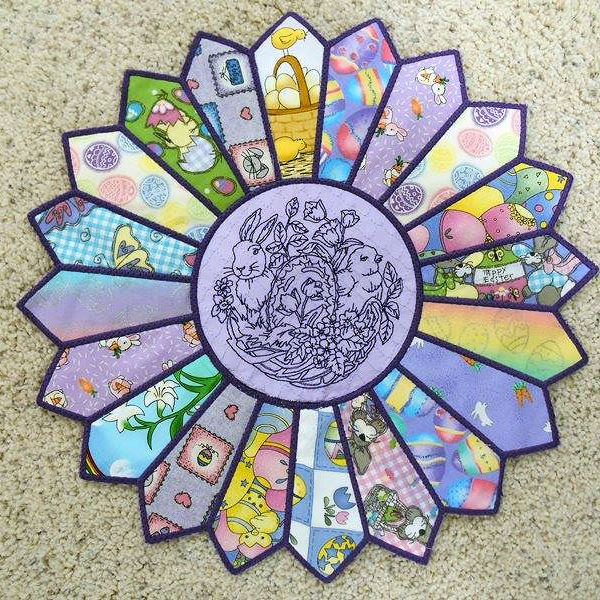 ---
Tina made a beautiful memory pillow for her Cousin, using her cousin's Husband's Ties.
Tina used the 5x7 size, for a 14 inch Cushion - An absolutely beautiful idea Tina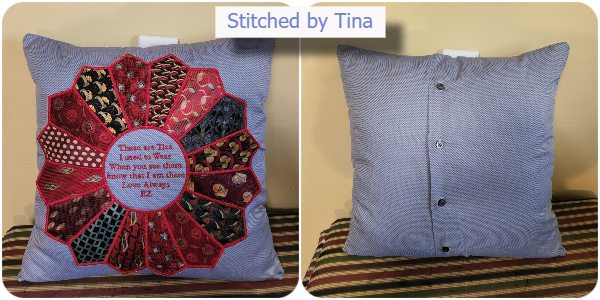 ---
Kim shared her beautiful Tablerunner adorned with our Double Dresden design - beautiful work!!

---
Click here to view more designs made by our Kreative Kiwi group members for more inspiration!
VIEW MORE SAMPLES OF OUR DRESDEN DESIGNS
| Hoop Size | Model | Type | Year |
| --- | --- | --- | --- |
| 5x7 | | | |
| 8x8 | | | |