arrow_circle_down Designs
arrow_circle_down Subscribe
arrow_circle_down Hexagon Swirl Placemat
---
In case you are new to the world of large applique designs, let me fill you in. A large applique design is one which needs 2 or more hoopings, with the joining completed as you stitch, in the hoop. The beauty of my large applique designs is you can quickly create a 3D Design much larger than your hoop.
---
---
BY VERY POPULAR REQUEST!
****I must have been having a Blond Day when I named this design - the shape is actually an Octagon, not a Hexagon - rather than change the name now, we'll clock this up to 'artistic license'
---
 A Large Placemat with a 'blank' centre to add your own embroidery designs - use your favourite designs and fabrics to create seasonal Placemats, or to match your decor.
While there are 8 outside segments, they stitch quickly - Choose your Fabric today, have it on your Table tomorrow!
The Placemat is completely reversable, so get Two for the price of One!
Two styles - fully Quilted (Purple Placemats) or minimal Quilting (Rainbow Placemat)

5x7 Hoop creates a 28cm (11.2inch) placemat – inner centre 128cm (square)
6x10 Hoop creates a 36cm (14 inch) placemat – inner centre 158cm (square)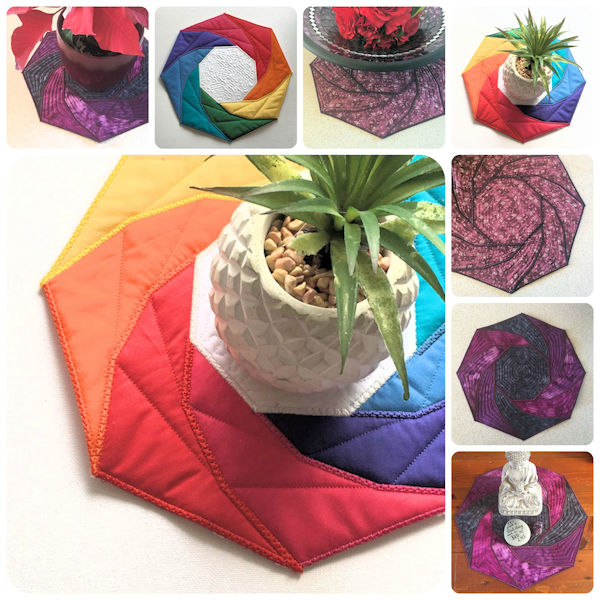 ---
VIDEO
Watch Kay from Kay's Cutz make this design
VIEW MORE LARGE APPLIQUE PLACEMAT VIDEOS
---
HELPFUL BLOGS
---
INSPIRATION
Karen made this beautiful HexagonSwirl Placemat - the colors are beautiful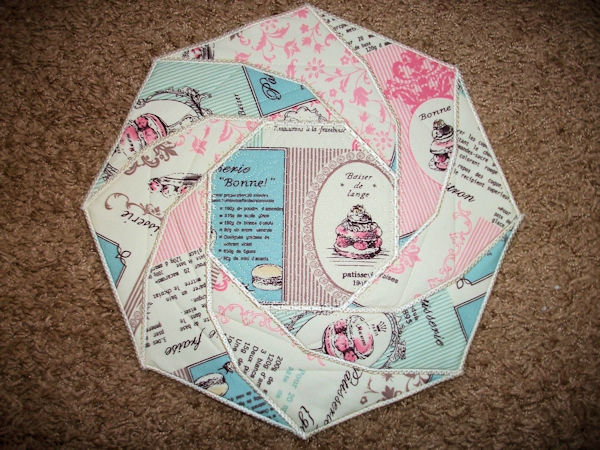 Amazing the difference Fabric makes - here is Jacqueline's Place-mat - isn't it beautiful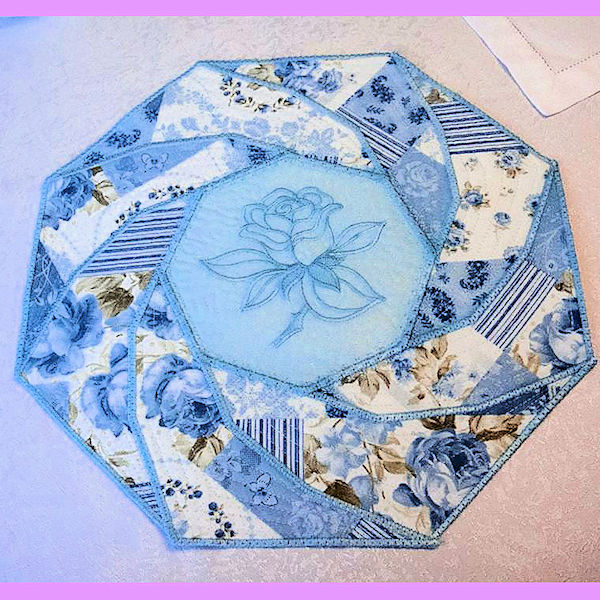 ---
Click here to view more designs made by our Kreative Kiwi group members for more inspiration!
CLICK HERE TO VIEW MORE PLACEMAT SAMPLES BY OUR KREATIVE KIWI GROUP
---
| Hoop Size | Model | Type | Year |
| --- | --- | --- | --- |
| 5x7 | | | |
| 6x10 | | | |