arrow_circle_down Designs
arrow_circle_down Subscribe
arrow_circle_down Blank Envelope Back Coaster
---
After we released our Poppy and Pumpkin Coasters, so many of you asked me to release a 'Blank' Coaster that you could add your own designs to.
While testing the designs, the 'blank' coaster looked a little boring, so I decided to use some pretty fabric in the centre, and realised these 'blank' coasters are perfect for showcasing a special fabric.
These simple Coasters are made completely in-the-hoop – no hand sewing required.
Finished Size:

 

8x8 Hoop

Just under 8x8 inches

 

6x6 Hoop

Just under 6x6 inches

 

5x5 Hoop

Just under 5x5 inches
The 'white space' is the perfect spot for you to add your own Monogram,

wording or inspiration for a personal Gift. 

You can add a Ribbon in the final step and make a Wall Hanging,

or, when finished, you can add stuffing and make a very cute

Pin Cushion or small Cushion.
---
VIDEO
This Coaster design has an 'envelope back' so is completed completely In the hoop - no hand sewing needed.  If you are new to this style of Coaster backings, please watch Kay's step-by-step video which shows how to add your backing for envelope-backed Coasters.
Kay's video also shows how to add other embroidery designs to this Coaster
---
HELPFUL BLOGS
 
   

My Top 2 Blogs to read for our In the hoop Coaster Designs would be:

 Click here to read ALL our Information Blogs 

Topics include Helpful tips, plus free project instructions for making projects where you could use your Coaster Designs - Reading Pillows, Cushions, Bags etc
---
INSPIRATION

We think Debbie did a much better job with our Blank Coasters - in fact she inspired a Blog
Click here to read - What a difference Fabric makes - perfect for this design!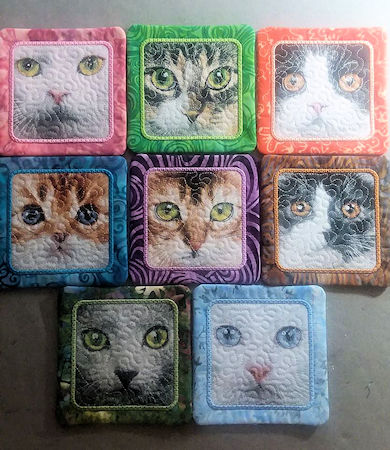 Calling all Cat Lovers - How cute are these Coasters stitched by Jeannine?
---
---
| Hoop Size | Model | Type | Year |
| --- | --- | --- | --- |
| 5x5 | | | |
| 6x6 | | | |
| 8x8 | | | |