arrow_circle_down Designs
arrow_circle_down Subscribe
arrow_circle_down Our Kreative Kiwi Community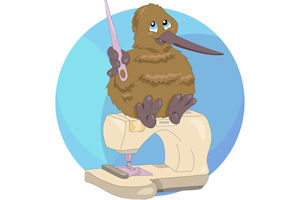 FEATURED MACHINE EMBROIDERY ADDICT
Heather - Kreative Kiwi
---
Tell us a little about yourself?
I'm born and bred in Christchurch, New Zealand. As with all Kiwi's, we are children of immigrants - My Mum's family from Scotland, Dad's family from Ireland. (I had no chance with the red hair and freckles)

I have 3 beautiful, strong minded Girls - My eldest is out on her own now, studying Law at University. The 'little ones' are 11 and 12 - they still live at home LOL, together with my Hubby Terry, our dog Buddy, and 3 Cats!
---
When did your Love affair with Machine Embroidery start?
I was about 8 months pregnant with Ruby, and I went to our local sewing shop to get some wool - saw the embroidery machine running by itself, and I was SOLD.
I was an embroidery addict right from the start, plus the idea of making your own picture into a sewing pattern sounded very cool, so I started 'playing'.
---
What machine did you start with? Brand, model, max hoop size - (what machine do you have now?)
The very first machine I bought from Daphne at the Sewing shop was a Pfaff 7570 - 4x4 Hoop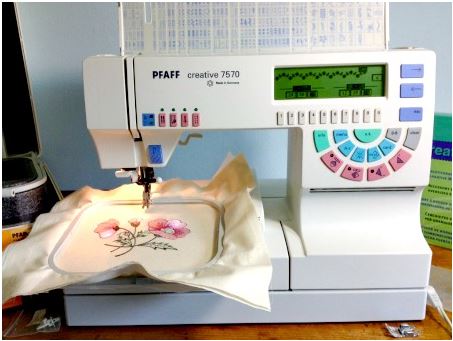 Loved the machine, but realised very quickly that I needed larger hoops.
I've upgraded a couple of times since, but managed to get my Dream Machine - the Pfaff Creative Vision about 8 years ago, and I'm still using that one - almost daily.
---
How much time a week/month do you spend stitching?
Never enough!! - Realistically I would stitch 3/4 days a week.
---
Who do you create for? (Family, Friends, to sell)
I create for YOU to make - LOL
I'm afraid to say, I'm the typical stereotype now - I stitch for work, so no stitching done for the family. The last 'true' stitching for Gifts, have been embroidering on Cubbies - the Girls all got one for christmas. I was embroidering a Cubbie for a gift yesterday - and it killed my machine

(Machine is in shop for 10 days)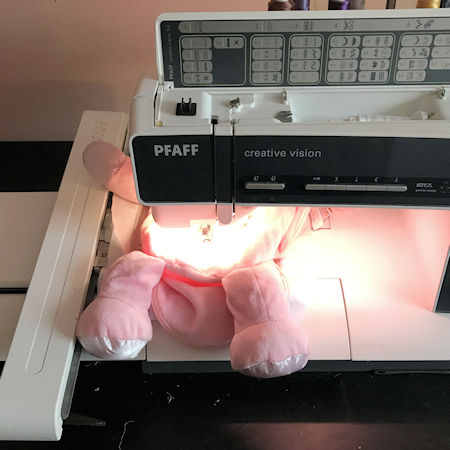 ---
What is your favourite Kreative Kiwi Design?
I Love them all, but The Mandala Topper is the one that I want to use for my Dining Table (one day)
When I see the photos on the Group, I get so inspired with the different fabrics - One day I will use them for a Quilt too.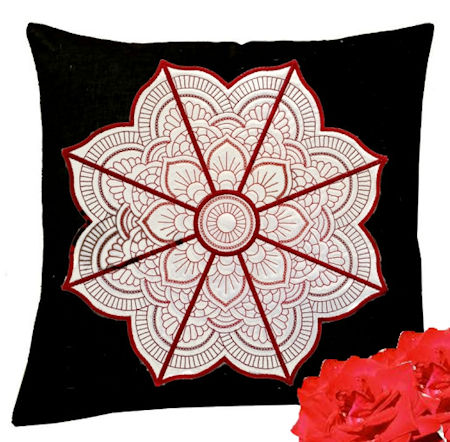 ---
Are you happy to show us a 'real' photo of your sewing area/sewing room?
Not really!! As the kids have got bigger, I have been relegated to the tiny spare 4th Bedroom. We are planning to convert one of the garages into my workroom in the next two months, but in the meantime, I am cramped into a little pink room.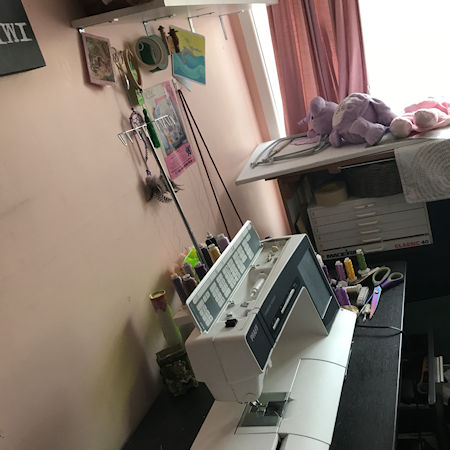 ---
Do you have any Storage tips from your sewing space? Stabiliser, fabric, notions, ribbons, buttons?
I am lucky to have some very cute metal containers from my Mum - double purpose, they are great size for my sewing 'stuff', plus a lovely memory of Mum - I also have my personal Guard Dogs guarding the Buttons. (I will be reading all your tips on storage once my workroom is ready)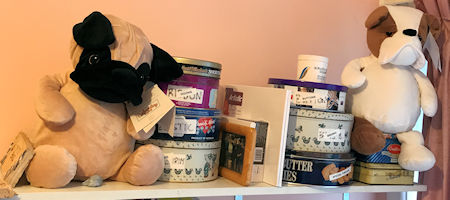 ---
What advice would you give to someone starting out?
Buy the machine with the biggest hoop you can afford

Buy your machine from someone close - if they offer classes, even better

Join Groups like ours, where you can learn from 'everyone'

Stitch, Stitch, Stitch

Enjoy
---