arrow_circle_down Designs
arrow_circle_down Subscribe
arrow_circle_down What will you kreate with our Large Applique Owl?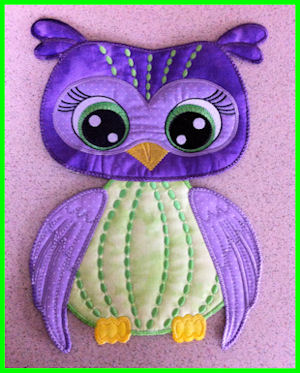 ---
This humble Owl started its life because I needed a 'handmade' birthday gift for my owl crazy Ruby.
I added the Owl to a polar fleece blanket - perfect quick gift. I wasn't even going to put the design on the Website. But I did - way back in June 2014.
---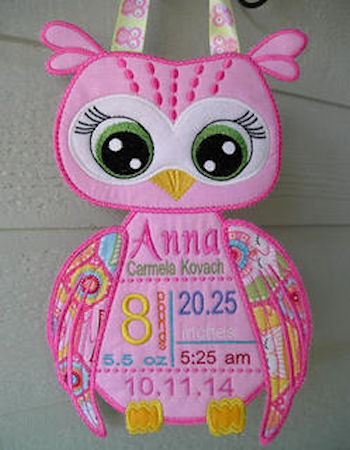 Straight away, the Owl was very popular, but then Debbie shared a photo of her personalised Owl Birth announcement, 'the crowds went wild', and for a short time, I was customising Owl designs for many. (something I couldn't even manage these days) - not too hard to do, if you have your own editing software.
For customer digitising, you can contact Mandy at Veronica and Me Designs
---
Since then, I have received, and shared many photos of some awesome Owls you've kreated- different fabrics, different sizes. Too many to share on this Blog. When you have 30 seconds, view this short video.
For now, I would like to share some very kreative ways our Owl has been used.
---
Not content with just 1 Owl - Sandy used 5 on this gorgeous Quilt - stunning work Sandy!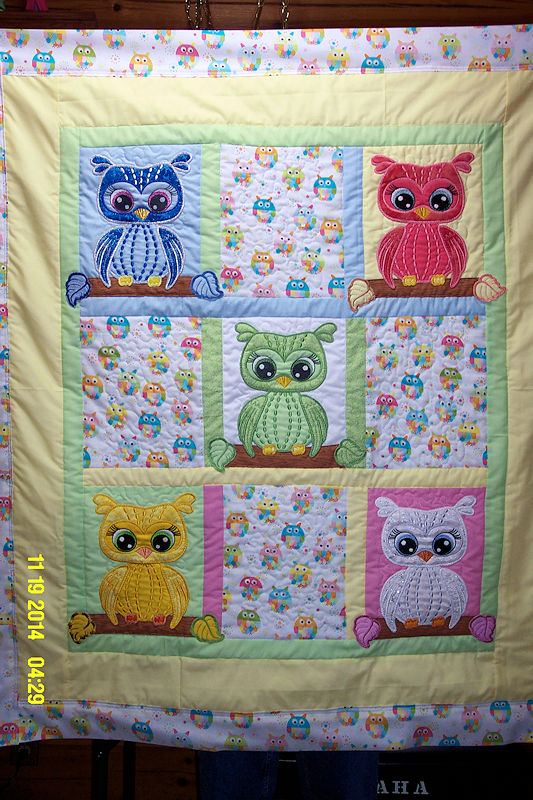 ---
In Renae's stunning Raggy Quilt, the Owl has 'the pride of place'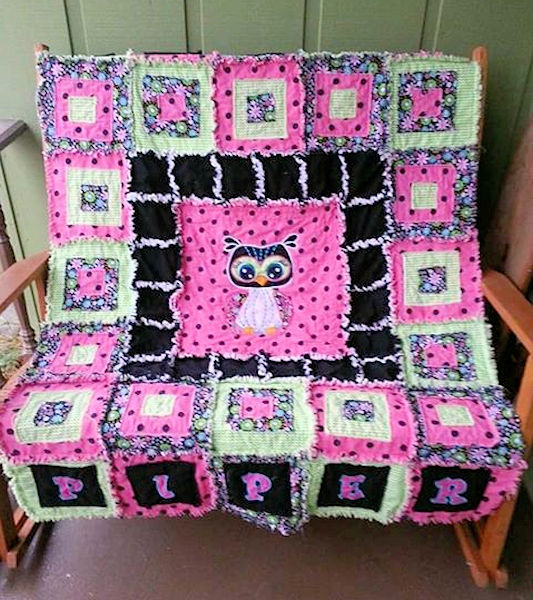 ---
On a slightly smaller scale, Cisca kreated her Owl using vinyl - how cool is this?

Cisca's tip was to slow your machine down when stitching the Vinyl

---

I love Christines idea - she stitched two Owls together to make a stuffed toy - A Brilliant idea

---

What a happy bag this is!

Rae's Owl is so striking against the Black.

Who wouldn't want a shopping Bag like this?

---

Mary Beth has her Owl in a fantastic Quilt/panel Holder which I want, and her use of Fabrics certainly makes her Owl stand-out
---
I hope this gives you some ideas on what you can Kreate with our Large Owl Applique
If you are looking for more inspiration, or would like to see the amazing items fellow machine embroidery addicts have created with Kreative Kiwi Designs, then

View our Inspirations Page

, or for even more chats and general discussion, then join our

Kreative Kiwi Facebook Group.
---
---