This set of 9 sewing related designs all fit your 4x4 hoop.  Just great to embellish items for your sewing room, or would be lovely to use on gifts for friends who sew.  I made a sewing tote from the designs.  Full instructions are includedin your design file.

My apologies  - I always have scans of my stitchouts, but I was in such a rush to make my tote, that I forgot to scan the designs!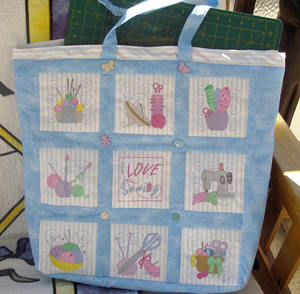 Lori shared this very cute Lap Quilt - Love it Lori!!
Cathy used our Sewing Blocks in her Craft Basket
Click here to view and download her free instructions