arrow_circle_down Designs
arrow_circle_down Subscribe
arrow_circle_down Christmas Delight Placemat
---
In case you are new to the world of large applique designs, let me fill you in. A large applique design is one which needs 2 or more hoopings, with the joining completed as you stitch, in the hoop. The beauty of my large applique designs is you can quickly create a 3D Design much larger than your hoop.
---
Not just for Christmas!!  When I saw these beautiful Christmas designs from Clipartopolis, I thought they would look striking on a Large Placemat, but you can replace the designs with embroidery of your choice, or use your favourite fabrics, without any embroidery
Our Christmas Delight Placemat is made in multiple hooping's - joined easily in-the-hoop like a Jigsaw.   
Available for 4x4 hoops (without the centre Christmas Design – Sorry, I couldn't assure a great stitch-out for the design in the smaller hoop)
8 segments, so the finished design is large – 4x4 hoop makes a 10.5-inch Placemat – the 9x12 hoop makes a 29-inch Placemat
Fully reversable – Two themes for the price of one!!  Christmas one side, and another theme for the other side

Includes the individual Christmas Designs for 4x4 hoop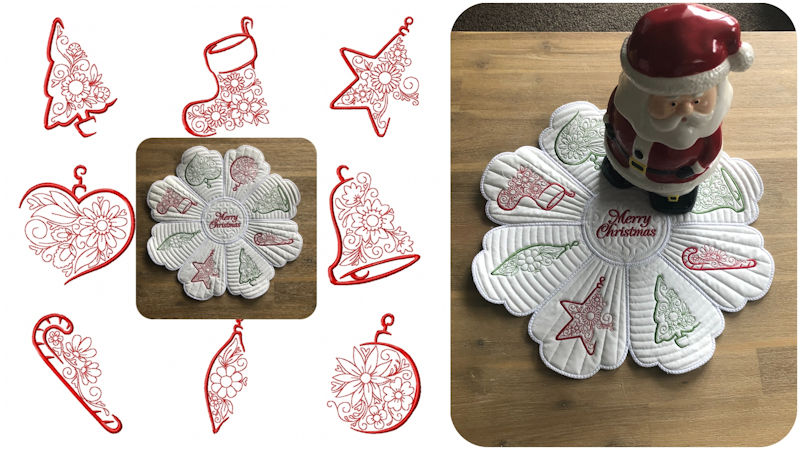 4X4 Hoop

100X100mm

5x5 Hoop

130X130 mm

6x8 Hoop

160x200 mm

8X10 Hoop

200x260mm

9X12 Hoop

230x300mm

10.5-inch square

16-inch square

20-inch square 

24-inch square 

29-inch square 

27 cm square

41 cm square

50 cm square

64cm square

75cm

square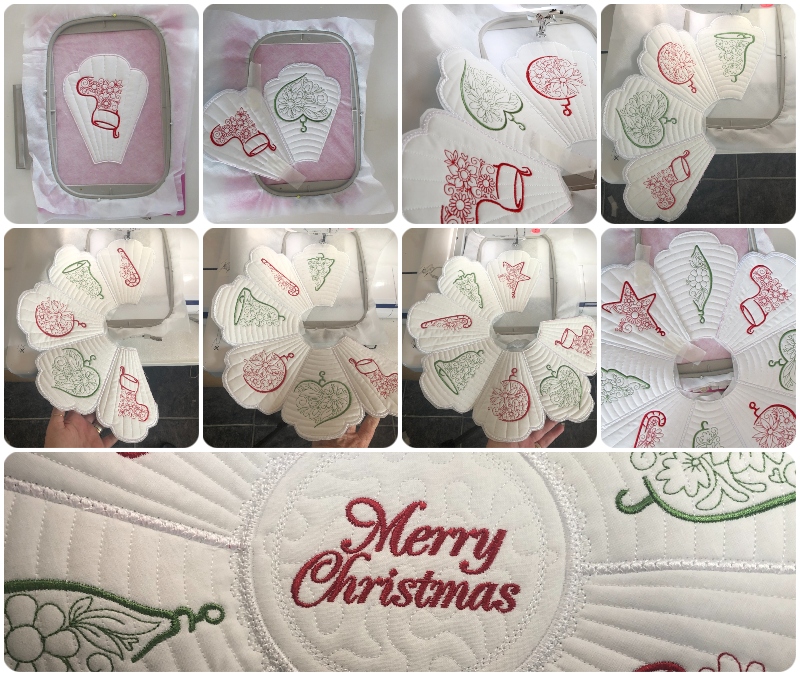 ---
VIDEO
Watch how to make this Large Christmas Delight Placemat
VIEW MORE LARGE APPLIQUE PLACEMAT VIDEOS
---
HELPFUL BLOGS
---
INSPIRATION
Darina made these beautiful samples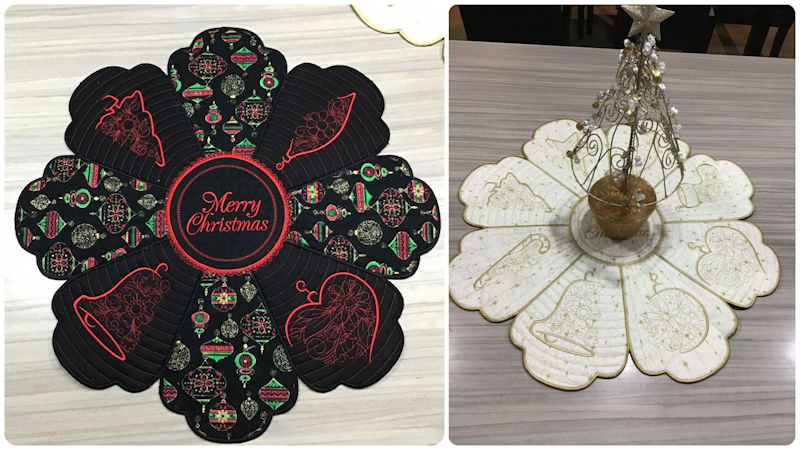 Not just the placemat - Darina used the individual designs on this Christmas Table Set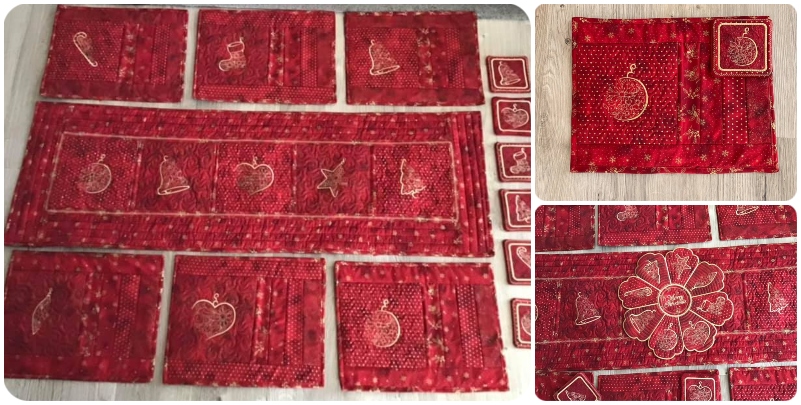 ---
Tracy shared her brilliant idea using our Christmas Delight design - Tracy made a Christmas Tree Skirt by leaving off the centre panel and using bias binding to complete the skirt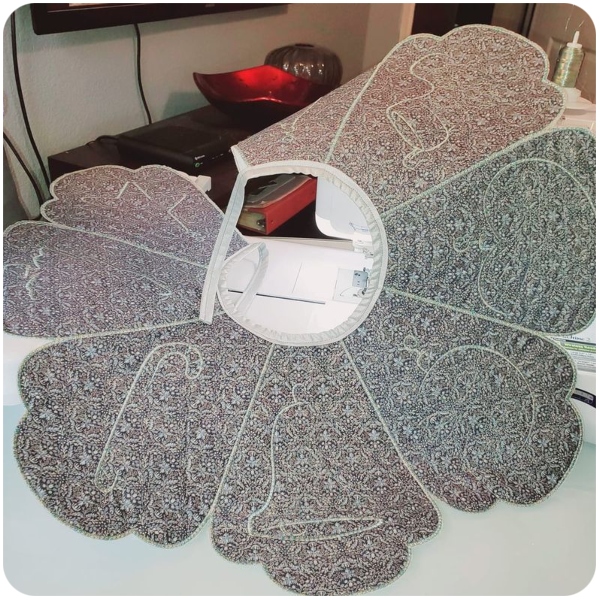 ---
Darina ran with the idea and came up with this beauty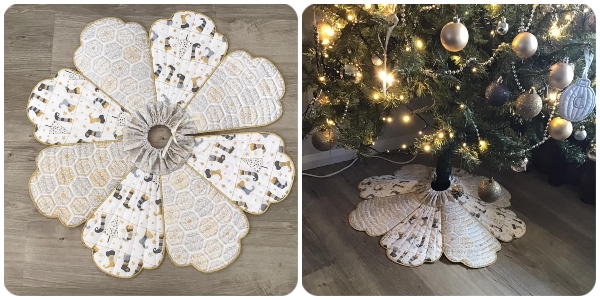 ---
Beverly shared her beautiful Placemat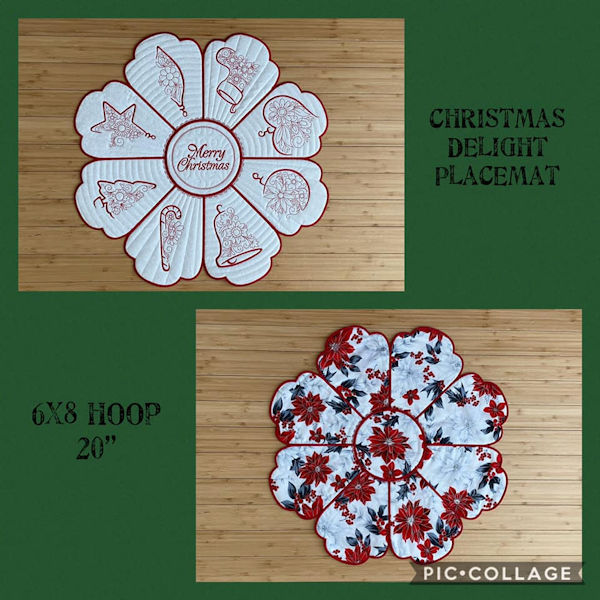 ---
Sylvia shared her clever idea, fussy cutting the Cardinal fabric for the back of her Christmas Delight Placemat - beautiful work Sylvia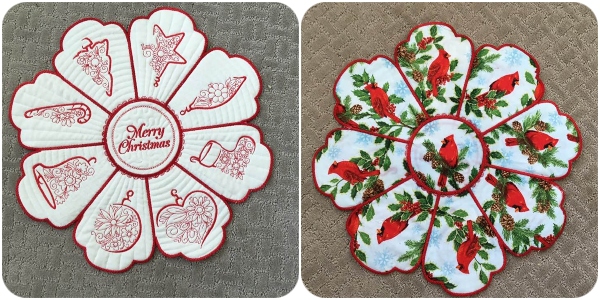 ---
Theresa was awarded an instant win for her beautiful combination of our Christmas Delight and Quilted Sweet Dreams Designs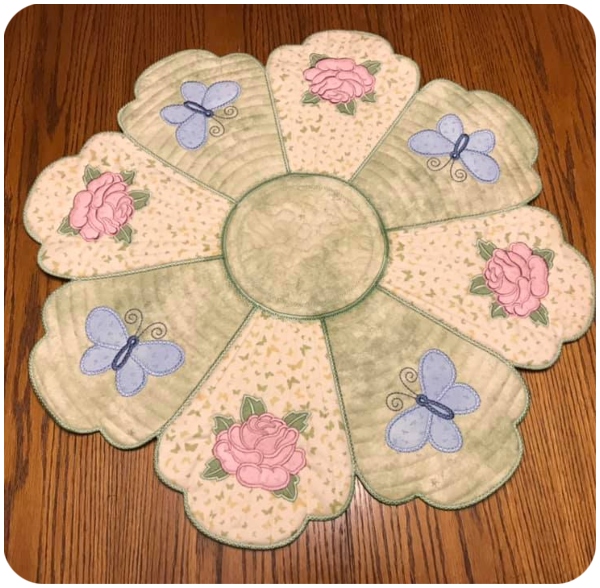 VIEW MORE SAMPLES OF OUR DRESDEN DESIGNS
---
| Hoop Size | Model | Type | Year |
| --- | --- | --- | --- |
| 4x4 | | | |
| 5x5 | | | |
| 6x8 | | | |
| 8x10 | | | |
| 9x14 | | | |