arrow_circle_down Designs
arrow_circle_down Subscribe
arrow_circle_down Large Applique Dolphin
---
In case you are new to the world of large applique designs, let me fill you in.  A large applique design is one which needs 2 or more hoopings, with the joining completed as you stitch, In the hoop.  The beauty of my large applique designs is you can quickly create a 3D Applique Design much larger than your hoop, and then add them to quilt blocks, reading pillows or pretty much any item as you like. 
---
Doug and his Girlfriend Diana (same design, just rotated on Quilt), have so much fun playing and chasing each other, all day, every day.   
Doug is created in
2 hooping's for 5x7, 6x10 & 8x12 hoops
1 hooping 9x14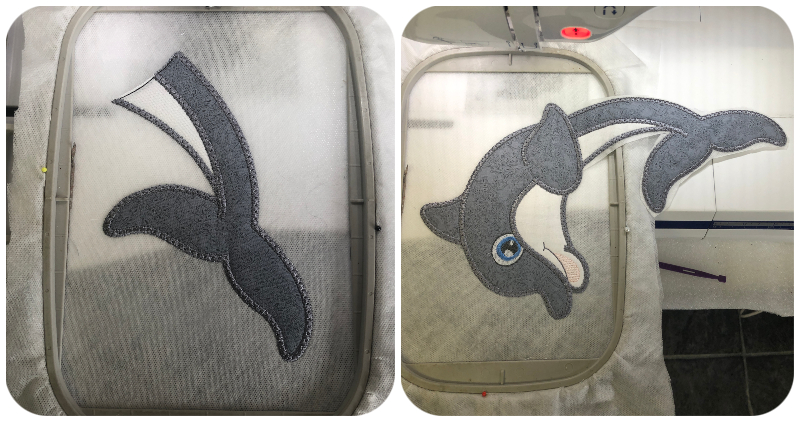 ---
FINISHED SIZE
5x7 Hoop

130X180 mm

6x10 Hoop

160x260 mm

8x12 Hoop

200x280 mm

9X14 Hoop

One hooping

230x360 mm

6.7 inch wide

11 inch high

9.6 inch wide

13.7 inch high

11.8 inch wide

16.8 inch high

8.9 inch wide

12.5 inch high

19.5 cm wide

28 cm high

25 cm wide

35 cm high

30 cm wide

43 cm high

22 cm wide

31.5 cm high
---
 
 

---

SAVE!!

Purchase this design in our

---
---
VIDEO
While we don't have a video for this design, Kay has made a step-by-step video of our Large Mermaid and Dolphin from our Sea Collection which uses similar techniques
View more Large Applique Animal Videos
---
HELPFUL BLOGS
---
INSPIRATION
Once we get your photos, we will add them to this page.  In the meantime, please click the link below to get ideas on how to use these style of designs.
VIEW LARGE APPLIQUE ANIMAL IDEAS 
---
| Hoop Size | Model | Type | Year |
| --- | --- | --- | --- |
| 5x7 | | | |
| 6x10 | | | |
| 8x12 | | | |