arrow_circle_down Designs
arrow_circle_down Subscribe
arrow_circle_down Large Dresden Placemat
---
In case you are new to the world of large applique designs, let me fill you in. A large applique design is one which needs 2 or more hoopings, with the joining completed as you stitch, in the hoop. The beauty of my large applique designs is you can quickly create a 3D Design much larger than your hoop.
---
---
As requested, a 'variation' on our original Double Dresden Design 
Our Large Dresden Placemat is made in multiple hooping's - joined easily in-the-hoop like a Jigsaw.   
Available for 4x4 5x5 6x6 8x8 & 9x9 hoops
8 segments, rather than 4, so the finished design is much larger – 4x4 hoop makes a 10.5-inch Placemat – the 9x9 hoop makes a 24-inch Placemat
---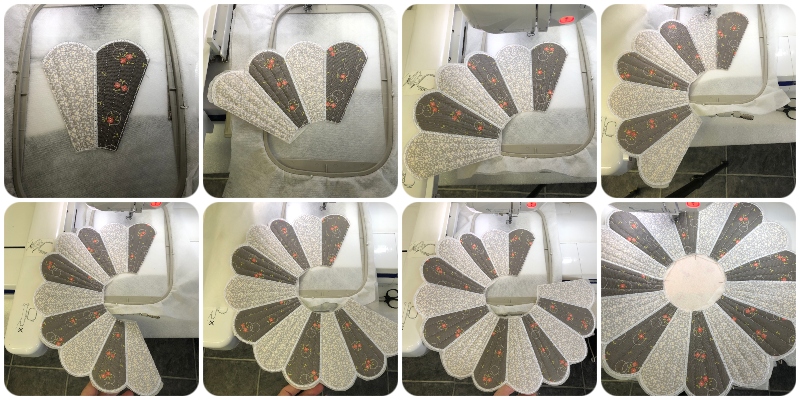 4X4 Hoop

100X100mm

5x5 Hoop

130X130 mm

6x6 Hoop

160x160 mm

8X8 Hoop

200x200mm

9X9 Hoop

230x230mm

10.5-inch square

14-inch square

17-inch square

21-inch square

24-inch square

27 cm square

36 cm square

43 cm square

54cm square

62cm square
Our sample placemat is made with 2 contrasting front fabrics - you could use 2 different fabrics for each segment, or one fabric for the total placemat
Our design has minimal quilting – showcasing your favourite fabrics is the idea for this one – Easily make seasonal Placemats by using your favourite Halloween, Easter, Christmas Fabrics
The Placemat is completely reversable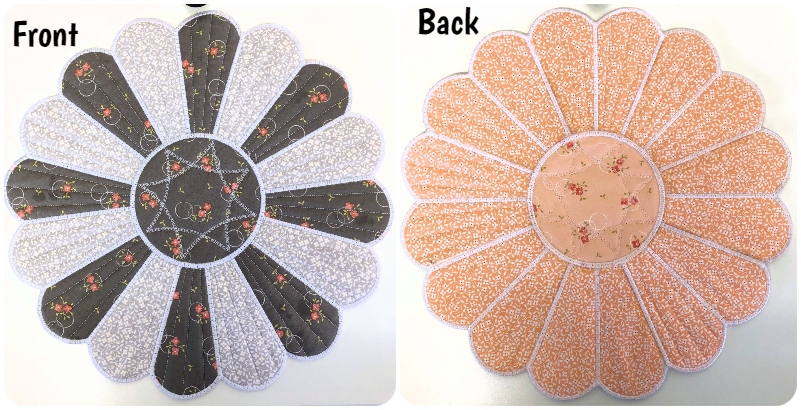 ---
VIDEO
Watch how to make this Large Dresden Placemat
VIEW MORE LARGE APPLIQUE PLACEMAT VIDEOS
---
HELPFUL BLOGS
---
INSPIRATION
Darina made this beautiful sample - 8x8 hoop size = 21 inch Placemat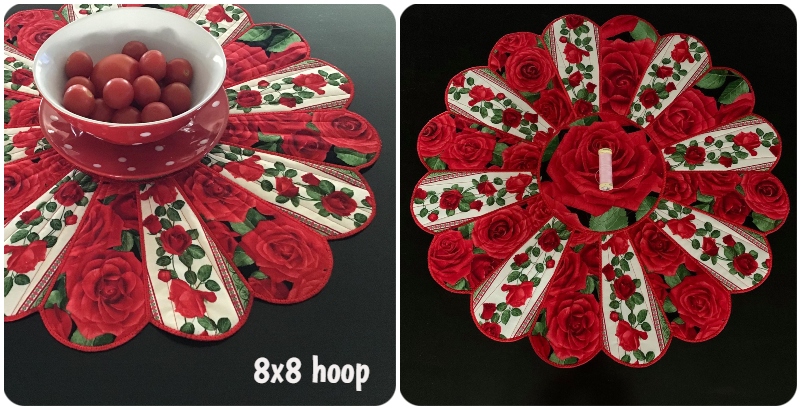 ---
Karen added her own embroidery design to make a Christmas Placemat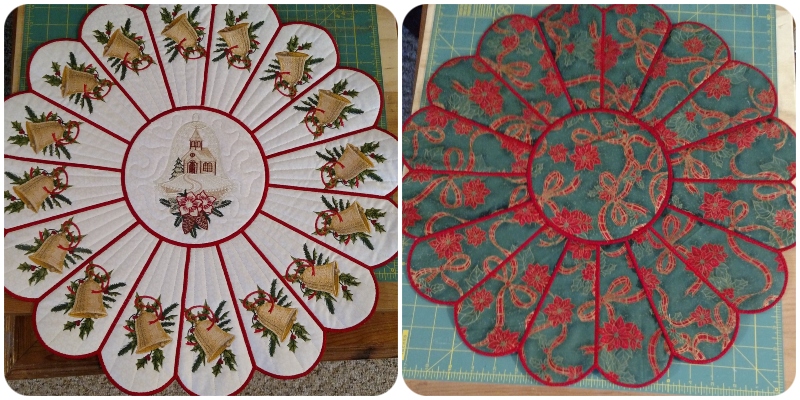 Need some fabric inspiration?  Here is a small sample of Placemats made using our original Dresden Designs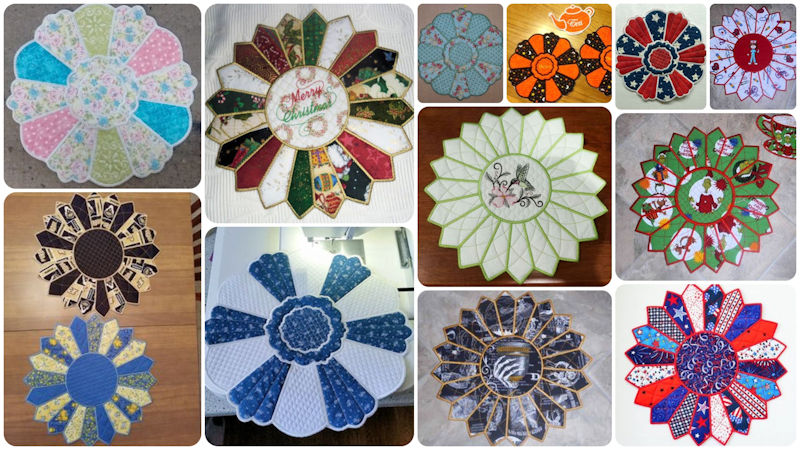 ---
Sylvia shared a clever use of our Dresden design - a removable stool cover!!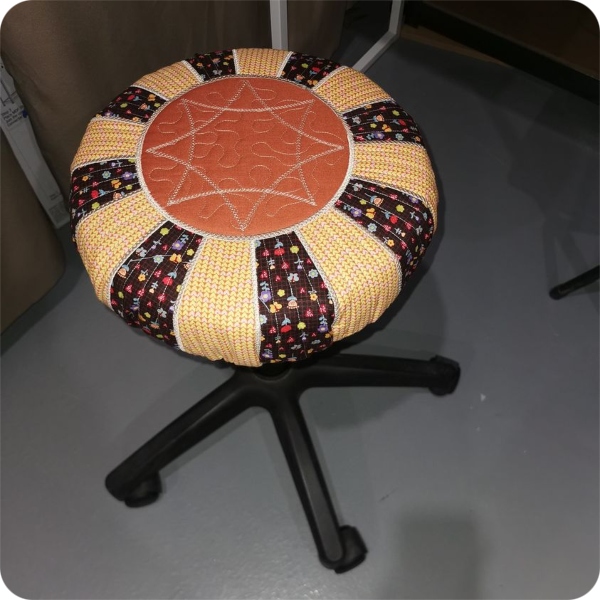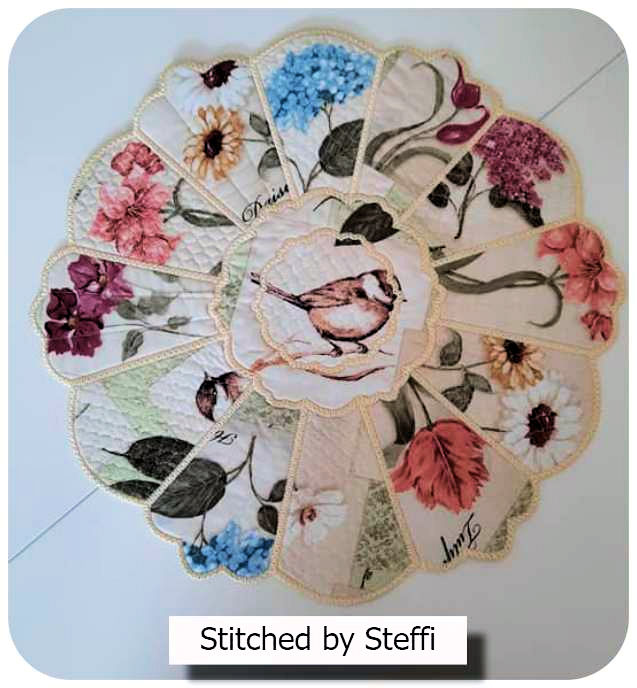 VIEW MORE SAMPLES OF OUR DRESDEN DESIGNS
---
VIEW SAMPLES OF OUR LARGE APPLIQUE PLACEMATS
---
View your shopping basket or browse other items.
Other products you might be interested in