---
Our In-the-hoop Swirly Placemat is made in multiple hooping's - joined easily in-the-hoop like a Jig-saw.
This is a design where you can really play with fabrics – I love the rainbow colors, but you could easily just use pick your 2 favourite colors to go with your table-ware – Black and White would be stunning!!, or go from dark to light.    I also created the design without the inner quilting, which is perfect for patterned prints, like our Christmas Fabrics.    I can't wait to see what you create!!
FINISHED SIZE
5X7 Hoop                            25cm by 25 cm – 10 by 10 inch
6X10 and 8X8 Hoop         31cm by 31cm – 12 by 12 inch 
Kay has created this very detailed video of how to make the Swirly Placemat - Thanks Kay
We have had 100's of photo's of Coasters and Placemats made with this Design
This is a small snap-shot to give you some Fabric ideas.
---
Mary-Beth shared this awesome Turkey she made using the Swirly Placemat
and.  used the smaller Coaster to make Utensil Holders 
So kreative Mary-Beth!!  Thank you for sharing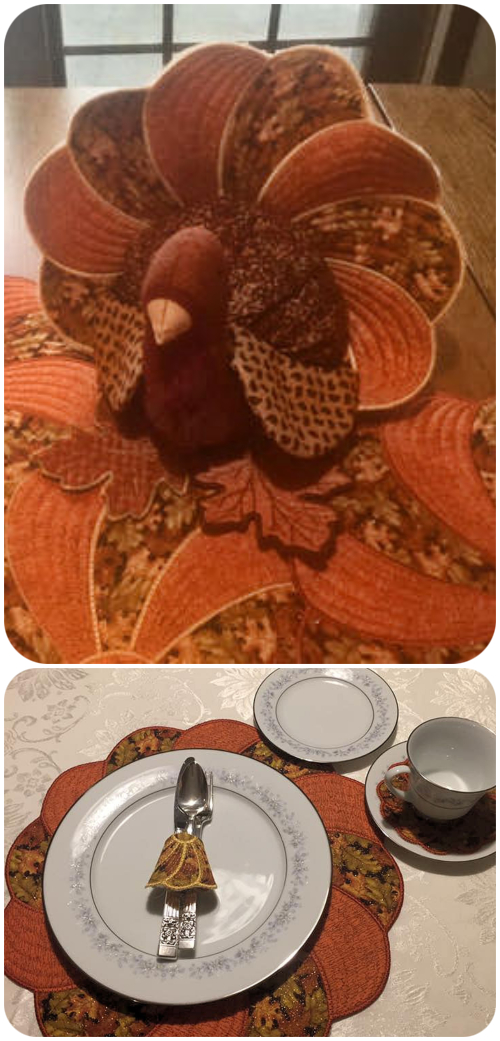 Want some ideas?