Our Large Aussie Appliques are created and joined in 2 hoopings (3 for Koala 5x7 size)
 

 Cockatoo

FINISHED SIZE

5X7 Hoop  8 by 10 inches - 20 by 25cms

6X10 Hoop 9 by 12 inches - 22 by 31cms

8X8 Hoop 9 by 12.5 inches - 23 by 32cms

8X10 Hoop 11 by 15 inches - 28 by 39cms

 KANGAROO

FINISHED SIZE

5X7 Hoop 6.5 by 9.5 inches - 16 by 24 cms

6X10 Hoop 8 by 12 inches - 20 by 30 cms

8X8 Hoop  8 by 12 inches - 20 by 30 cms

8X10 Hoop  9.5 by 15 inches - 24 by 38 cms

 
 

 KOALA

FINISHED SIZE

5X7 Hoop  8 by 8.5 inches  20 by 22 cms

6X10 Hoop  9.5 by 10.5 inches  25 by 27 cms

8X8 Hoop  9 by 10 inches  23 by 25 cms

Note – there is no separate 8x10 – it is the same sizing as using the 6x10 hoop

**The 5x7 Koala requires 3 hoopings (blame the ears) – other sizes are created in 2 hoopings

** Now includes Koala without headband

 PLATYPUS

FINISHED SIZE

5X7 Hoop  8x10 inches  17 by 23cms

6X10 Hoop  8x11 inches  21 by 28 cms

8X8 Hoop  7.5 by 10 inches  19 by 26 cms

8X10 Hoop  10 by 13 inches  25 by 33cms

 
 
 

 SNAKE

FINISHED SIZE

5X7 Hoop  7 by 10 inches  28 by 27 cms

6X10 Hoop  9 by 13.5 inches  22 by 35cms

8X8 Hoop  8 by 12 inches  20 by 30 cms

8X10 Hoop  10 by 15.5 inches  26 by 39 cms

 WOMBAT

FINISHED SIZE

5X7 Hoop  7 by 9 inches  17 by 23 cms

6X10 Hoop  8 by 11 inches  21 by 28 cms

8X8 Hoop  8 by 10.5 inches  20 by 27 cms

8X10 Hoop  10 by 13.5 inches  26 by 34 cms

 

BONUS

Instructions to make this cute Koala Bag 
---
New to this style of design?  Watch Kay stitch our Free Large Piggy
---
How adorable our these - I LOVE the fabrics Darina uses
(The dog is from our Farm Animal Collection)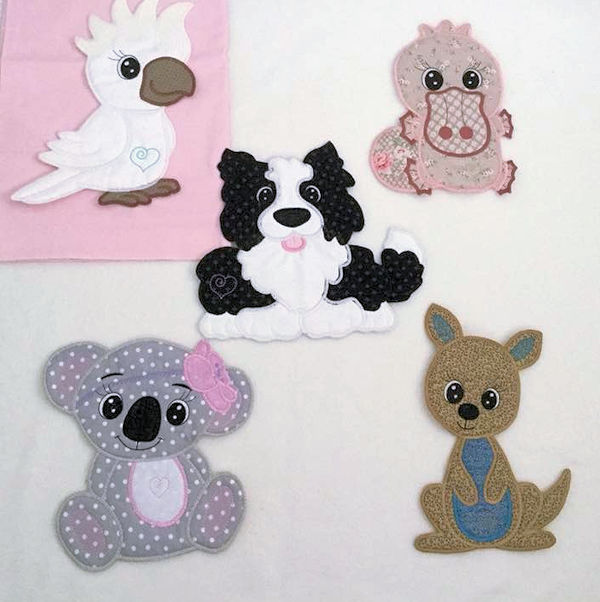 Darina used our Animals together with our Large Sunbonnet to make this amazing Quilt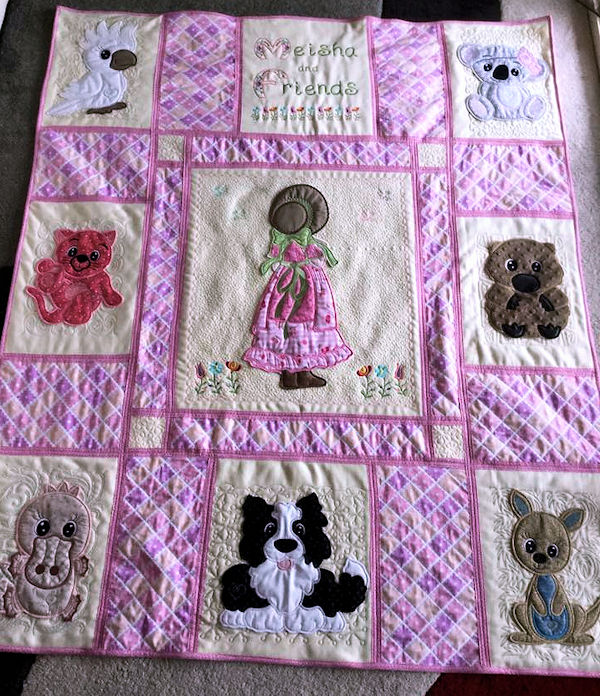 Darina made the Large size Wombat, and it was too big for her Quilt
What did she do?  Add a backing, and make a very very cute Pyjama Holder to go with the Quilt!!
Tricia used the designs for her very cute Reading Pillows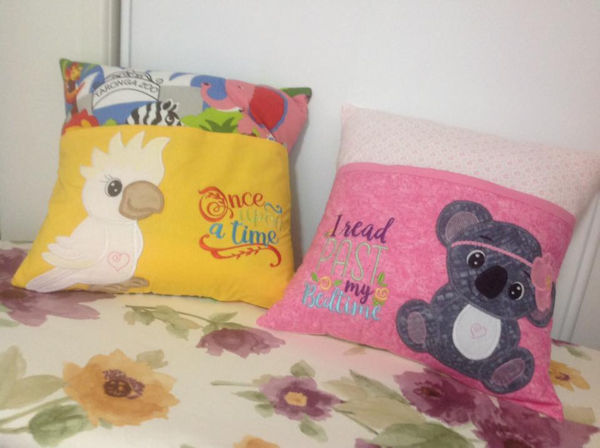 How cute is Sandy's Koala Bag?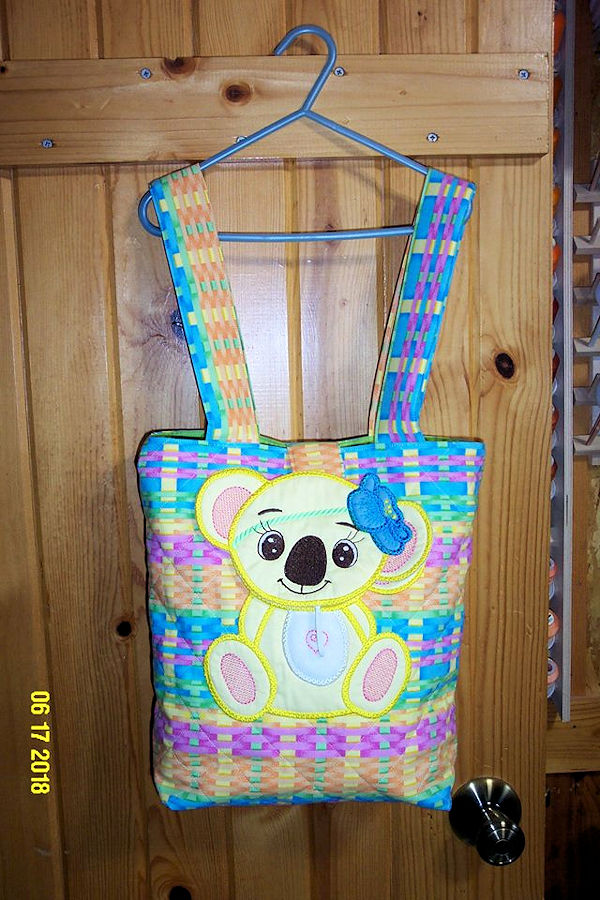 and how perfect is this fabric Sandy used for her Quilt?  another stunning creation by Sandy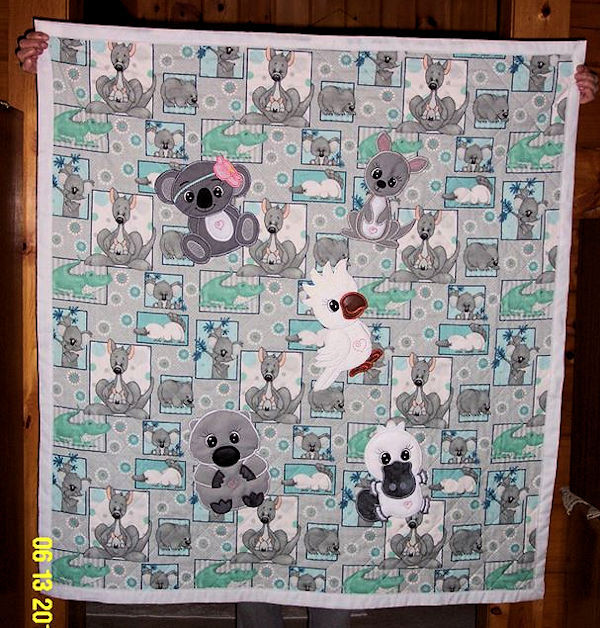 Annette shared her Awesome Quilt 
Annette writes
"Finished my quilt using all Kreative Kiwi designs 
This is off to Ireland as a gift Australian theme with Irish clover"
Beautiful Annette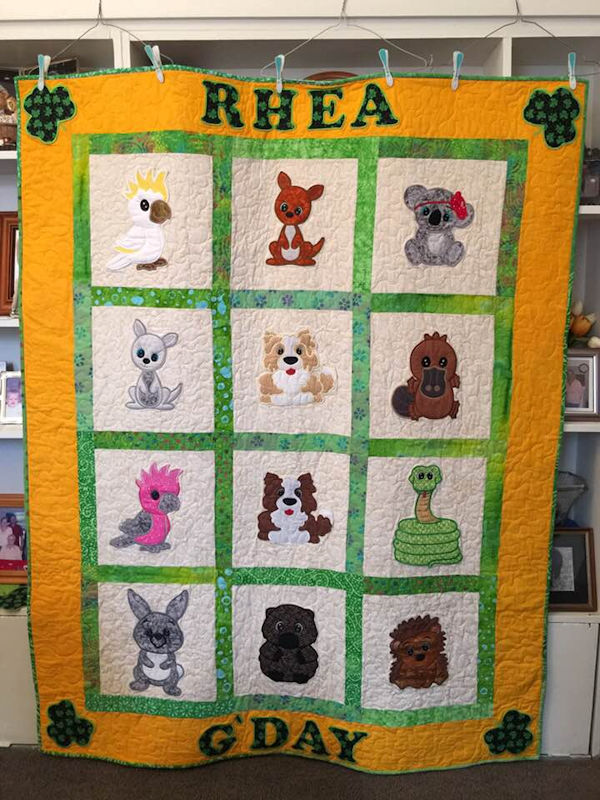 View your shopping basket or browse other items.
Other products you might be interested in