arrow_circle_down Designs
arrow_circle_down Subscribe
arrow_circle_down 12 Days of Christmas Blocks
---
I could not resist this beautiful 12 Days of Christmas Artwork from Clipartopolis.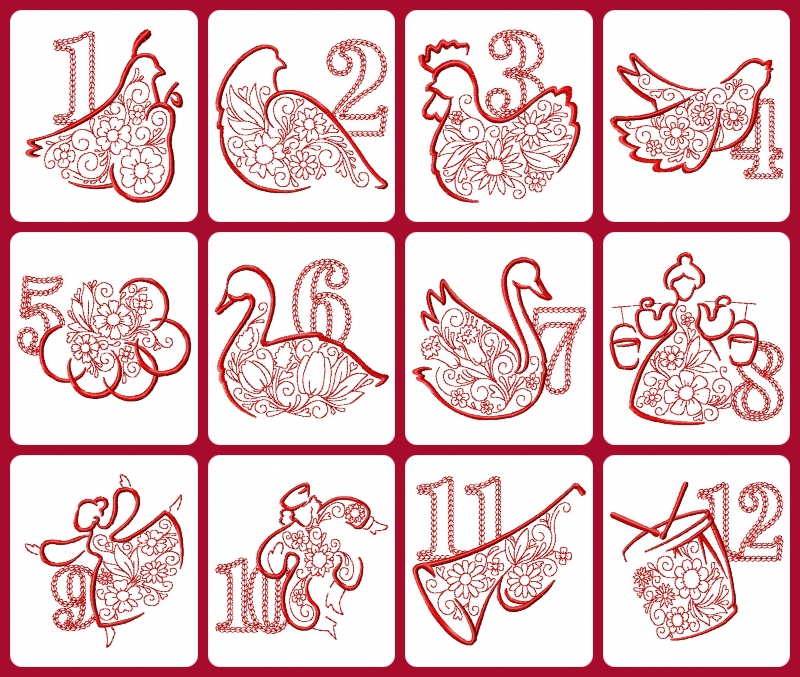 I have created the designs in 3 styles so you can use the designs individually, or make blocks to stitch together as Darina did with her beautiful 12 Days Table Runner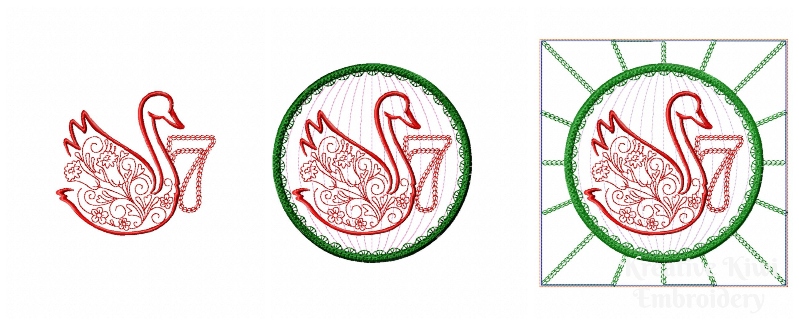 | | | |
| --- | --- | --- |
|  4x4 - design only |  5x5 - Design with Circle applique |  6x6 & 8x8 In the hoop Block  |
---
INSPIRATION
Just look at the what our amazing Darina has made with these designs
Thank you so much Darina!!!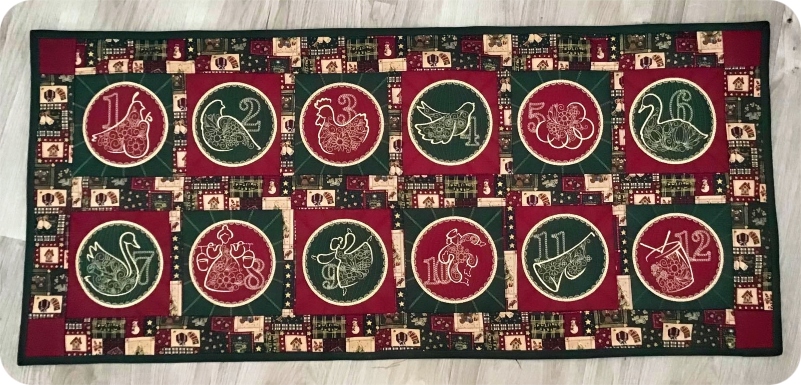 Darina used the 8x8 Blocks to make her beautiful Table Runner
The Design Download  instructions show how to stitch out the individual blocks, and you can download Darina's Christmas Table Runner Blog which shows how you can stitch your blocks together to make the Runner
If you are completely new to joining In the hoop Blocks, you can watch Kay's Safari Blocks Video which shows you how to
Join In the hoop Blocks
Add Sashing
Bind the edges
The 12 designs are the right number to make a Christmas Tree Skirt

 

Again, you can download Darina's
Darina also made this beautiful Advent Calendar with the  designs

 

The wording is Darina's own

 

Darina used her own pattern to make each pocket, but you could add a backing to the 6x6 or 8x8 designs to make a 'coaster' (shown in instructions)

Then attach them on 3 sides to make each pocket
---
 We awarded Sue an Instant Win for her beautiful wall hanging.
---
Christina was awarded an Instant Win for her beautiful Christmas Quilt made with our 12 Days of Christmas Blocks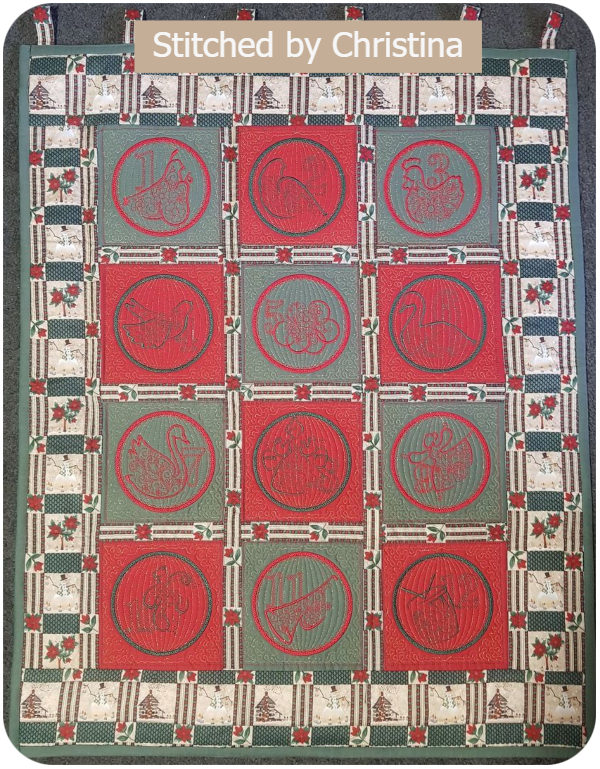 ---
| Hoop Size | Model | Type | Year |
| --- | --- | --- | --- |
| 4x4 | | | |
| 5x5 | | | |
| 6x6 | | | |
| 8x8 | | | |