arrow_circle_down Designs
arrow_circle_down Subscribe
arrow_circle_down Machine Embroidery Designs for Boys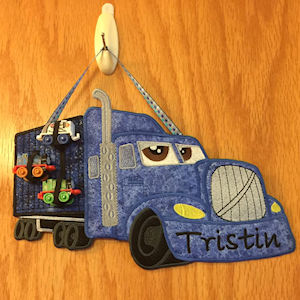 Finding machine embroidery designs specifically for boys and men is hard. But not here at Kreative Kiwi because we have a specific category just for them, and, to make things really easy, we've collated this gallery of ideas!
---
---
A huge Thank You to all the Ladies in our Kreative Kiwi Group - I might make the designs, but it is their kreativity and sharing that enables me to put together this information and make it available to our Members who do not use Facebook. Unfortunately I cannot feature every photo shared, but

click here

to view more inspiring photos.
---
Lets get Inspired!!
If you are looking for a quick, cute and practical gift, you can't go past our Bookmarks. With 3 sets to choose from, you are sure to find the perfect 'boyish' Bookmark. View more Bookmarks here
---
With just a little more time, our Large Appliques have been very popular, for creating unique personalised gifts.
Leave our Appliques Free-standing as Wall or Door Hangers
| | |
| --- | --- |
| Stitched by Carolyn | Stitched by Marjorie |
| Stitched by Toni | Stitched by Denise |
Add to Cushions/Tote Bags/Hooded Towels ** Download Faye's Hooded Towel Tutorial
Stitched by Darlene
Stitched by Julie-Ann
Stitched by Mary
TRENDING RIGHT NOW! - Add to a Reading Pillow **Click here to download Darina's Reading Pillow Instructions
| | |
| --- | --- |
| | |
| Stitched by Darina | Stitched by Maria |
| | |
| Stitched by Tricia | Stitched by Maria |
You can view more Reading Pillows here
---
Or go for it, and create a beautiful 'forever' keepsake with a Quilt
Christine created this gorgeous Jungle Animal Quilt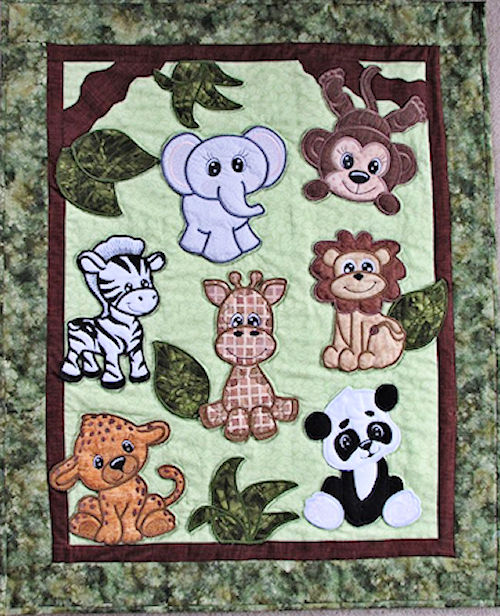 Sandy created the next two stunning Quilts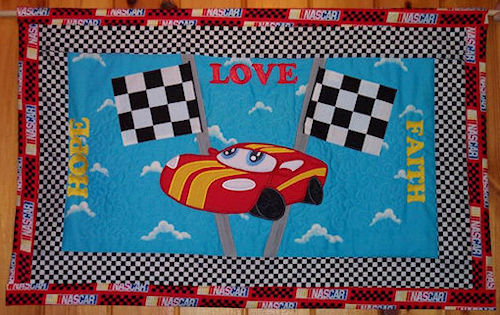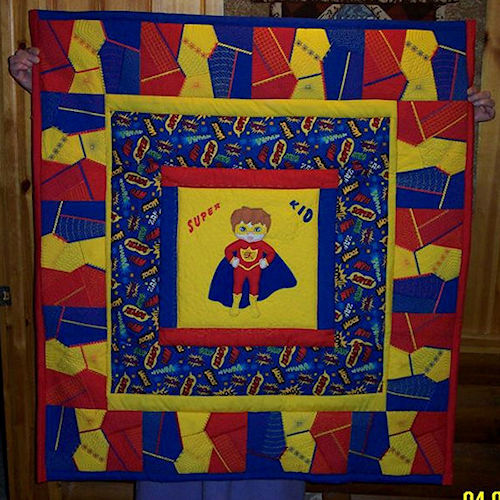 ---
Not a fan of Applique? We have a ton of Redwork and filled designs to choose from

Choose your theme, and use the Redwork Designs on: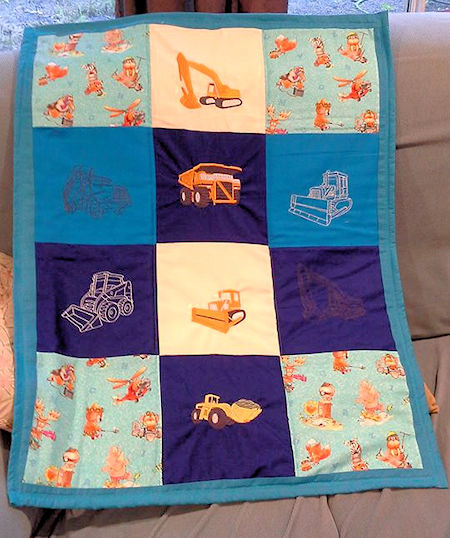 Trish stitched this gorgeous 'Construction' Quilt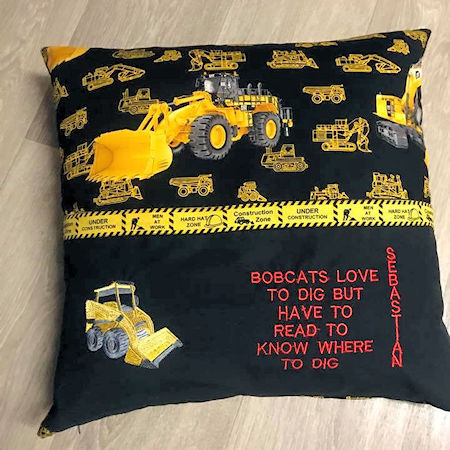 Lillian used the same designs for her Reading Pillow
---
The next two, while not strictly Boy designs, show that using the right fabric can take an ordinary design and make it suitable for Boys.
| | |
| --- | --- |
| | |
| Stitched by Maria | Stitched by Debra |
---
This is just a small sample of the photos shared, you can view more here
---
FREEBIES

These designs (and more) are Member Only Freebies, so Log into your Account, or Join us
The Free Beer Mugs have been extremely popular for the 'older' Boys!
**Hint - The Split Santa Applique includes instructions to make the draw-string bag, which you could use with any design
---
---
Thanks for taking the time to read our Blog, I hope you feel inspired to stitch something for your favourite Boy. I'll continue to add our Groups awesome photos to our Inspiration page, so make sure you check back often.
**SAVE 40% on Designs in our Just for Boys Category - use code BOYS at Check-out