arrow_circle_down Designs
arrow_circle_down Subscribe
arrow_circle_down Scallop Edge Quilt Collection 2
You spoke, and we listened!  After the amazing response to our Scallop Edge Baby Quilt, we listened to your feedback, suggestions, and requests.  And now, the wait is over!
We are absolutely thrilled to unveil the Scallop Edge Quilt – Collection 2.
So, what makes this collection different?
We've included six new styles of background quilted blocks, each designed with less inner quilting. This means reduced thread consumption and a softer, more delicate finish.  Now, you have the freedom to select the perfect style that resonates with your recipient's taste and preferences.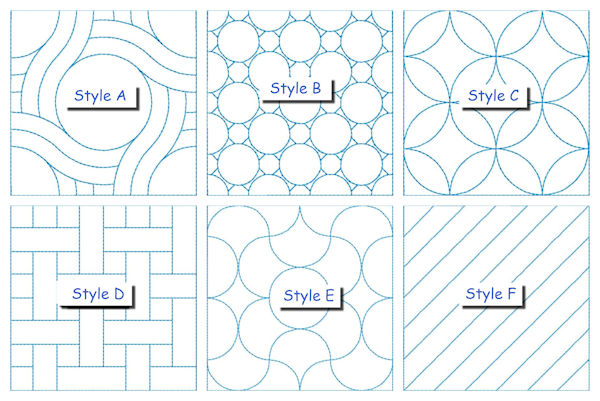 The border blocks now feature line quilting only, complementing any style you choose for your quilt.  We've even included a rounder edge corner block, adding that extra touch of elegance to your masterpiece. 🌺

As requested, we've included two additional hoop sizes, 4x4 and 9x9, meaning you have five sizes of blocks to play with, catering to various project requirements and making your creative journey even more enjoyable.

---
FINISHED SIZE – PER BLOCK
4x4 Hoop

100x100mm

5x5 Hoop

130X130 mm

6x6 Hoop

160x160 mm

8x8 Hoop

200x200 mm

9x9 Hoop

230x230mm

 

9.8 cm's

12.8 cms

15.8 cms

19.8 cms

 

22.8cms
When stitched together, style A makes a fantastic secondary circle effect
Kay created a very detailed step-by-step video for our original Scallop Edge Quilt, including how to stitch it all together.  The same techniques are used with this set.

 
Kelly shared her bright and beautiful Scallop Edge Quilt 2 with our First friends designs plus some from her own collection.
Her handy tip I'd like to share, is Kelly used the 5x5 Quilt Blocks together with the 6x6 Border pieces - this enabled her to add sashing between the blocks.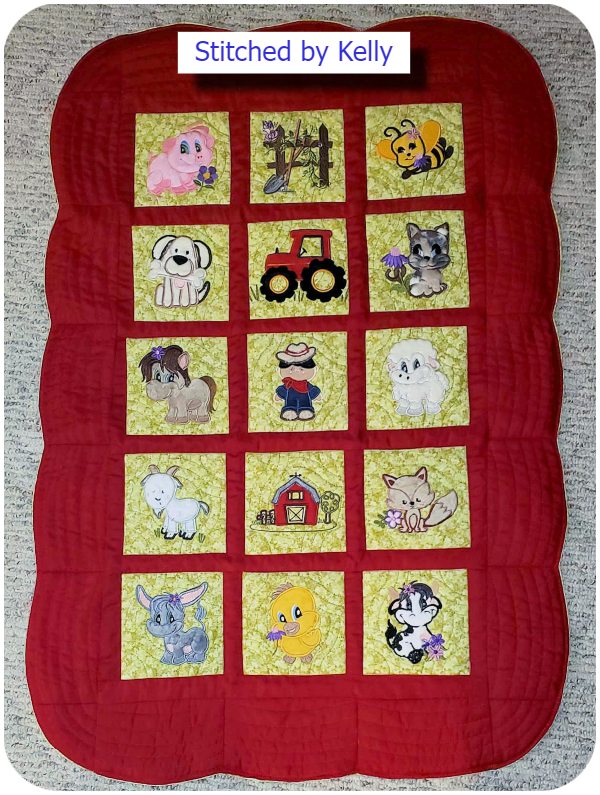 ---
Bridget combined the Little Dreamers design with our Scallop Edge Quilt 2 (4x4 size) to create this stunning quilt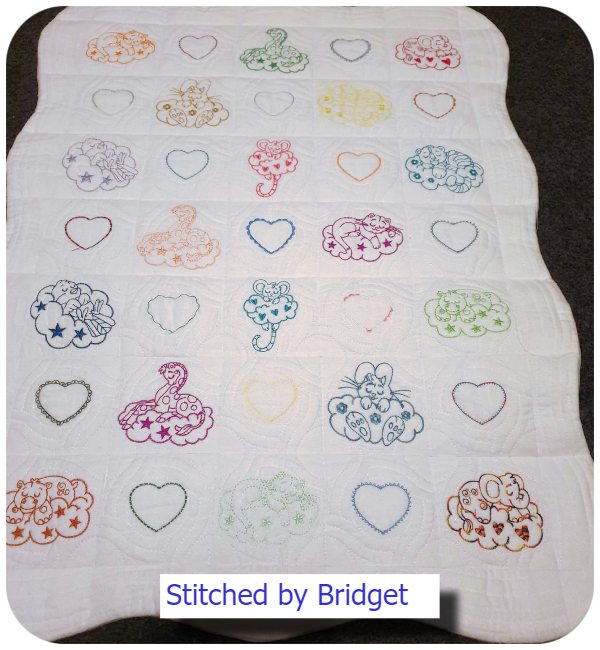 ---
Sandy combined the 9x9 size - style B blocks with her own embroidery design to make this stunning Quilt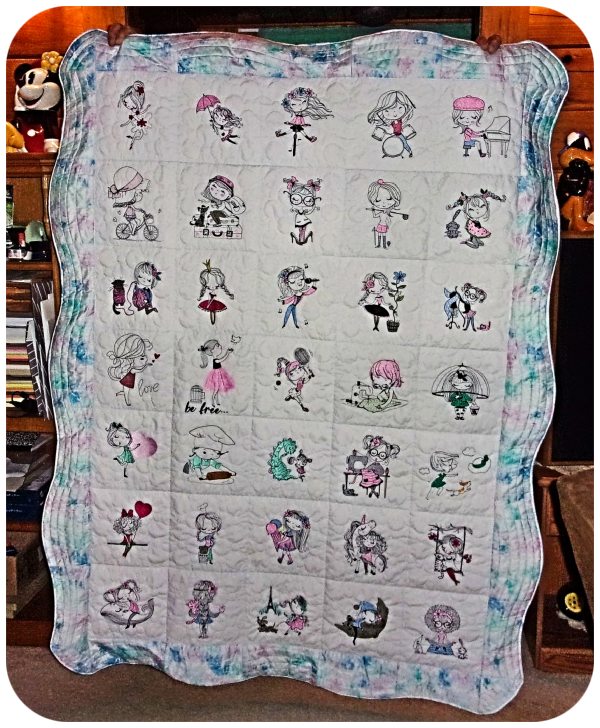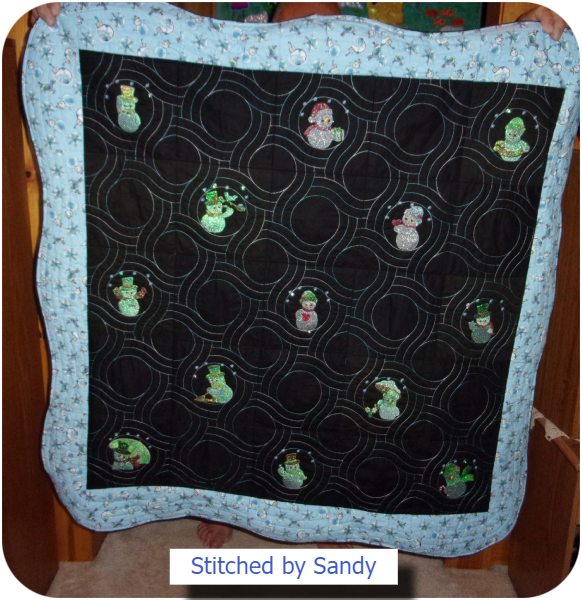 ---
Janice used the block designs for this sweet quilt with designs from First Friends and Animal Friends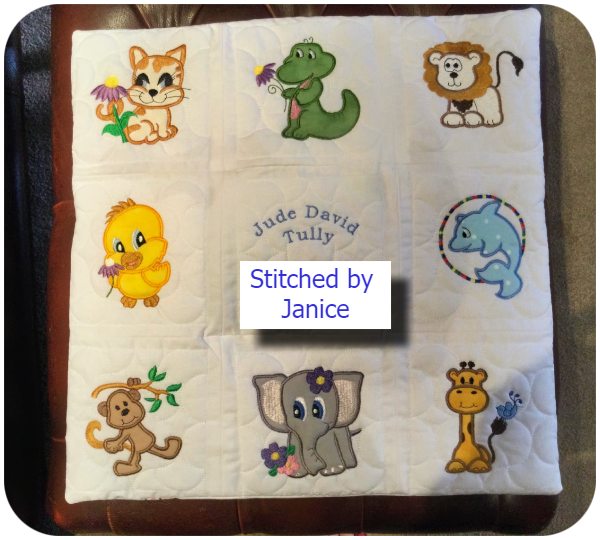 ---
DeeDee used our background blocks with her own Mushroom designs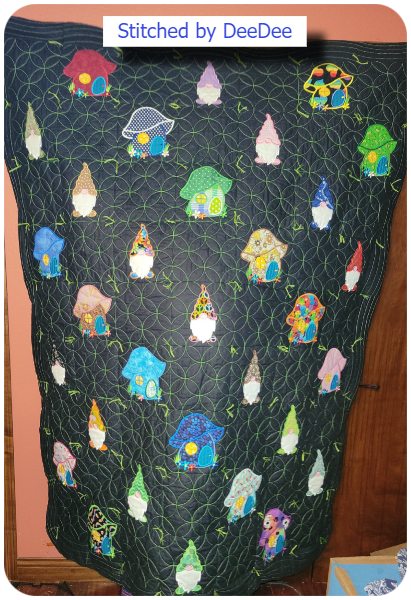 ---
Click on photo to see larger images of our Scallop Edge Quilt samples
| Hoop Size | Model | Type | Year |
| --- | --- | --- | --- |
| 4x4 | | | |
| 8x8 | | | |