arrow_circle_down Designs
arrow_circle_down Subscribe
arrow_circle_down Christmas Wreath
Our Christmas Wreath is made in 5 hooping's - joined easily in-the-hoop like a Jig-Saw so no intricate aligning problems.
I'm using it as a Table Topper for our Christmas Table (Outdoor Table with the hole for umbrella – Christmas is in the height of summer for us, so we always Barbeque!) But you could easily use it as a wall hanging/ornament.
I've kept the design quite plain, so you could easily jazz it up with crystals and/or Christmas Buttons.
Unfortunately it doesn't show up in the photo, but I used Fairy Floss Fabrics, and they really sparkle!
| | | | |
| --- | --- | --- | --- |
| 8x10 hoop | 6x10 hoop | 5x7 hoop | 8x8 hoop |
| 40 by 44 cm's | 34 by 38 cm's | 26 by 29cm's | 29 by 33 cm's |
| 15.5 by 17 inch | 13 by 15 inch | 10 by 11 inch | 11 by 13 inch |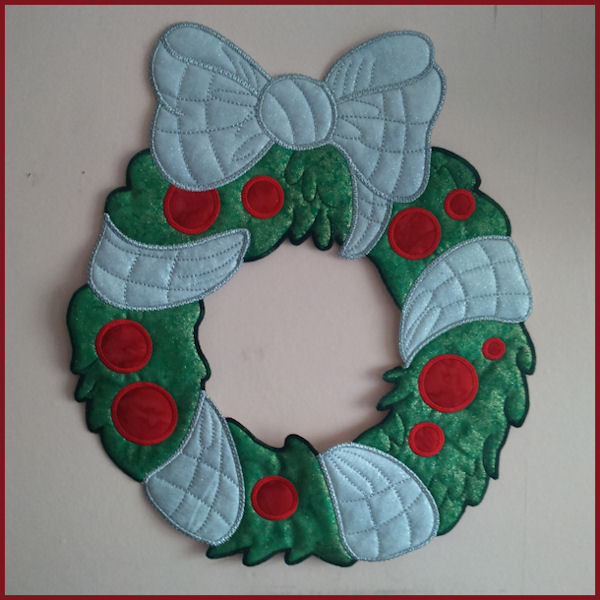 Watch Kay make her stunning gold version of the Wreath
| Hoop Size | Model | Type | Year |
| --- | --- | --- | --- |
| 5x7 | | | |
| 6x10 | | | |
| 8x10 | | | |
| 8x8 | | | |