arrow_circle_down Designs
arrow_circle_down Subscribe
arrow_circle_down Storytime Quilt Set
In case you are new to the world of large applique designs, let me fill you in.  A large applique design is one which needs 2 or more hoopings, with the joining completed as you stitch, In the hoop.  The beauty of my large applique designs is you can quickly create a 3D Animal Design much larger than your hoop, and then add them to quilt blocks, reading pillows or pretty much any item as you like. 
---
---
.  I loved the idea of the animals snuggling down in their quilt ready to be read a story.  With my sample, I went with the idea of a Quilt within a quilt and used an UFO (unfinished project) – the simple Star and Moon Quilting blocks, I then added a 'pillow' at the top, then an added border.  You could use any combination or background you like.
 

 

This is a Quilt design that you could really play around with -

I'd like to make this Quilt again (when I get time) and have a crochet 'blanky' as the Quilt part - I think it would add a lovely texture.

I decided on having just the Piggy reading a book, but you could play around with having all the animals sitting on the bed reading books.   
 

Or just use the animals with the book design for very cute cushions

 
---
This combo set includes:
The Four Large Applique Animals, plus the one hooping Book and Animal Paws in 3 different hoop sizes 5x7 6x10 and 8x12
BONUS The Sun and Moon Quilting designs I made my 'background quilt' out of are included
You can purchase the Animal designs individually with the links below - If you like 3 or more of the animals, then you save by purchasing them in this bundle
5x7

130x180mm

6x10

160x260mm

8x12

200x300mm

15 by 25 cm's

18 by 30.5 cm's

23 by 39 cm's

6 by 10 inches

7.1 by 12 inches

9.1 by 15.4 inches

 

5x7

130x180mm

6x10

160x260mm

8x12

200x300mm

18.6 by 24 cm's

23 by 30 cm's

28 by 36 cm's

7.3 by 9.3 inches

9 by 11.6 inches

11 by 14 inches

5x7

130x180mm

6x10

160x260mm

8x12

200x300mm

15 by 25 cm's

18 by 30.5 cm's

23 by 39 cm's

6 by 10 inches

7.1 by 12 inches

9.1 by 15.4 inches

21 May 2021

We have added a 'no tongue' version of the Dog to the files.

If you have previously purchased this design, please log into your account and re-download the files, which will now include both versions of the Large Dog 2

5x7

130x180mm

6x10

160x260mm

8x12

200x300mm

17.8 by 24 cm's

22 by 30 cm's

30 by 36 cm's

7 by 9.3 inches

8.7 by 11.5 inches

11.8 by 14.2 inches
This set includes the one hooping Book, and the animal paws, plus the star and moon Quilting set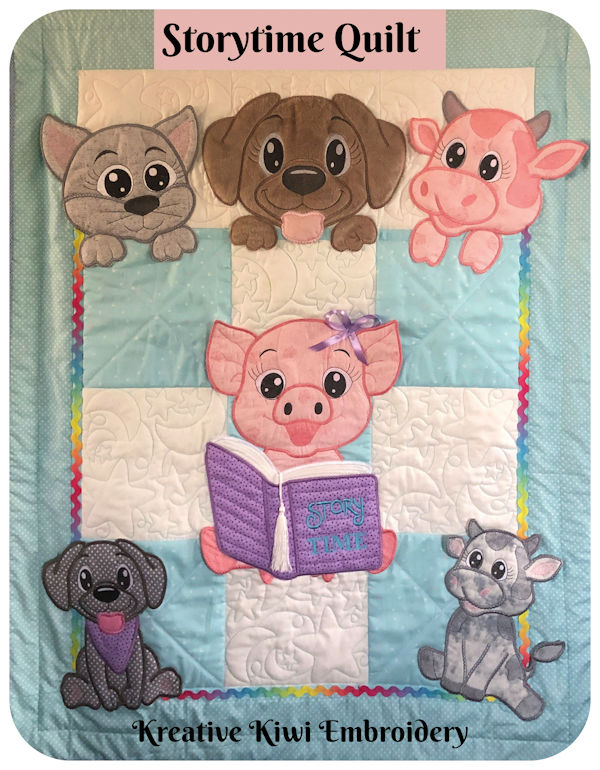 ---
Not just for Quilts, you can leave the designs free-standing for wall hangings, or add to many other items -  we've actually written a blog - 13 ways to use our Large Applique Animals that will give you many ideas.
---
VIDEO
New to our Large Applique designs? 
DOWNLOAD our Free Large Applique Pig
Watch Kay's step-by-step video which shows you the techniques to make a Large Applique Design 
Make your first Large Applique Animal
View more Large Applique Animal Videos
---
HELPFUL BLOGS
---
INSPIRATION
Less than a week later and Darina has made this adorable Flannel Quilt - how soft and snuggly it will be!
Darina used the designs from our Hearts, Stars and Circle Quilting set for the inner quilting
The stars as the 'pillow' and the circles in the centre of the Quilt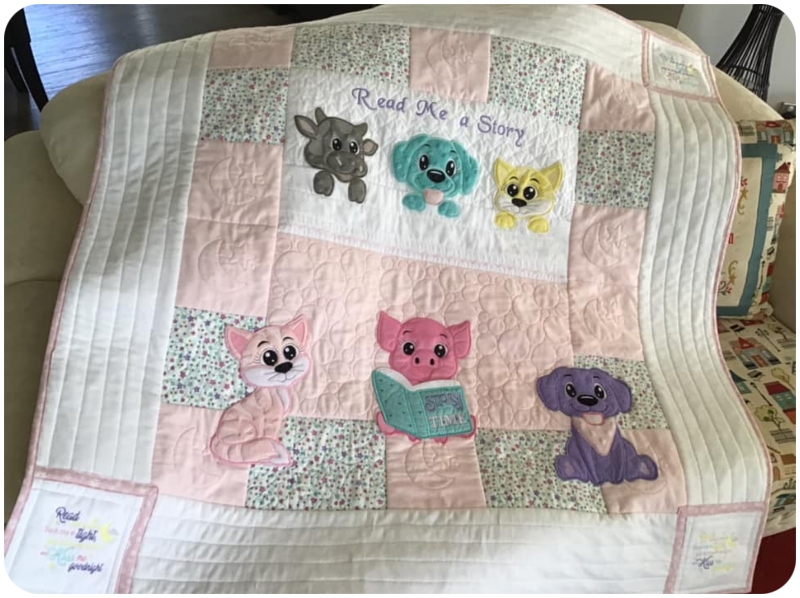 ---
I love this idea of Waltraud's - how striking is this Quilt!!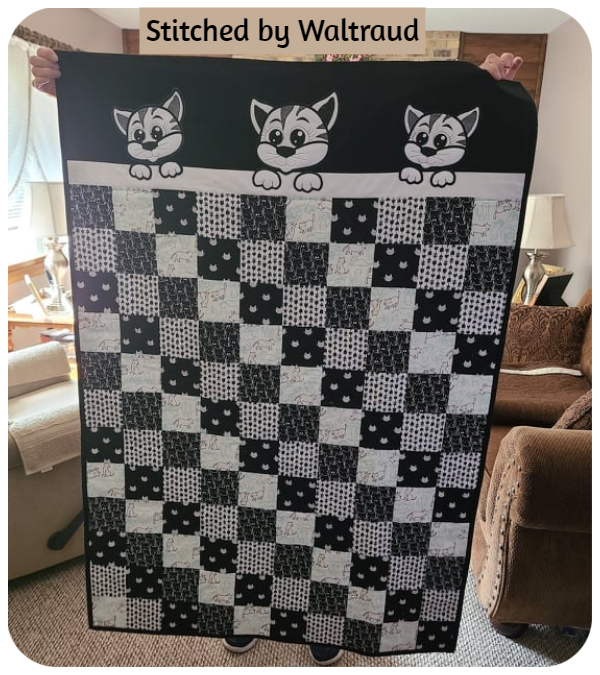 ---
Liz shared her Storytime Quilt on our Facebook Group - The post was a video and showed in more detail the 3D elements with the animal Ears and Book not stitched down - AND... how cute Liz added a saying on the back of the Book that can be opened and read - very very cool idea.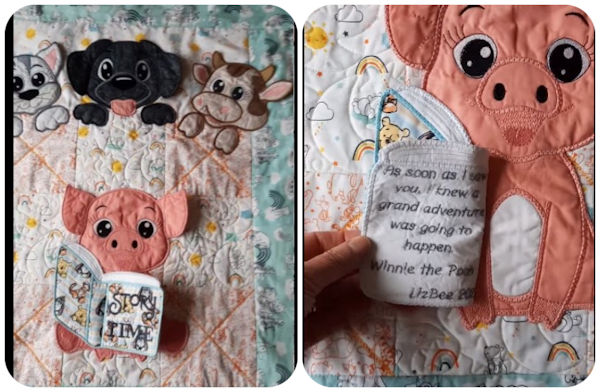 ---
Doris shared her Storytime Quilt - The 'quilt' is a pre-purchased Quilt which Doris has stitched the Storytime Animals too.  Such a quick way to make a stunning keepsake quilt.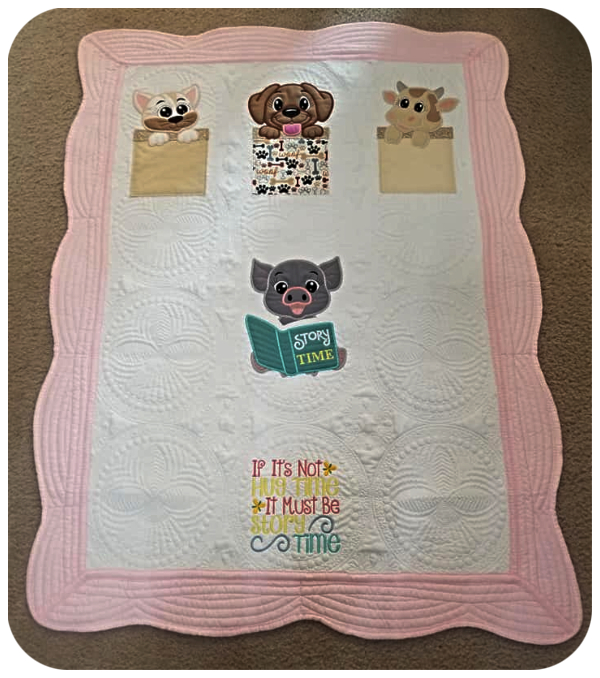 ---
Charlotte was awarded an Instant Win, for this, her first Quilt!!  amazing job Charlotte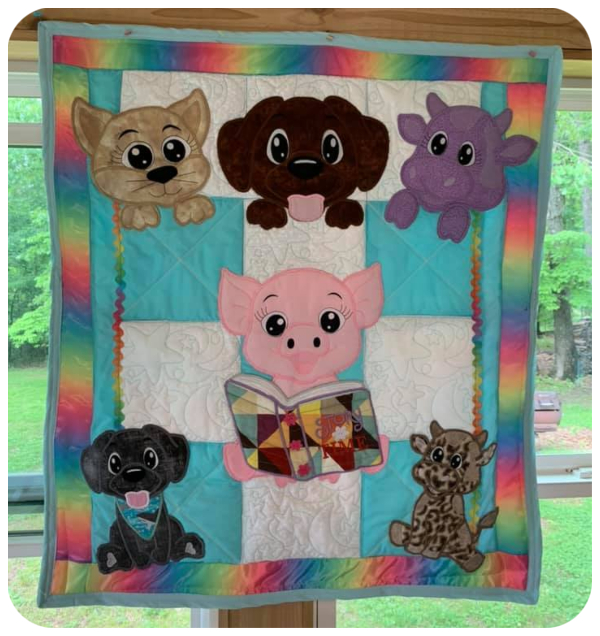 ---
Lynette made this beautiful storytime Quilt for her local Ronald McDonald House - Not an easy place to be in, but I bet it brought comfort to the little one who receive it.  Beautiful Lynette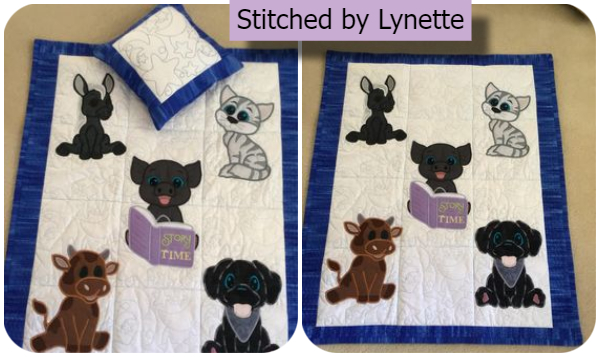 ---
Berni was awarded an Instant Win for her FIRST Quilt - what an amazing job!!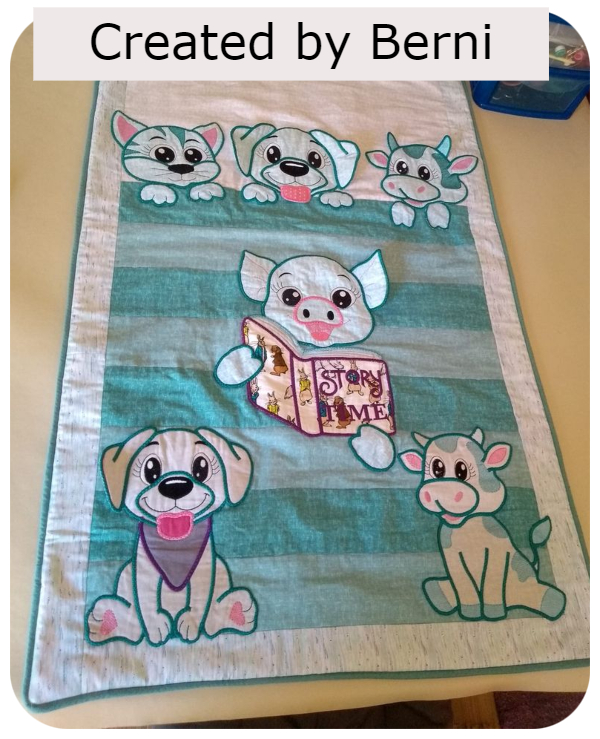 Karen received an Instant Win for her very cute Reading Pillows