arrow_circle_down Designs
arrow_circle_down Subscribe
arrow_circle_down Extra Large Swirly Placemat
In 2016 I created the original Swirly Placemat never realising how popular it would be. 5 years later I've finally got around to creating an even larger version of the Swirly Placemat. Our original was made in 5 hooping's – this version is made in 7 hooping's, so is bigger, AND I've included a 4x4 hoop version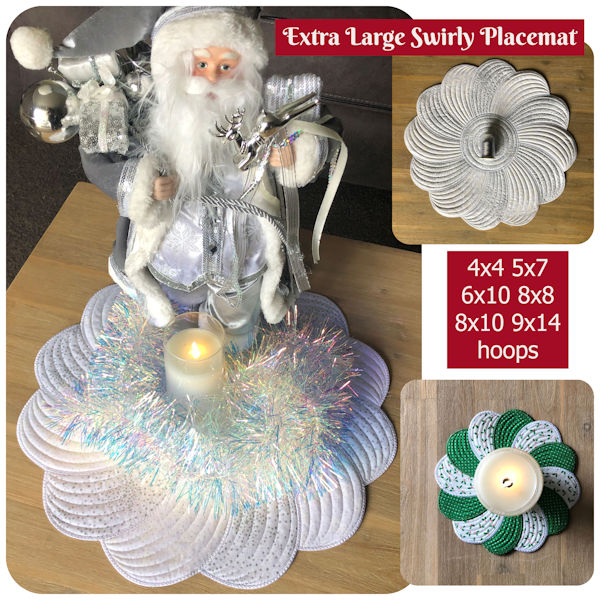 FINISHED SIZE
4X4 Hoop

100X100mm

5x7 Hoop

130X180 mm

6x10 Hoop

160x260 mm

8X8 Hoop

200x200mm

8x10 Hoop

200x260mm

9X14 Hoop

230x360mm

8.3-inch square

 

13.3-inch

square

 

16.3-inch square

 

16.3-inch square

 

19-inch

square

21.6-inch square

 

21 cm square

34 cm

square

41.5 cm square

41.5 cm square

48cm

square

55cm

square
I've included two versions of the Placemat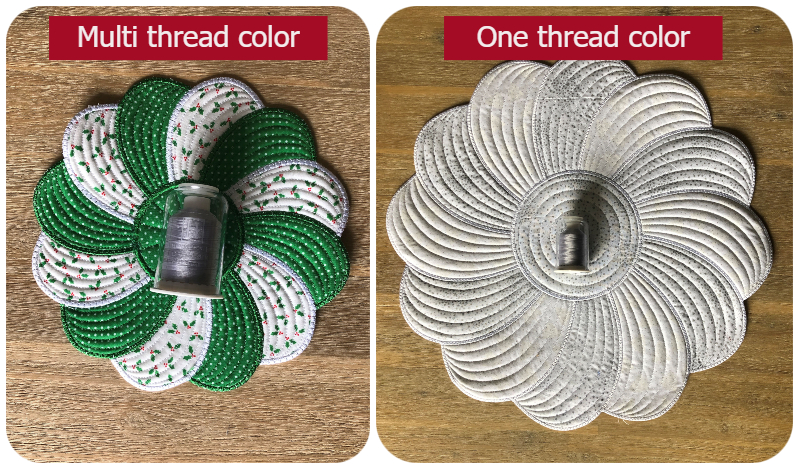 Multi version – you can use different thread colours for quilting and the satin stitch for each segment.  The green and white 4x4 sample shown above – one segment uses green thread, one segment uses white thread.
The one thread version has one colour quilting and satin stitch and is faster to make. The 8x10 sample shown above uses white thread for the entire design.
Both versions can be made completely reversible by using matching bobbin thread.
---
VIDEO
While there is no video for this design, the techniques used are the same as the Extra Large Dresden design - watching this video will show you how the design is joined together
---
INSPIRATION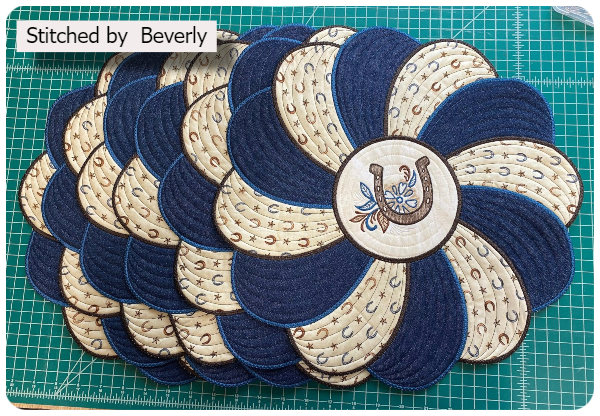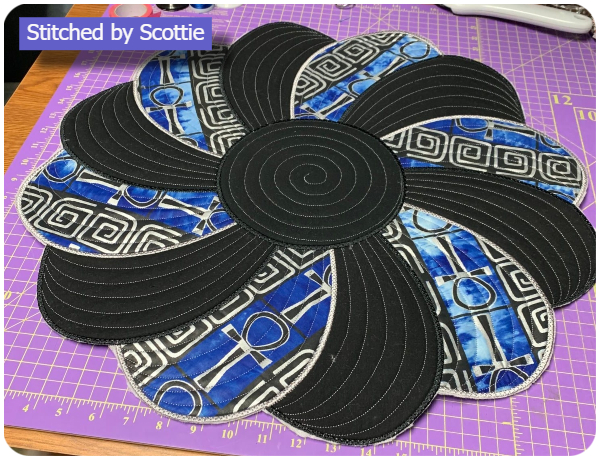 | Hoop Size | Model | Type | Year |
| --- | --- | --- | --- |
| 4x4 | | | |
| 5x7 | | | |
| 6x10 | | | |
| 8x10 | | | |
| 8x8 | | | |
| 9x14 | | | |