arrow_circle_down Designs
arrow_circle_down Subscribe
arrow_circle_down Swirly Placemat 2
---
In case you are new to the world of large applique designs, let me fill you in. A large applique design is one which needs 2 or more hoopings, with the joining completed as you stitch, in the hoop. The beauty of my large applique designs is you can quickly create a 3D Design much larger than your hoop.
---
---
Announcing the 'Big Sister' to our very popular Swirly Placemat – This is Swirly Placemat 2 – she has a bit more swirl, is available for 4x4 hoops, and with more hooping's, makes a larger Placemat than the original.  A 4x4 hoop makes a 9-inch placemat, with the 9x9 hoop size a whopping 22-inch placemat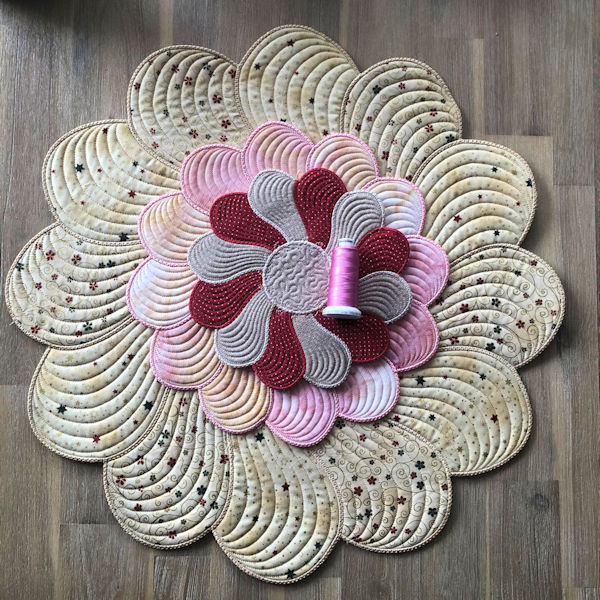 Size comparison - small placemat 4x4 hoop, middle placemat 5x7 hoop, large placemat 9x9 hoop
---
Swirly Placemat 2 is made in multiple hooping's - joined easily in-the-hoop like a Jigsaw.   
We have included 3 versions of this Placemat
| | | |
| --- | --- | --- |
| | | |
| Multi Fabric – multi thread colors | Multi Fabric One thread color | One Fabric - One thread color |
Why the difference?   Apart from the visual differences, there is a time saving – the one fabric/one thread color version only stops your machine during construction, so is much quicker to stitch
---
Our design set includes Five hoop sizes
FINISHED SIZE
4X4

100X100mm

5x7

130X180 mm

6x10 Hoop

160x200 mm

8X8 Hoop

200x200mm

9X9 Hoop

240x240mm

Just under 9-inch square

22.7 cm square

Just under

13-inch square

33 cm square

Just over

16-inch square

42 cm square

Just over

17.5-inch square

45cm square

Just under

22-inch square

55cm square
---
VIDEO
While we do not have a dedicated video for this design, Kay has created this very detailed video of how to make the Swirly Placemat which features similar techniques - Thanks Kay
We have had 100's of photo's of Coasters and Placemats made with this Design. This is a small snap-shot to give you some Fabric ideas.
VIEW MORE LARGE APPLIQUE PLACEMAT VIDEOS
---
HELPFUL BLOGS
---
INSPIRATION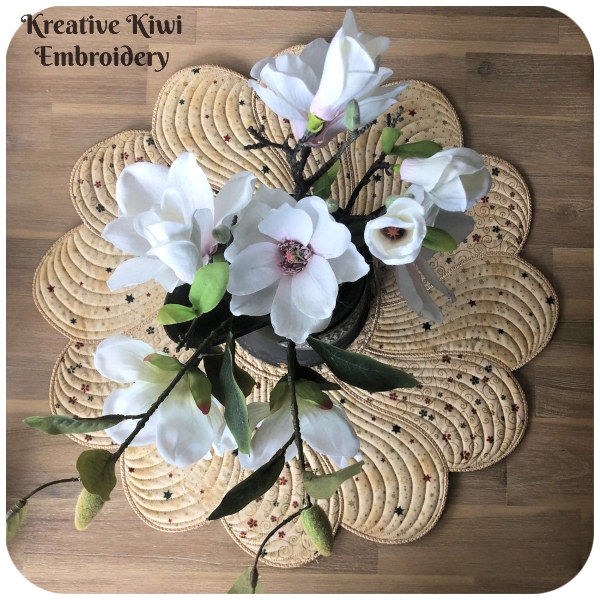 ---
Jan shared these beautiful samples - Its awesome seeing the designs in different fabrics!!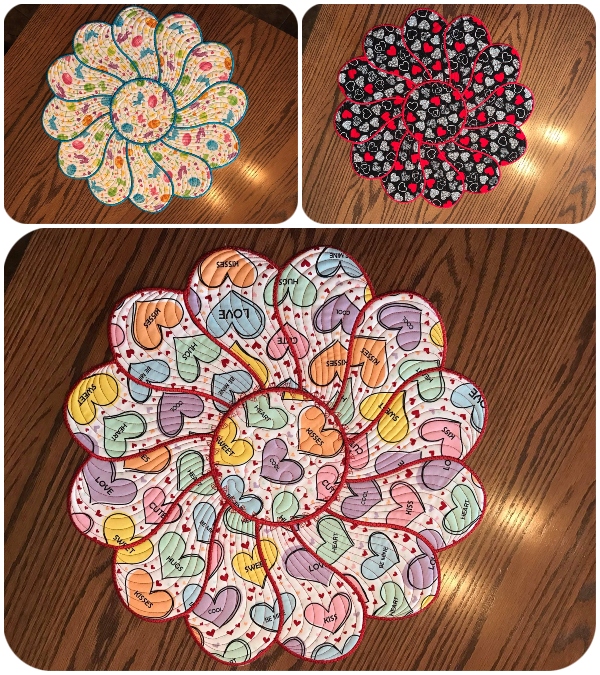 ---
Darina created this beautiful set - The Coasters are our Floral Coasters Design
---
How amazing is this placemat by Dannette - perfect fabric!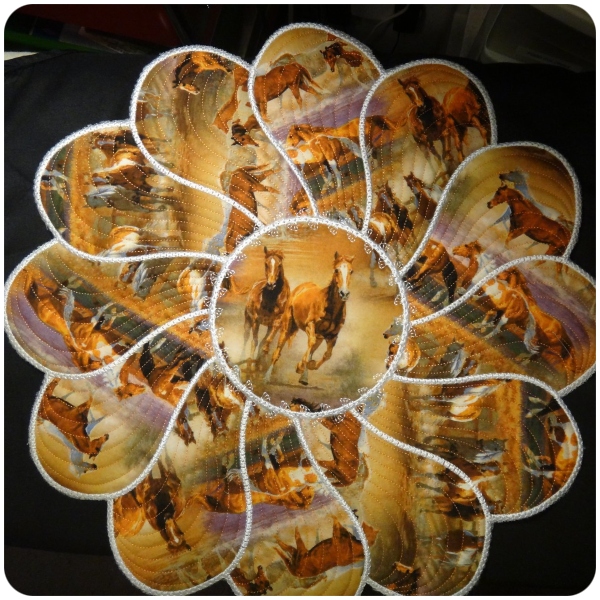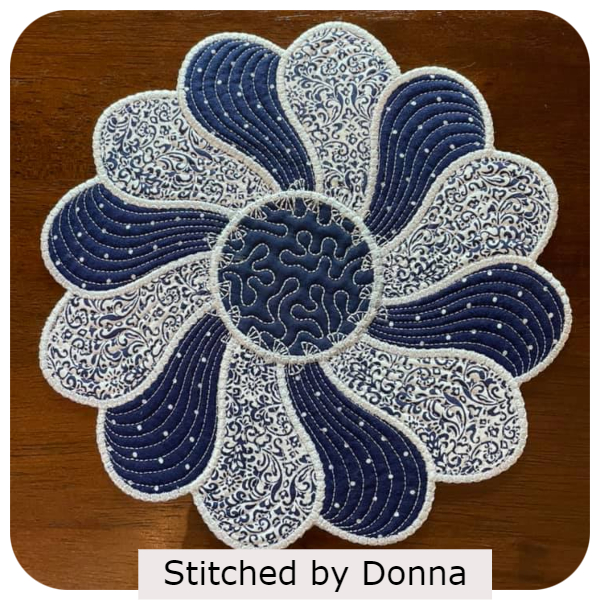 ---
Barbara shared her kreative Swirly Placemat - using all her excess threads - and we all have them!!
I made one of these swirly mats using the idea of another member. I did mine on black fabric with white organza over the embroidery thread ends. Used black for quilting & edging so the back is completely black for a plain mat .
---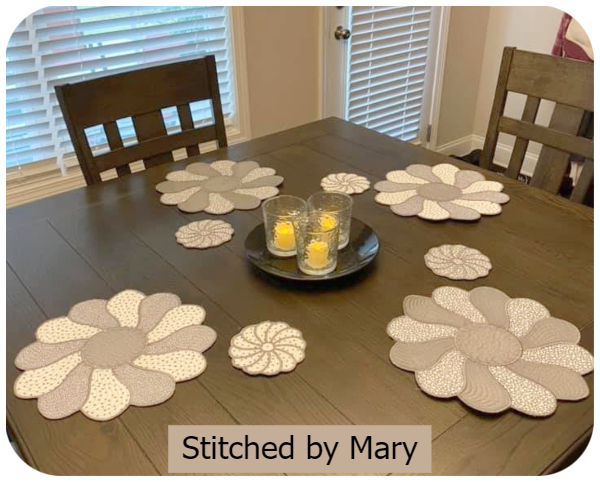 ---
---
| Hoop Size | Model | Type | Year |
| --- | --- | --- | --- |
| 4x4 | | | |
| 5x7 | | | |
| 6x10 | | | |