arrow_circle_down Designs
arrow_circle_down Subscribe
arrow_circle_down Hearts in Abundance
---
In case you are new to the world of large applique designs, let me fill you in. A large applique design is one which needs 2 or more hoopings, with the joining completed as you stitch, in the hoop. The beauty of my large applique designs is you can quickly create a 3D Design much larger than your hoop.
---
---
Our Large Heart Placemat is made in multiple hooping's - joined easily in-the-hoop like a Jig-saw.
The Design is completely reversable.   You can add an embroidery design of your choice, or Fussy Cut a favourite piece of Fabric.
Finished Size
5x7 Hoop                                       29 by 30cm – 11.5 by 12 inch
6X10 Hoop                                    39 by 40cm – 15.5 by 16 inch                                        
8X8 Hoop                                       43 by 44cm – 17 by 17.5 inch
8x10 Hoop                                     49 by 50cm – 19.5 by 20 inch
 

 

Size comparison 5x7 and 8x10 Hoops
AND
discovered that the last heart segment is very cute as a small Coaster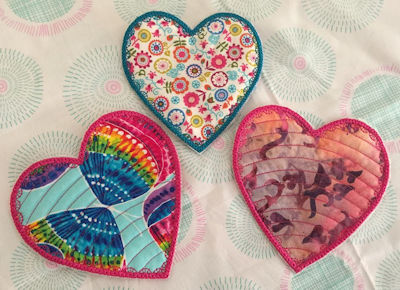 ---
VIDEO
Watch Kay from Kay's Cutz make this design
CLICK HERE TO VIEW OTHER CRAZY PATCH VIDEOS
---
HELPFUL BLOGS
---
INSPIRATION
Need some ideas for fabrics for this design?  View more ideas here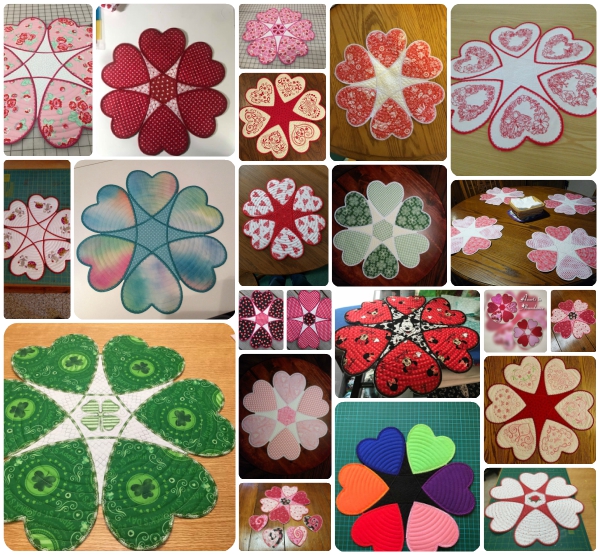 Click here to view more designs made by our Kreaticve Kiwi group members for more inspiration!