arrow_circle_down Designs
arrow_circle_down Subscribe
arrow_circle_down Kays favorite Scissors and Stabilizers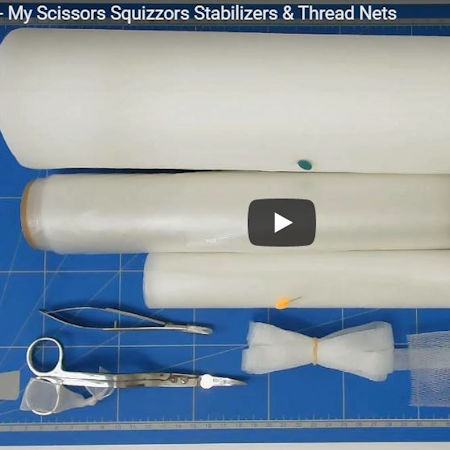 My Favourite Supplies by Kay - Kays Cutz
I often get asked about my scissor stabilizer and thread nets so I thought I would make a short info vid and tell you a little about the ones I use and why I like them. I must add that these are my preferences. There are many other products on the market that you might prefer much more than these, there is nothing wrong with sticking with what you know best. What works for you but if you are new to machine embroidery I expect you feel you are drowning with choice.
THREAD
My embroidery thread is Simthread I use it in 99% of my stitch along videos and they have kindly given me this code for you to get a 5% discount on all their threads from their Amazon.com store. Valid until the 8th February 2021. Sorry unfortunately the discount code given below wont work on Amazon.co.uk but I will have some for you soon.
Simthreads Amazon Store: https://amzn.to/38j2YHQ Use code NLWUXFGG at the checkout. Enjoy!
MY SUPPLIES
My fabrics and batting (I use Vilene High Loft Volume Fleece 295) are from the Remnant House in the UK: https://www.remnanthousefabric.co.uk/
I can't live without my sharp stabby tool as I call it, is a clay sculpting tool. I bought it in my local craft shop. Amazon do sell them as part of a clay sculpting set but not individually.
All my other supplies are from Amazon including my large squizzors. They are actually aquarium precision pinch action scissors. I use H2O gone FSL water soluble stabilizer or Brothread cut away stabilizer for my stitch outs. Happy stitching!