arrow_circle_down Designs
arrow_circle_down Subscribe
arrow_circle_down Ten Commandments Bellpull and Runner
THE TEN COMMANDMENTS LITURGICAL BELLPULL AND RUNNER by KAY'S CUTZ
Hoops
: 5"x 7" 6"x 10" & 8"x 12"
This runner is made in 6 hoopings and there are two finishing options included, the first is for a bellpull with buttonhole to fix it on to your hardware, the second is a flat table runner. All the panels are constructed in exactly the same way and they can either be joined in the hoop or on a sewing machine.
Sampler Fabric - The Lion and the Lamb designed by Abraham Hunter for Northcott Fabrics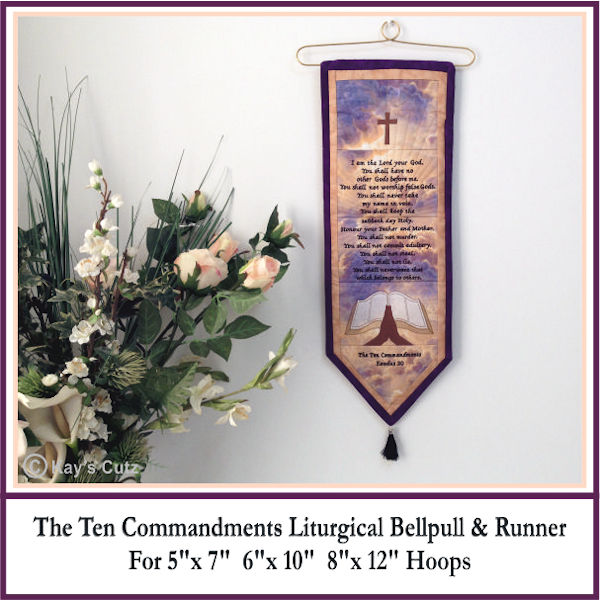 excluding sashing and binding
5"x 7" -

6-7/8" x 23-0" or 185 x 580 mm.

6"x 10" -

9-0" x 31-0" or 230 x 788 mm

8"x 12" -

11-1/2"x 35-1/2" or 285 x 900 mm.
---
VIDEOS
Watch Kay stitch the Panels
You will finish your bellpull the same way as shown in the Lord's Prayer Liturgical Runner shown in this video.
How to bind and finish your project - Timestamp 16:45
---
HELPFUL BLOGS
My Top 3 Blogs to read for this design would be our: