arrow_circle_down Designs
arrow_circle_down Subscribe
arrow_circle_down Super Kid
I have had so many requests for a Large Applique design for boys, so I've started with Super Kid!!
Super Kid is created in 3 hoopings and joined together in-the-hoop.  You can leave them as a stand-alone wall hanging, or once completed very easily applique to a premade item.  
Finished Size
5x7                20.5cms by 26cms  (8 by 10 inch)
Large Hoop     26cms by 33cms  (10 by 13inch)  **6x10 or 8x8 hoop
Unfortunately because the thread I used for the mouth and nose is so similar to the face fabric, it hasn't shown up in the photos very well.  You can certainly see the detail on the actual stitchouts.
I've attached the small size (5x7) to a T-Shirt, and do plan to use the larger Super Kid on a toy bag.  (I have included instructions from Large Santa Applique, which has full details on making a Santa Sack/Toy bag)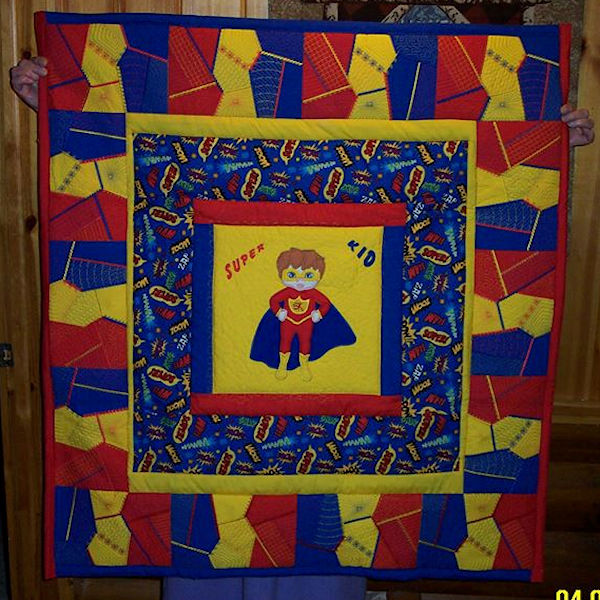 How amazing is this absolutely stunning quilt Sandy made?
or how about this very cute Reading Pillow (Download Darina's Free Reading Pillow Tutorial)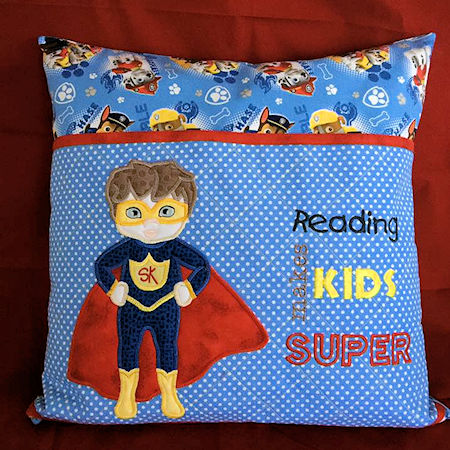 ---
| Hoop Size | Model | Type | Year |
| --- | --- | --- | --- |
| 5x7 | | | |
| 6x10 | | | |
| 8x8 | | | |
---
Look at this fantastic Quilt Sandy made using this Design