arrow_circle_down Designs
arrow_circle_down Subscribe
arrow_circle_down OhLaLaSunbonnets
The gremlins are at work tonight - somehow I have 'deleted' the scans of my Sunbonnets!! (and I've let the girls cut up the designs I didn't use in my samples... so unfortunately some of the designs will have the computer graphic only). My apologies.
Anyway onwards, I loved these little Sunbonnets, and have used them to make a couple of draw string bags for the girls - towelling one for toothpaste. soap etc, and a fabric bag for their hair brush and accessories. Full photo instructions are included in the design file. Use these designs as I have done, or would be really nice to use for 'tweenies' - put them on a towel or face cloth with their name - add some pretty soap or girly 'smellies' - and voila you have a lovely inexpensive and quick gift.
*****WHOOPS!! - Thank you to Cherrie who let me know I have the spelling wrong! - So.. I've redone the wording file with the correct spelling - Ooh La La - please download here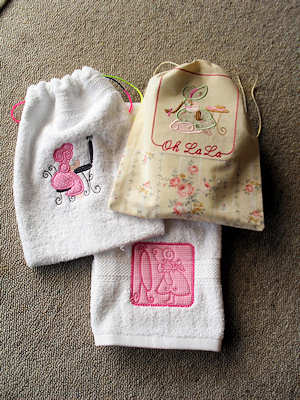 The applique and redwork designs all fit the 4x4hoop, (applique frame for towells included), but I have added a 5x7 OhLaLa frame that I used on my drawstring bag.
Full size details here - Page 1 Page 2
| Hoop Size | Model | Type | Year |
| --- | --- | --- | --- |
| 5x7 | | | |